Oppo and Kodak to Co-Launch Smartphone: Report
Oppo is poised to launch a special edition of its Find X3 Pro smartphone later this week in conjunction with Kodak. Called the "Photographer Edition," it is expected to kick off a partnership between the two brands.
Update: Kodak has denied that it is launching a smartphone with Oppo and says that the report by GSMArena is "incorrect."
As spotted by GSMArena, Oppo has revealed that it will officially announce the special edition Find X3 Pro Photographer Edition during a live stream scheduled for September 16 in China. The company announced its plans on Weibo. The Find X3 Pro Photographer Edition is unlikely to make any substantive performance changes to the original Find X3 Pro that was launched in March but will offer a new look and a few other changes to the packaging.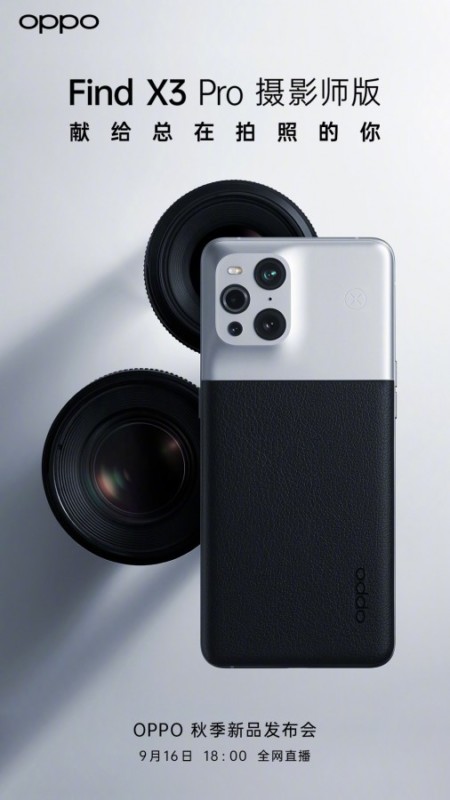 That means the same quad-camera array that features two 10-bit 50-megapixel cameras and the billion-color QHD+ curved display will return, this time with a silver and black finish that is reminiscent of the Kodak 35.
The Kodak 35 was introduced in 1938 and was the first 35mm camera manufactured in the United States and the first camera from the Eastman Kodak Company.
According to some of the official promotional images, the Find X3 Pro Photographer Edition will ship with a protective case that mimics the color and design of the smartphone itself and will ship in a new collector's box.
Even if Oppo makes no performance changes to the Find X3 Pro in this new edition, that wouldn't necessarily be a bad thing. In PetaPixel's review of the phone, Andy Boxall called it a great, consistent camera experience that mostly guarantees a good result regardless of which of the four cameras are used.
"The Find X3 Pro is a very desirable, compact, and powerful smartphone with a highly competent camera, which includes features and technology not seen on other phones," he wrote.
It's not clear if Oppo and Kodak plan to do anything more with the partnership beyond the co-branding of smartphones or if it will extend beyond or simply be a one-off. While Zeiss and Hasselblad have teamed up with Vivo and OnePlus for multi-year co-development of camera technologies, Oppo as a brand has not tied itself to a notable camera or lens brand with its smartphone imaging systems (although it and OnePlus were recently merged). That said, Kodak does not have much clout when it comes to the digital space as the company historically focused entirely on film and paper after famously deciding to pass on developing digital cameras back in 1975 despite the first digital camera actually being made behind its walls. While Kodak has made digital camera devices in recent years, the Kodak name doesn't carry the same clout or expertise that brands like Leica, Hasselblad, Zeiss, and others who have partnered with smartphone brands do.
Kodak's close ties to the Chinese smartphone company may explain why it was quick to delete a photo from its official Instagram account of the Xinjiang Uyghur Autonomous Region where the photographer mentioned the mass detentions of the Uyghur people there. Kodak apologized for the publication of the image stating that its Instagram is "not intended to be a platform for political commentary."