U.S. National Parks Propose 'Selfie Stations' to Combat Overcrowding
Faced with overcrowding, some National Parks in the United States have begun to roll out what are called "selfie stations" that are designed to redistribute visitors and promote less-well-known areas.
National Parks in the United States have always proven to be popular tourist attractions, but this past summer's surge in visits has set records, causing traffic delays and a rise in reckless behavior. As reported by The Guardian, the National Park system faced record crowds in 2021: Arches National Park had to close its gate more than 120 times this past summer when parking lots filled, and Yellowstone reached one million visitors in July for the first time ever. Zion national park had a four-hour wait for a hike at one point as well.
The park system has been forced to acknowledge the harsh reality that there might not be enough space to accommodate all the people who wish to visit these locations. The surge to get the "perfect" photo of iconic locations has proven to be a particular challenge for park rangers who are attempting to alleviate congestion in those popular areas.
The problem isn't necessarily new either but only exacerbated by ever-increasing crowds. In 2018, the tourism board of Jackson Hole, Wyoming asked visitors heading to Grant Teton national park to turn off geo-tagging in an effort to slow down the number of people who try and visit specific locations and recreate photos they see online.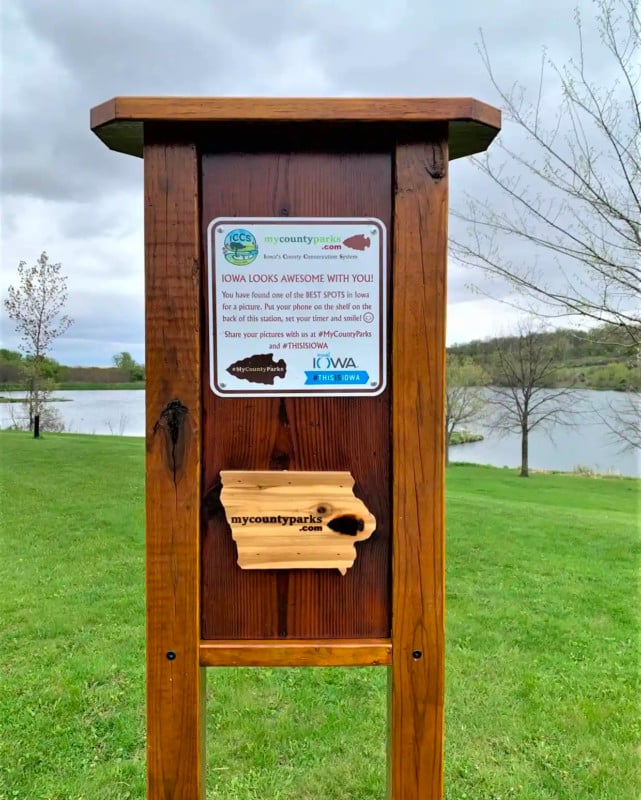 The idea of these selfie stations follows a similar line of reasoning. Iowa's County Conservation System has installed more than a hundred selfie stations in the state that are designed to provide an easy place to not only mount a camera but also provide informative anecdotes about the region. These stations are not set up in traditionally popular photo spots but are instead designed to provide new photo opportunities in different locations that visitors may not have been aware of.
"We commenced with the installation of these in the spring of 2019 to celebrate our 99-County system of 2,024 county parks in Iowa," Iowa's County Conservation System tells PetaPixel. "We centrally purchased the standardized metal signage, and then relied on each county to construct and install the stations with some general guidelines/plans. They have been warmly welcomed and embraced — with some folks seeking them out county-by-county to experience the 'sense of place' where they are located in each county."
Some stations, like the one pictured above, are large cedar wood signs that are low maintenance and easy to build and feature a sign with information about the location on the front along with a shelf to place a camera or smartphone on the back. Some are smaller, like the one pictured below, and are simple designations of interesting points.
These selfie stations are one of several methods National Parks are using to help deal with the ever-increasing number of annual visitors which include timed entry based on reservations as well as predictive algorithms that allow visitors to go to specific locations when crowds are anticipated to be less heavy.
While the selfie stations have been rolled out in Iowa, parks in Wisconsin and Minnesota may try the program as well. If these simple additions prove successful, they may also be more popular with visitors than locations that require reservations — a system that some view as too restrictive. Of note, signs that were rolled out in previous years in Yellowstone that asked visitors to remain quiet in order to enjoy the sounds of nature did end up working, a positive indication that selfie stations might also succeed.
---
Editor's note: Original story was updated with an additional quote from Iowa's County Conservation System and additional photos were added.
---
Image credits: Portions of header photo licensed via Depositphotos. All other photos provided courtesy of Iowa's County Conservation System.