Woman Flipped Into the Air After Selfie with Bison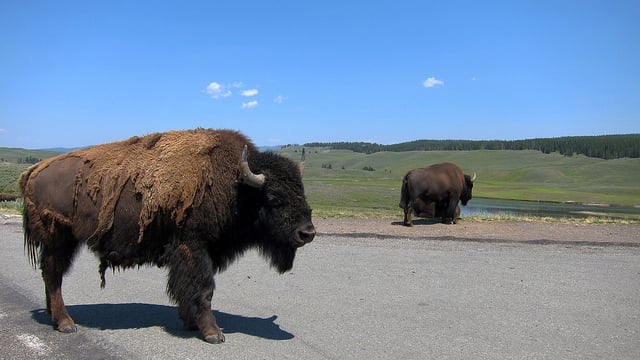 Yet another tourist has been attacked by a bison while taking a selfie in Yellowstone National Park, prompting park officials to release another public warning against the practice.

In a notice published last week, officials report that a 43-year-old woman from Mississippi decided to stop about 6 yards away from a bison to pose for a selfie with her daughter.
The bison then charged the woman, flipping her into the air with its head. The woman's husband then covered her with his body to protect her as the bison retreated, and the family was able to escape safely with only minor injuries to the flipped woman.
"Wildlife should not be approached, regardless of how tame or calm they appear," the park writes. Of course, there will always be those who choose not to heed the warnings:
Yellowstone says that this woman is the 5th tourist so far this summer to be injured by a bison. Back in June, a man was seriously injured after trying to take a selfie with one using his iPad. In May, a 16-yaer-old Taiwanese girl was gored while posing for a photo.
Here's what the park says about safe distances: "When an animal is near a trail, boardwalk, parking lot, or in a developed area, visitors must give it a wide berth and not approach it closer than the required minimum distances: 25 yards (23 m) away from all large animals – bison, elk, bighorn sheep, deer, moose, and coyotes and at least 100 yards (91 m) away from bears and wolves."
---
P.S. Back in June, we also shared a number of videos showing how dangerous bison can be when you get too close.
---
Image credits: Header photograph by chizoform