LamboGo is a Portable SSD That Backs Up Photos Without a Computer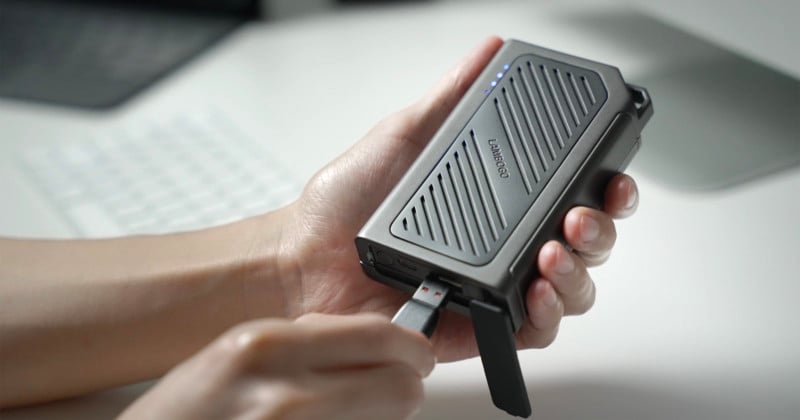 China-based LamboTech has announced the LamboGo, a portable and rugged high-speed SSD backup solution that is designed for photographers who want to secure their footage without needing to use a laptop as a go-between.
The project has launched on IndieGoGo, and the company touts LamboGo as a fast and rugged backup solution that does not require any cable or computer. It allows users to connect an SD card or USB flash drive direclty into the LamboGo and back up the data. The computer-free system is touted by LamboTech as ideal for those who have to work in the field and want a solution that is less fragile and smaller than a laptop.
The LamboGo has a backup speed of up to 320 MB/s, which the company says is enough to pack up an entire 128-gigabyte SD card in about seven minutes.
Interfacing with the device on the go with either a tablet or smartphone is wireless and uses WiFi, which the company says can transfer wirelessly at up to 900 MB/s. Using the company's app, LamboTech says that photos and videos can be previewed and transferred to a tablet or smartphone. Additionally, the LamboGo can support "multiple" concurrent devices using the same WiFi spectrum and can also support 4K streaming through WiFi off the device. The company does not specify how many devices can be connected at once and if 4K streaming works with more than one connected device at a time.
When not in the field, users can connect the LamboGo directly to a computer with transfer speeds the company claims can reach up to 2,400 MB/s. It's not clear if the connection is standard USB-C or if it's Thunderbolt, as LamboTech does not specify, though one of the items that the company offers as a bundle is a Thunderbolt cable.
On that note though, the company does say that the LamboGo is compatible with Mac, Windows, iOS, and Android.
The LamboGo is water, dust, and shock-resistant, but LamboTech does not attribute a specific IP rating to the device on its IndieGoGo page. Finally, the company says the drive has an integrated 5,000 mAh battery that allows up to eight continuous hours of use. However, it can also be used as a battery bank for mobile devices and it's not clear how much usability time is lost per minute of acting as a battery bank.
If this type of device sounds familiar, it's because three major players have already released similar products in recent years. The Gnarbox 2.0 is an SSD-based backup solution that costs $900 for one terabyte. The WD My Passport Wireless is an external SSD that costs $600 for a two-terabyte option, though reviews have been critical of its performance. Finally, LaCie's DJI Copilot BOSS is a two-terabyte option that is the least expensive at $300.
The LaCie Copilot differentiates itself from all three of these competitors in that it connects directly with a mobile device and does not rely on a wireless connection. While some might find the addition of cables to be less desirable, it does have the benefit of providing a much more stable connection and faster and more consistent transfer speeds, as noted in a review of the device from 2018.
Thanks to that hard-wired connection, it's photographer Ted Forbes's drive of choice for mobile video and photo editing. It should be noted that after launch, a direct connection was enabled on the Gnarbox 2.0 as well.
LamboTech does show the LamboGo can connect to a mobile device, but only in the case of charging that device. If it is possible to directly access the data through a lined connection, that wasn't made clear in the company's campaign.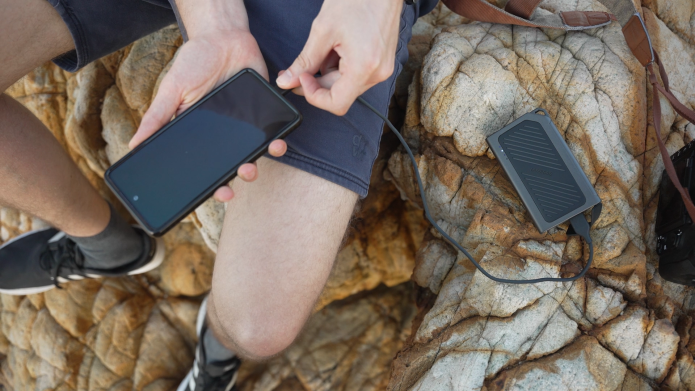 The LamboGo is available to back in one, two, four, and eight terabyte configurations and during the campaign, the two terabyte version can be purchased for about $280, making it the cheapest option among its competition. After the campaign, LamboTech intends to retail the LamboGo for about $465, which puts it more in the middle of the pack as far as price is concerned.
At the time of publication, LamboGo was in its prototype phase and had an estimated fulfillment time of January 2022.
---
Disclaimer: Make sure you do your own research into any crowdfunding project you're considering backing. While we aim to only share legitimate and trustworthy campaigns, there's always a real chance that you can lose your money when backing any crowdfunded project.