HPRC Now Offers Hard Cases Customized For Specific Camera Gear
Italian-based HPRC has recently started making a variety of custom hard-shell cases for a plethora of camera brands and models including Canon, Nikon, Sony, Blackmagic, and DJI.
Finding the right camera bag or case can be a complicated and pricey task. Everyone has their own set of preferred features and styles for carrying their kits around in, but when it comes to truly protecting a creative's camera and lenses while on the road, hardshell cases with custom fitting enclosures and foam are the best choice professionals can make.
HPRC (High-Performance Resin Cases) has said that after years of producing the high-quality protective cases, it decided to produce a line of ready-made solutions to fit the most popular camera kits it has encountered: the "HPRC Ready" Lineup.
According to the company, the hard-shell cases are "indestructible" and should provide full protection against acids, dust, and shock. The cases are also watertight and are ready for use in "any weather condition." Some of the kits are even "cabin-approved" for flying while others feature a "trolly-style" design for easier mobility between stops.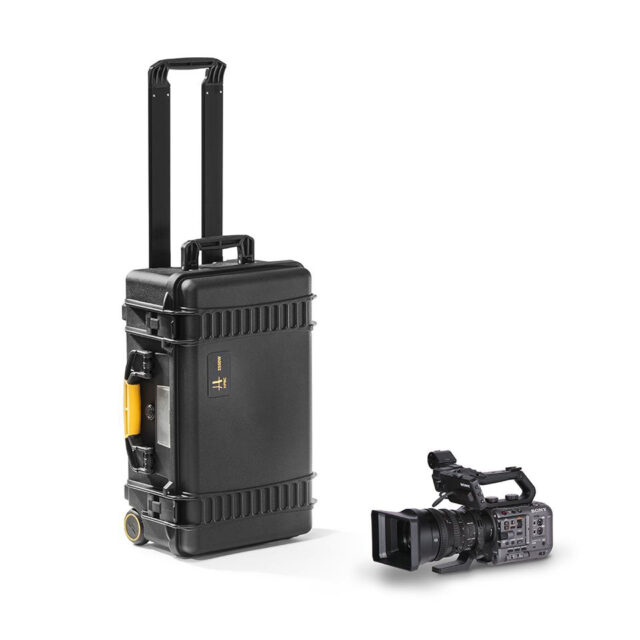 At a glance, it seems the initial lineup of case offerings is focused on video-centric cameras such as the Canon C-series, Nikon's D850 DSLR, Sony's FX/FS series, Fujifilm's GFX100, DJI's Drones, RED, Atomos, and Blackmagic Cinema systems. However, other camera systems such as Canon's R series are also supported. Most of the custom cases are capable of holding a single camera body, some lenses, accessories, chargers, and batteries.
The $145 CR5-2300-1 case which is designed for the Canon R5 system can fit one EOS R5 (or R6) mirrorless digital camera (with or without professional cage), lens(es) of a diameter maximum of 90mm by length maximum of 220mm, an assortment of cables or small accessories, an LC-E6 charger, and 4 LP-E6 Batteries.
The new HPRC Ready cases are available to purchase now from the company's official website with prices ranging from $45 for a smaller custom foam insert by itself or over $800 for a larger full kit for something like the DJI Matrice 600 Pro. There are a wide variety of case and insert combinations available from the HPRC website that should allow a professional to travel worry free when faced with checking their bags and ensuring the safety of the equipment stored inside.