Taliban Mocks US by Recreating Iconic WWII Flag Raising Photo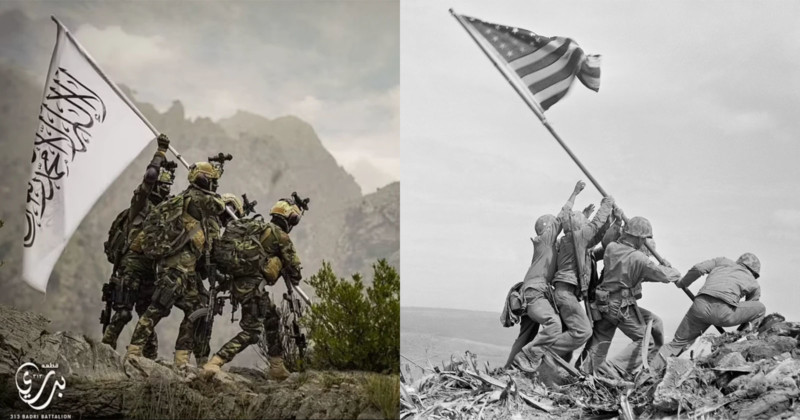 After swiftly retaking Afghanistan this month, the Taliban has just released a photo that appears to mock the United States — it's a recreation of the iconic World War II photograph Raising the Flag on Iwo Jima.

The parody photo was found in a set of Taliban propaganda shots showing an elite commando unit called the Badri 313 Battalion patrolling Afghanistan while equipped with state-of-the-art U.S. soldier gear, including camouflage uniforms, night vision goggles, and tactical gear. In the shot, a group of fighters is seeing raising a Taliban flag in a way that's strikingly similar to how six U.S. Marines raised the U.S. flag on Mount Suribachi during the Battle of Iwo Jima.
"Similar photographs released in recent days show Taliban fighters carrying weapons and equipment issued by the United States or allied nations, including M4 carbines and what appear to be Trijicon advanced combat optical gunsights, or ACOGs," the Marine Corp Times reports. "The images are a noticeable departure from traditional depictions of Taliban fighters, who seldom appeared with heavy weaponry or in full military garb, spoils left behind by the Afghan army."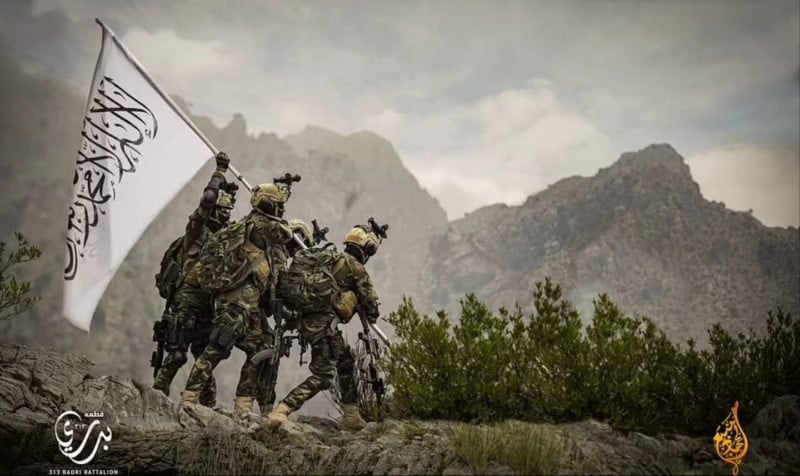 Captured by Joe Rosenthal of the Associated Press on February 23, 1945, Raising the Flag on Iwo Jima was quickly published in thousands of newspapers around the world, and it won the Pulitzer Prize for Photography that same year.
Rosenthal's photograph has come to symbolize the United States' victory in the Pacific War and has become one of the most recognizable photographs of the Second World War.
The Associated Press has since released the photo to the public domain, and the shot served as the inspiration of the United States Marine Corps War Memorial Arlington County, Virginia, which honors all Marines who have given the ultimate sacrifice since the branch was founded in 1775.