Photographer Captures Baby Hippo Getting Spooked by Birds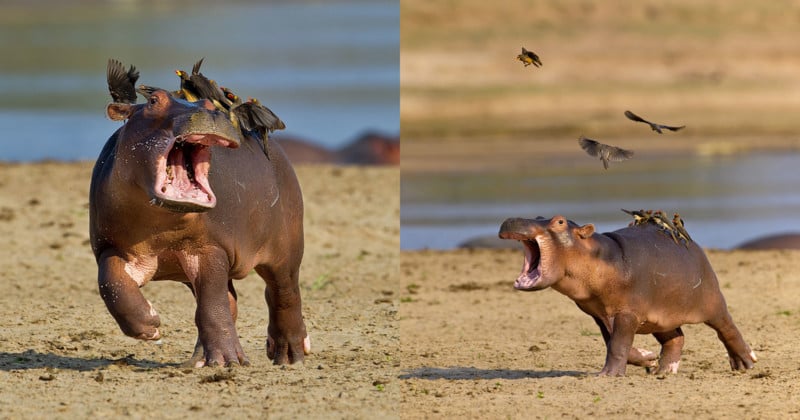 Photographer Marc Mol was on a trip to South Luangwa National Park in Zambia when he captured adorable photos of a baby hippo getting spooked by a flock of birds that landed on its back.

The Swiss photographer had his Nikon D3s DSLR and
500mm f/4
lens pointed at a group of hippos when the oxpeckers paid the young animal a visit.
"I was crouched low in a river hide that was cut into the bank of the Luangwa River," Mol says. "I was busy concentrating on a pod of hippos, when all of a sudden I saw the baby running toward me with his pursuers."
He started shooting photos as the hippo began screaming, running to its mother, and twisting side-to-side in an effort to shake off its "attackers."
"I was at first astonished as to what was going on, seeing this baby hippo running towards me and the safety of water and then realized it was a small flock of oxpeckers that were the culprits," the photographer says. "It was very amusing to witness."
Hippos and oxpeckers generally have a symbiotic relationship in which the birds eat ticks and other types of parasites from the hippo's body — the hippo gets free grooming while the bird gets free food.
In this case, however, it seems the baby hippo hadn't yet gotten the memo on its feathered friends.
"The baby hippo was clearly not used to the red and yellow oxpeckers on his back," Mol says. "It was only a matter of 10 seconds or so before the little guy had had enough. […]
"In time the baby will soon come to accept that these birds mean him no harm."
To Mol, these photos were a reminder of the unexpected joys of nature and wildlife photography — you never know exactly what you'll capture when you set out into the world of wild animals with your camera.
"I had a real laugh when I realized that I had captured something a little different and yet very amusing," Mol says. "I love the expression on this little guy's face as he frantically tries to fend off what he sees as annoying pests."
---
Image credits: All photographs by Marc Mol / Caters News