Wedding Photographer Falls Into Pool at Grand Indian Wedding
A luxury wedding photographer recently made quite a splash at a grand Indian wedding celebration, but not quite the type of splash one hopes to make when heading out to capture someone's big day.

The Northern California-based
wedding photography
and cinematography business
Aperina Studios
was capturing the lavish wedding in July when a team photographer accidentally stepped backward and fell into a swimming pool.
The fall was caught on camera by someone standing on the other side of the pool:
"It was the end of the ceremony, and it was time for the couple to do their grand exit after being announced husband and wife at their Indian wedding," Aperina Studios tells PetaPixel. "We knew it was going to be great as the location was stunning (the bride's back yard actually) and there was going to be some flower petals thrown at them.
"When they starting waking down, we just forgot about everything and focused on capturing that beautiful moment."
But situational awareness can be very important for a wedding photographer, especially if there's water around.
"I was filming in 120p, getting super slow motion of the petals being thrown on them," cinematographer Vitaliy Lyubezhanin continues. "That's when I started to hear some commotion and people yelling… I swung my camera around and saw our shooter climbing out of the pool. I was about 12 inches away from the pool myself."
Lyubezhanin managed to capture slow motion footage of the bride and groom reacting to the mishap before panning over to capture the photographer getting helped out of the water:
Thanks to the photographer's quick reflexes (and the shallowness of the pool), the camera emerged from the accident dry and unharmed.
"The camera survived as he picked it up when falling in, saving the camera and potentially the memories that were captured so far that day," Lyubezhanin says.
"We were embarrassed that that happened, but the couple laughed it off and just continued to walk," the cinematographer continues. "It was a moment everybody kept talking about at the wedding.
"Everyone was so nice though – the dad offered us towels. So it wasn't too bad. But definitely a moment to laugh about."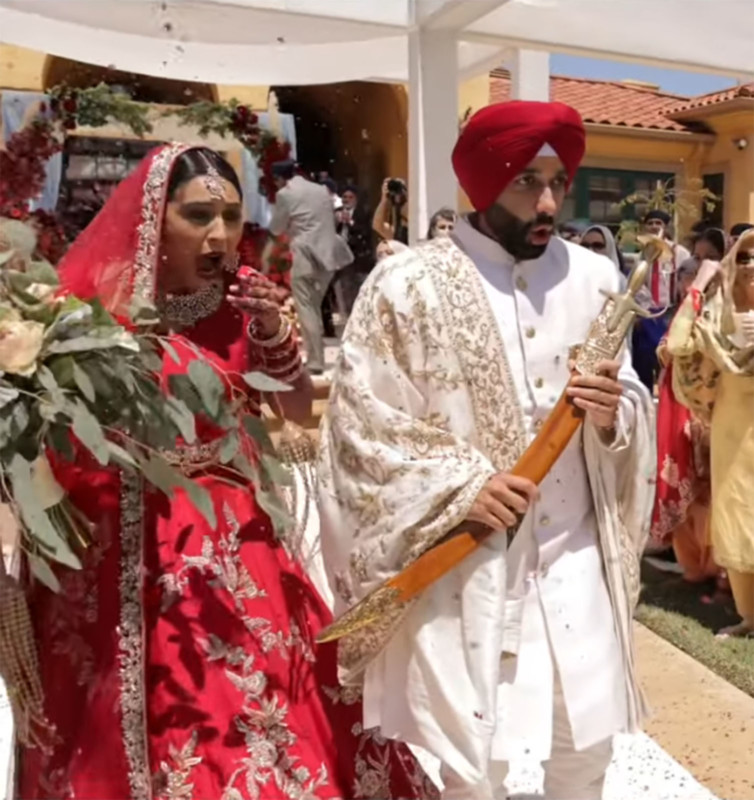 Aperina Studios has since shared the video on TikTok, where it went viral — it has over 3.5 million views at the time of this writing. You can find more of Aperina Studios' work on its website, Facebook, YouTube, and Instagram.