Photo Series Aims to Capture the Culture of Remote Tribes in Indonesia
This series is taken from my time with people from the Baduy, Mentawai, and Sasak tribes on the islands of Java, Siberut, and Lombok in Indonesia. I lived with them for a week each and managed to gain a small insight into their ways of life. Even though we couldn't converse through English, my aim was to relate, observe and befriend these lovely people who isolate themselves within the surrounding (natural) environment, and live peacefully away from the noise and distraction of today's first world technological reliance.
The draw of Indonesia is its diversity of people and sheer scale of geographic and ethnic variety. It is such a huge country, made up of thousands of islands, volcanoes, multiple religions, tribes, and cultures, draw-dropping beauty from end to end, and thousands of years of fractured history. My fascination with it deepens further every time I visit and I have wanted to explore deeper and deeper into this intriguing place ever since I came to live in Southeast Asia. And this trip was the most immersed I have been within the Indonesian culture yet; I had an opportunity to travel as far away from reality as possible, and in a year where reality seemed to have faded almost completely, it felt appropriate in many senses to be as far away from other people as possible.
My sheer love of art, photography, and travel, as well as just embracing new experiences has led me over many years to seek the more weird and wonderful places of the world, however difficult they might be to get to. In addition, I want to show people the diversity and differences of the world, culturally, ecologically, and geographically — after all, we are all in this together, so why not go and see as much of what's out there as possible? Photography is the perfect medium for me to do this, and I love the way that the equipment and my creative vision can either inspire or enlighten. I see people wrapped up in their own world every day, so why not put yourselves in someone else's?
The main goal of the trip was to visit The Mentawai Tribe — people who I had read about for a while and seen documented before through photography. My second goal was to visit the island of Lombok where my wife and I have bought some land, but rather than visit there for other personal reasons I wanted to see the indigenous groups of the island, the Sasak people. But first, to get to the island of Siberut, one of the islands where various Mentawai families live, we had to figure out and plan a rigorous and arduous travel schedule. Eventually, the timings of the different sections of the journey meant that the Mentawai Tribe part would be sandwiched between the Baduy people in the highlands of Java and the Sasak people in Lombok.
And so I had a plan – three tribes over three weeks.
Baduy
The Baduy (pronounced Badui) are a traditional community and are considered (anecdotally) an un-contacted people, and a group who are almost completely isolated from the outside world. There is no electricity, no technology, and plentiful peace and quiet. They have their own religion — 'Animism' — whereby they honor or worship spirits of natural forces by the attitude of guarding and preserving the natural environment such as the mountains, valleys, forests, rivers, and all the ecosystems within them, as well as giving their highest gratitude to this nature as part of an effort to maintain the balance of the universe. They also have some rules that they live by, for example, no vehicles are allowed as a form of transportation, no footwear is allowed, usage of electronic devices is prohibited, and no modern clothing is allowed.
All of this made for an interesting experience whilst staying with the chief of the village and his family. I slept on the wooden floor of their hut along with my fixer, John, assistant Trudy, and local guide Alan. As you can imagine, this did not make for a comfortable or quiet sleep each night. As always though, this is part of the experience, and when it came to photography — what I was there to ultimately do — it is a necessity to immerse oneself in the life of the subject as much as possible.
For the first few days we sat around a lot, smoked, talked, and ate. The Baduy people didn't speak any English so for me much of this was all observation, which allowed me to learn and listen in a different way, which helps very much with photography — how they interacted with each other, their body language, comfort level, and openness. These few days also allowed me to gain my bearings, walk all around the village and surrounding area, show my face to as many people as possible, and devise a "shot plan." Before long, I sat down with the team to tell them what I wanted to do, weather dependent, and with the permission of 'Sharif', the Chief – which was granted – we set to work.
Mentawai
The plan was epic, and not necessarily the positive version of the word: one day travel back to Jakarta then two days to Siberut via plane, car, tuk-tuk, bike, ferry, canoe, and foot! On this island, there would be no possibility to communicate with the rest of the world and so we got the last remnants of cellular data in the town before boarding the penultimate leg on the ferry so we could advise family, friends, and colleagues that we would be out of service (completely) and provide the satellite phone number for emergency contact.
The two leaders of the tribe had taken the canoe all the way downriver to collect us. They are brothers, named Aman (Mr) Manja and Aman Sasali, and are both Shamans (spiritual healers and Chiefs). From the outset, I befriended Aman Sasali, and although the younger brother of two, he took the lead with communicating between us and his tribe. He spoke a little English which helped – he had picked up some of the basics over his years of visiting nearby towns and the odd tourist.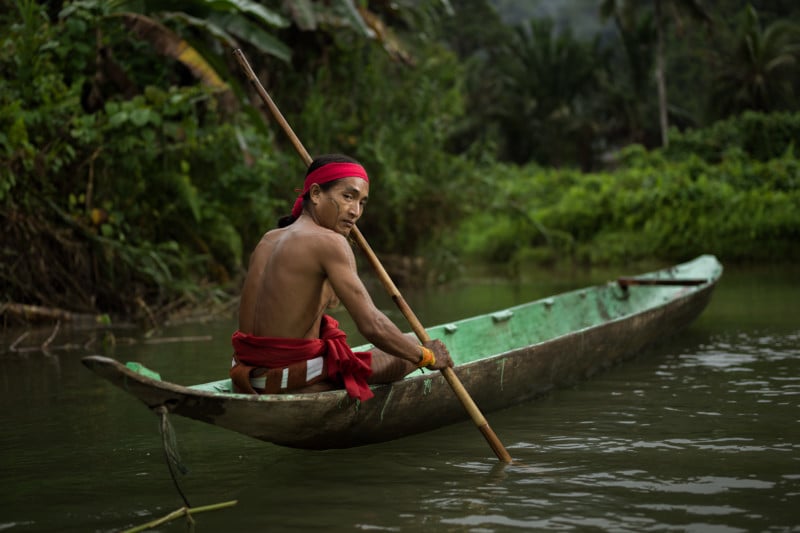 Mentawai people are the native people of the Mentawai Islands, and Siberut is one of those islands, about one hundred miles from West Sumatra province, Indonesia. The tribes of Mentawai make up a fraction of Indonesia's indigenous groups, who choose to practice and preserve ancient ways of life that, for the most part, center on the sustainable use of natural resources. They live a semi-nomadic hunter-gatherer lifestyle in the coastal and rainforest environments of the islands and are also one of the oldest tribes in Indonesia. Their population is estimated to be around fifty thousand, they have their own language and also follow the Animist belief system that links the supernatural powers of ancestral spirits to the ecology of the rainforest. The Mentawai people are also characterized by their body art (as a kind of "uniform" representing their status), and the women's tendency to sharpen their teeth, a practice they feel makes one beautiful (usually done when married).
When I arrived I was greeted by the rest of the family with hugs, smiles, and mick-taking gestures (and jokes probably — I just couldn't understand them) about my beard. I was offered coffee, cigarettes, and home food (vegetables and fruit), and we spent the time sitting, watching, and talking. I was inquisitive about so many things, but the more broad questions I had on my mind were: what am I doing here, who are these people and how do they live?
Yet more specifically, I wanted to get to know them individually and as a family — what are their personal stories, what is their history, what is the context behind the tattoos, why do some women get their teeth sharpened and others not, how do they treat ailments, what is their daily ritual like, do they celebrate anything, what do they visualize the spirits to be like, and do they wonder what the outside world is like? This is to name just a few of the questions swirling in my head.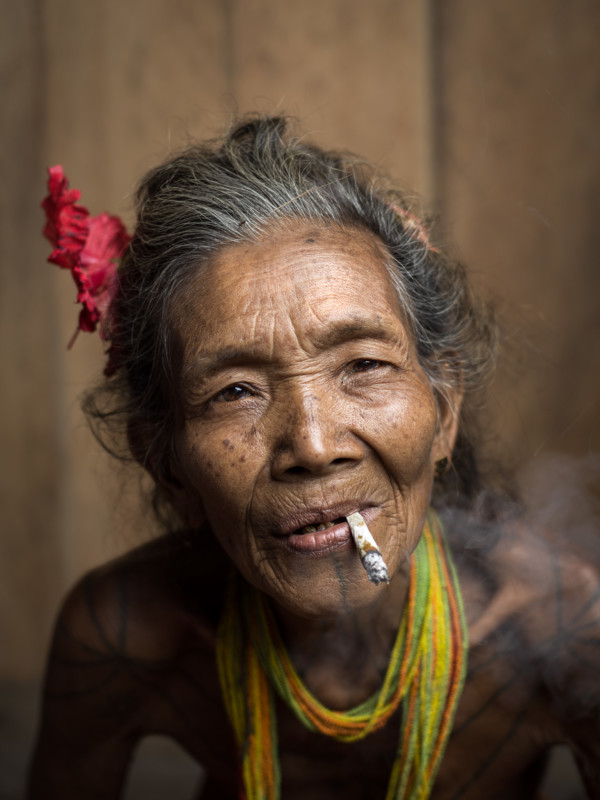 We slept on the floor, but in a tent or under mosquito nets. The sounds of the night were wonderful, but the heat was unbearable. Waking up on the second day to cockerels and in a pool of sweat, I started thinking about photography plans. Being in the rainforest, the sunlight would be hard to capture, if it was present at all, and a couple of the ten specific shots I wanted required some rays of sun peaking through the trees. This was all still in the back of my mind though as the first few days would be spent once again getting to know my subjects, asking more questions, and sharing more of each other's wildly opposite lifestyles.
By the third night I had a shot list, and I later added plans B and C for the case of rain or incompatibility with subjects (language translation was clearly going to be an issue, and confusions would arise, plus timings may not have suited the people I wanted at a certain time so I needed to know what and who to substitute). Plan B is always put to use at some point, and often C too, so it was nice that I could have a few days scheduling and writing proper plans down.
The few days of shooting were extremely tiring — with little sleep anyway and very early mornings to contend with, by the time I got back into that canoe for the long trek back to Jakarta I was exhausted. Overall though, the few days of photographing with the family went well; much patience was exerted (on both sides of the lens) and polite respect for each other was imparted. The brothers, especially Aman Sasali, were always accommodating in having their photos taken and I like to think we made a small bond over the week I was with them. These were some mesmerizing days that I had in the jungle, photography aside. I learned a lot about the lifestyle of the Shamans and Mentawai as a whole; how they still live to this day successfully, utilising the jungle for everything they need — shelter, food, and health — and being able to gain happiness from it. Should that tell us something?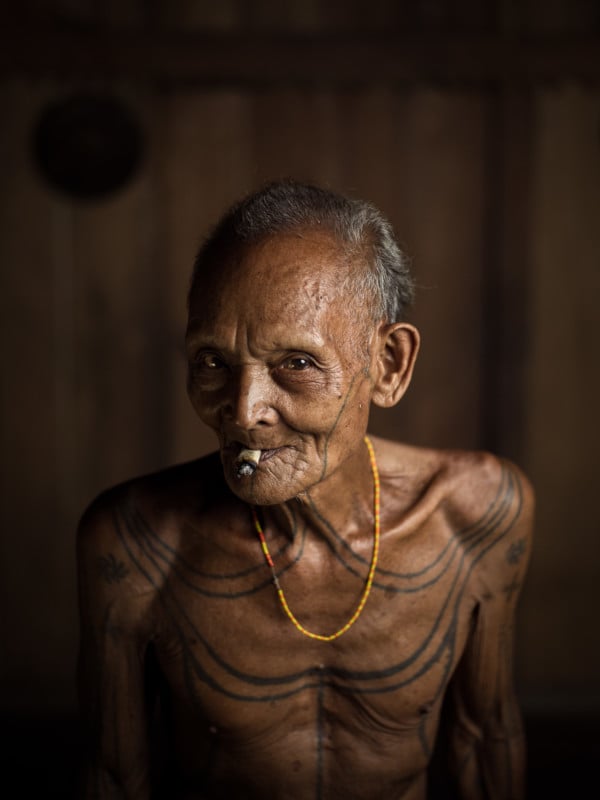 There were so many observations, moments, and experiences that I wanted to share and explain, yet I know I couldn't do it justice through my own words of photography — I was not there for reportage or journalism. The nuances of how their family hierarchy works, the food preparation and cultural habits, the utilisation of every element around them, their sense of humour, love of family, laughter and hope, were all integrated into these small experiences and moments, none of which I caught on camera.
My objective was to convert through visual beauty the immense value of multiformity that the Mentawai represent a part of, and that characterises every human. So I wanted to document these people in a reality that can only be experienced in person and transacted through a camera, thus bringing the attention of as many people as possible to the wonder of cultural and worldly diversity that the Mentawai symbolize.
Sasak
My final part of the trip was a week in Lombok, the neighbouring island of Bali. Certainly the lesser known little sister, this is a sheer beauty of an island, and is still relatively untouched, making its beauty even more attractive to see and experience. Fortunately, I was exposed to this island a few years back and bought some land on the south side, so I am familiar with its aesthetics, but I am not familiar with its people or heritage, and so I took it upon myself to make sure I didn't go home without knowing more about the Sasak people who have inhabited Lombok for over six hundred years.
Much of the Sasak heritage is now found in a few old villages that have preserved the authentic ways of living, and so we spent most of our initial time here, meeting people and sourcing locations and subjects. It didn't take me long to discover that Sasak people love to dance, sing and enjoy general festivities, and so I wanted to capture some of this on camera, but more the people behind the traditions. Also, Peresean — a traditional fighting sport with sticks and shields — is a common practice and age-old tradition – something that had the potential to be dramatic on camera. So, given my limited time here I focused my attention on some of these major activities and the people that performed them.
The three tribes I photographed were so different in so many ways, and it is bewildering that this is just a small fraction of the different clans of Indonesians across such a vast and diverse country. It only made me want to see more, experience more, and meet more of the people throughout this wonderful place. The one common denominator though that I experienced across my whole time was the kindness and warmth of the people, everywhere I went. They were hospitable and welcoming, and pleased that I was taking such an interest in their way of lives.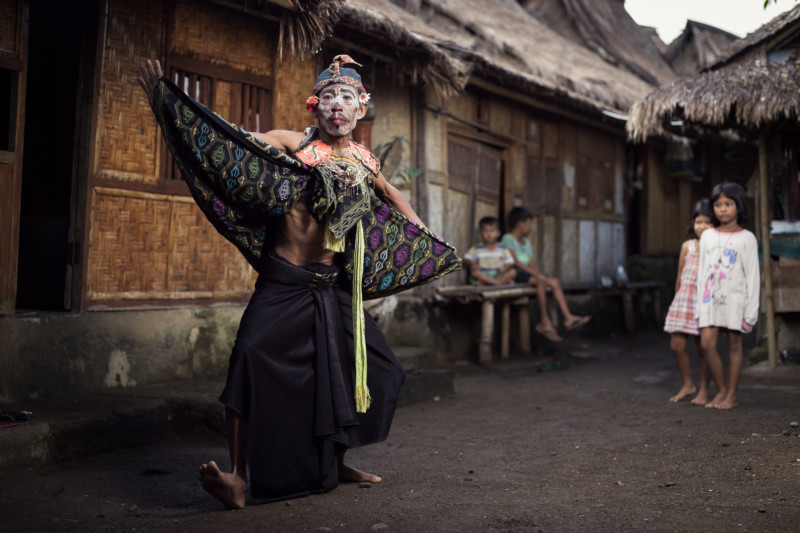 I would urge anyone reading this to go and explore this country and meet these people — the value of travelling is not the destination and seeing the sites, but the journey along the way and the experiences that put you out of your comfort zone.
Elizabeth Benedict famously once said: "What gives value to travel is fear. It breaks down a kind of inner structure we all have."
This is where I truly believe one gains perspective to grow, and in my case I hope I can translate that perspective through my photographs, by embracing the unknown and trusting the process.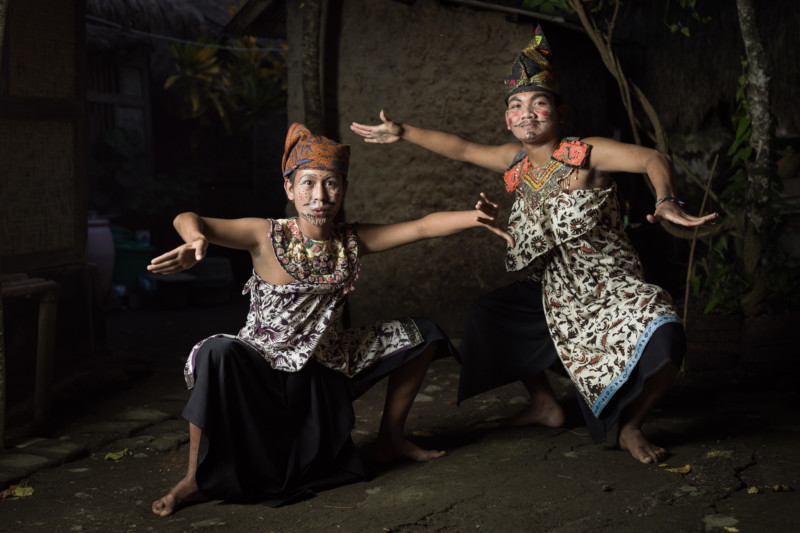 But please be the judge, not me. I hope that my photographs of this trip inspire curiosity, and curiosity alone — to encourage the viewer to discover their own thoughts and stories for each image, or the entire collection.
---
The full gallery of images from Matt Jacob's Elements can be seen on his website. Warning: there is some nudity.
---
About the Author: Matt Jacob is a photographic artist who specializes in capturing the evocative, dynamic, and complex lives of various subjects whose stories grab his attention. With a focus on authentically encapsulating a moment from all metaphorical angles within a photograph and a deeper story over a collection, Jacob has dedicated his passion to truly understand the essence of different perspectives, as well as understanding the "why" behind various forms of human nature. He believes a fearlessness in beholding his subject's story is what makes his photographs unique. To this day, he relentlessly pursues the capturing of untold stories of unfamiliar life.
This article was also published here.