Sports Illustrated's Swimsuit Issue to Feature its First Trans Model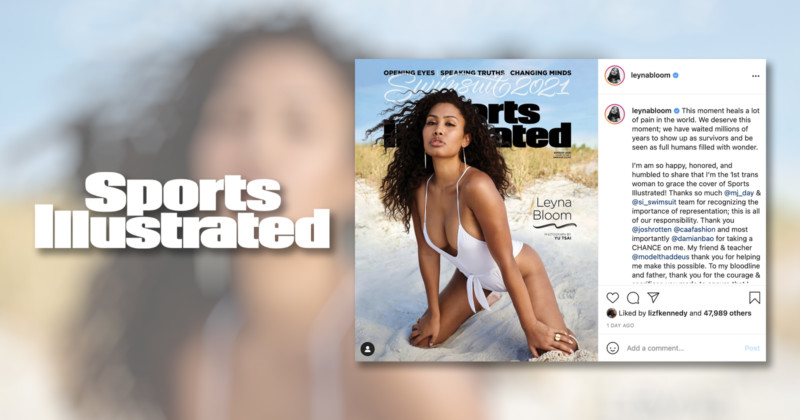 Leyna Bloom, who hopes to inspire young trans children and other women like herself, has marked history as the first transgender woman to be featured on the cover of the 2021 Sports Illustrated swimsuit issue.
The 27-year old model, actress, dancer, and activist is the first transgender woman — who is also Black and Filipina — to grace the Sports Illustrated's swimsuit issue cover which hits stands later this week, as reported by The Washington Post.
Having experienced trauma throughout her life after she was raped as a child, sexually fetishized, and forced to hide her true identity, Bloom is thrilled to openly be a part of the movement that celebrates the diversity of what constitutes beauty. The issue also features tennis star and activist Naomi Osaka, the first Japanese and Haitian woman to grace a previous cover, and rapper Megan Thee Stallion, who won three awards at the 2021 Grammys, including Best New Artist.
Bloom first announced herself to the world in 2014 when she modeled for a magazine shoot that featured her and other trans women and has since become one of the first openly trans women to take part in Paris Fashion Week. Prior to Sports Illustrated, Bloom was also the first trans woman of color to be featured on the cover of Vogue India and the first trans woman of color to start in a movie at the Cannes Film Festival.
View this post on Instagram
In an interview with Variety, Bloom revealed that "to have a trans woman as a symbol of beauty in swimsuits on a beach in comparison to other icons, like Tyra Banks and Giselle, and Heidi Klum," is "a testament of what's happening right now in the world and what's going to happen in the future."
This moment heals a lot of pain in the world. We deserve this moment; we have waited millions of years to show up as survivors and be seen as full humans filled with wonder. – Leyna Bloom
Looking back at the past Sports Illustrated swimsuit issues, they have neither centered around fashion nor sports, The Washington Post wrote in 1998. Instead, "it is mainstream, middlebrow and middle American" and its pages show photos that depict "the currently agreed-upon cultural definition of female beauty."
When this article was published 23 years ago, the publication also wrote that in its 35th year of running, the swimsuit issue had only introduced some changes in the diversity of models — although that year's cover featured Heidi Klum, the tall blond German-American model — and it still had a long way yet to go.
Twenty years later and after what many called a tone-deaf #MeToo photo shoot in 2018, the magazine shifted. It soon after featured a model wearing a hijab and burkini for the first time and celebrated Kathy Jacobs — a 56-year old model, actress, and outspoken advocate for beauty at every age — who was first featured in 2020 and again in recent issues.
View this post on Instagram
During a time where a publication like Sports Illustrated tries to balance what its readership is and what message it wants to send with its swimsuit issue to its audience today and into the future, Bloom is still glad to represent different kinds of beauty standards on such a coveted cover photograph.
"I'm so happy Sports Illustrated wanted to have the nerve to really say, 'we got to have this moment, and if you don't like it, you can go somewhere else,'" Bloom told Variety.
When asked if taking part in the swimsuit issue is the best way to show others that "you can be respected, appreciated and loved no matter your body shape, sexuality or skin color," she told a New York Times reporter that this is just one way of achieving it.
"This is a way of reaching the top of the food chain," she says. "Let's at least have this moment and say that we had it, and then we can go on to dismantle it."