Photographer Turns Abandoned Monuments into Futuristic Art
A photographer has traveled across the world — mainly ex-Yugoslavia, ex-Soviet, and East European countries — and turned largely abandoned and often neglected monuments into spectacular pieces of futuristic art filled with light and color.

Yang Xiao
is a self-described urban explorer, traveler, designer, and architectural and light painting photographer. Originally from China but currently based in Spain, Yang used her project, "
Eternal Monuments in the Dark
," to combine her all her passions — travel, light-painting photography, and grand architectural pieces from past generations.
It took her nine years to collect imagery from over 40 countries with the common denominator of abandoned monumental and architectural pieces, designed in brutalist and Soviet modernist style, which became popular in the post-war period.
This type of architecture has several easily recognizable features, such as the use of heavy materials, like reinforced concrete and steel, rough and unfinished surfaces, and general utilitarianism over design. Unsurprisingly, due to its characteristics and low build cost, it is also often seen as a cold and soulless style, reports Architecture Design.
Yang, however, was fascinated by this. "I love massive sublime scenes, and those monuments are my favorite kind of scene," she tells PetaPixel. Her first encounter with one of these grand concrete reminders of the past occurred in Bulgaria.
The Start of the Project
Yang first visited Buzludzha, a historical peak in the Central Balkan Mountains that features The Monument House of the Bulgarian Communist Party, finished in 1981 and neglected after the government's fall from power in 1989.
The monument — built to commemorate the accomplishments of the Marxist Party in Bulgaria — was designed by architect Georgi Stoilov, who was inspired both by the historical Roman temples of the past and the futuristic sci-fi films of the time.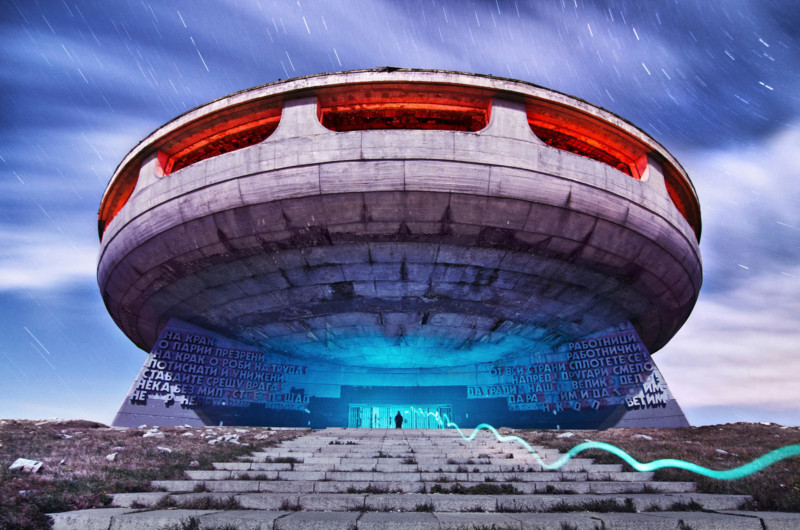 When Yang visited the area, it wasn't as popular as it is today nor was there much information available online. She got in touch with a British photographer Mark O'Neill on Flickr, who had visited the place before, to consult and gather information about it. After some time, they both became friends and traveled to the location together.
Not initially intended to grow into a lengthy project, this trip triggered Yang's interest in abandoned sites and structures, brutalist and Soviet modernist architecture, and, of course, travel and photography. This journey set the basis for "Eternal Monuments in the Dark" and the numerous trips she went on later.
At the time, Yang was already involved in photography, with a particular interest in night photography. During her trip, O'Neill — whom she also traveled and collaborated with on many occasions after the Bulgaria trip — introduced her to the light painting technique, which she incorporated in her project.
For this technique, Yang uses hand-held lights to paint or draw in a scene while the shutter of the camera is left open during a long exposure photograph. This means that many photos are taken during the dark, which may not be the most comfortable time for a lone traveler — this is why Yang often brings someone with her.
Having said that, Yang is not held back by any other possible challenges that may arise when she travels to an unfamiliar country or location. Prior to her trips, she spends time searching for interesting locations — with most information found online from websites, Facebook groups, and Instagram — and often collates her finds on Pinterest.
If unable to find exact coordinates of the location she has set her sight on, Yang uses Google Maps in the satellite view to locate her destination and mark its exact location on a map. Another factor to consider is accessibility because certain locations might be demolished or the entrance might be sealed to visitors.
So far, she has had overall positive travel experiences, "mainly because the local people are very friendly and warm-hearted, always willing to help."
Yang says that, once the location is confirmed, the most important thing for her is the light environment during night hours because street lights or other artificial light surroundings can affect or even ruin the intended picture.
Equipment and Post-Production
In the early stages of learning about the light painting technique, Yang experimented with different tools that shine and could be used for light painting. After several years of finding what works best, Yang has reduced her equipment kit to a minimum when she travels.
Her light essentials include LED Lenser MT18 — a big and powerful torch –, which she uses in large spaces and in extreme conditions, two or three smaller torches with different light colors, a self-made lightweight LED light tube, and a powerful laser pen. When it comes to her camera of choice, Yang uses Nikon D810 with either Zeiss 15mm f/2.8 Distagon or Tamron SP 24-70mm f/2.8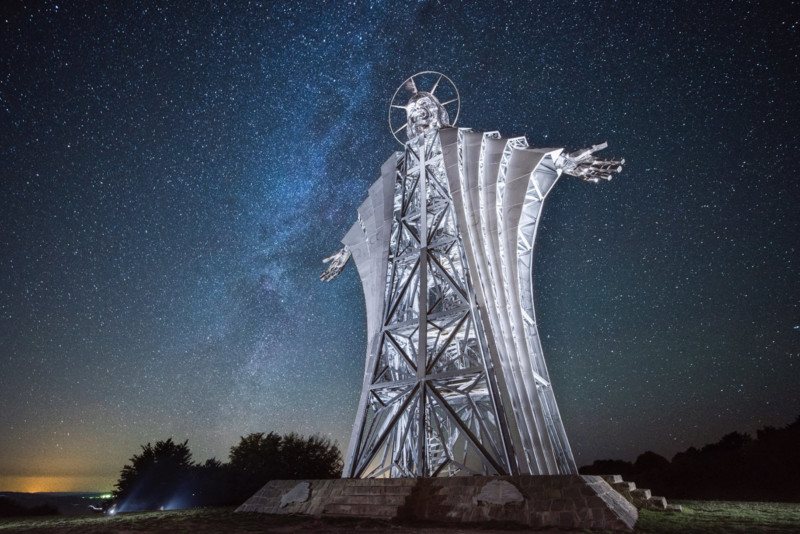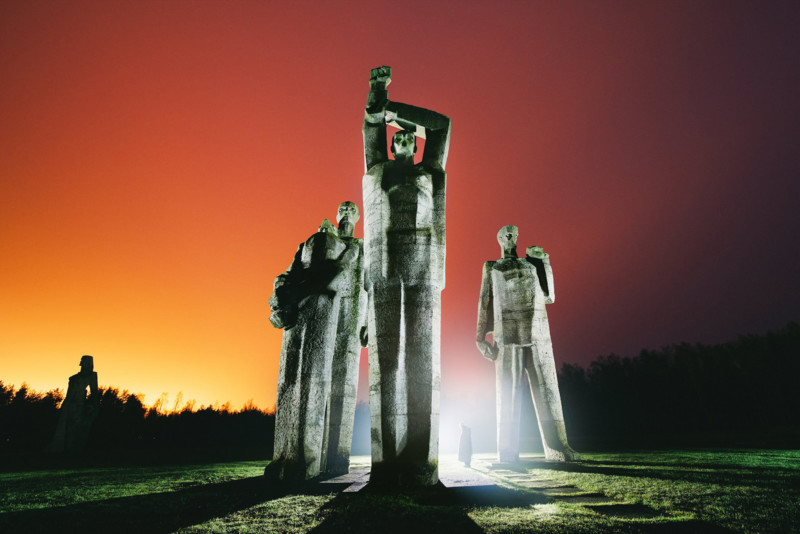 After she has composed the image, Yang shoots multiple exposures of the same scene to obtain different light angles and colors. After that, she stacks those in her camera, using an "overlay" function, to preview the stacking effect. This gives her a good indication of whether she needs to get any more variations.
During post-processing, she selects the exposures she needs to stack, which is also the most challenging part of this process.
"I have many exposures for the same frame, I need to select only a few from all the exposures that I did," she says. "When I stack those exposures, it's a process of restructuring my ideas to each monument, to each shot."
Feedback and Future Projects
Her project has garnered many responses and feedback from people whose countries Yang has visited and photographed. Many of her photographed locations are neglected today, and they evoke complex emotions from the locals.
"People love and hate them at the same time since it reflects their complicated history during wars," says Yang. Although the monuments feature designs that Yang finds aesthetically beautiful, the reality and the stories behind them are anything but.
Many are also surprised to see her photographs and the different and unique perspective they present. "Some even say my photos made them proud of their country, which I really appreciate," says Yang.
When asked about her own personal highlights of the project, Yang points out Buzludzha because it is where her journey began and formed her taste in the topics that she is still interested in today. When Yang photographed it, she recalls standing in total darkness and unable to see the grand monument in front of her.
"At that moment, for the first time, I understood the meaning of so-called 'emptiness'. I got very moved by this surreal feeling."
The experience of photographing the Tjentiste War Memorial, in Bosnia and Herzegovina, displayed above, is equally as memorable. "The spectacular design of the monument, the breathtaking sea of clouds behind it, the huge fireball of a bright bolide across the night sky, all made the overall experience there very beautiful, surreal, and romantic," she recalls.
Yang sees the project as ongoing throughout her life because there are many locations she is yet to discover and explore.
More of Yang's work can be found on her website and Instagram, including her most recent digital collection — a result of the pandemic-enforced travel restrictions — of roundabout sculptures she has collected via Google Maps.
---
Image credits: Header photo: "Ilinden Memorial or "Makedonium." Gumenja Hill in Kruševo, Macedonia." All images by Yang Xiao and used with permission.