Beautiful Photos of Rice Fields in India Perfectly Leverage Composition
Dibakar Roy, from Kolkata, India, uses the power of remarkable composition thanks to shadows, patterns, subjects, and perspective to take this seemingly ordinary part of everyday life for farmers into the extraordinary.
Farming paddy — which is both the term of a field where rice is grown as well as for rice that is in its husk — is of huge importance in rural India, where agriculture is the primary income for many families.
Roy tells PetaPixel that the strong lines he captures in his photographs come from the drying process in the fields. First, after cultivating the golden paddy, it needs to be boiled. Then, after boiling it, workers dry it on a large ground area for three to four days, and it is within this drying process that the lines and patterns are created on the ground.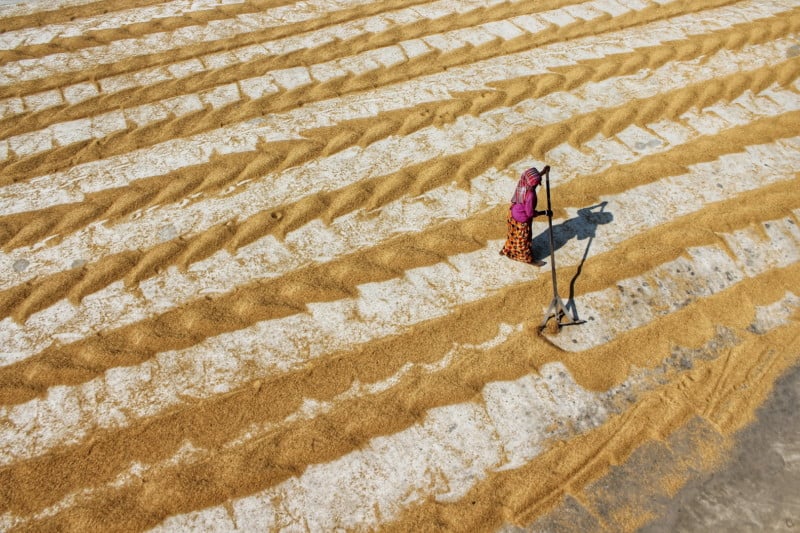 The fields and farmers in his photos are from Habra, which is located in West Bengal, India. Roy says that in this area many farmers are involved in this type of work.
Roy used a Canon EOS Rebel T5 DSLR with a Canon EF-S 18-55mm f/3.5-5.6 kit lens to capture the images from the rooftop of a nearby rice mill. He explains that he chose this lens as it allowed him to shoot wide-angle from his chosen higher vantage point and capture a wider scene. Roy arrived very early in the morning and stayed until noon composing and shooting his images.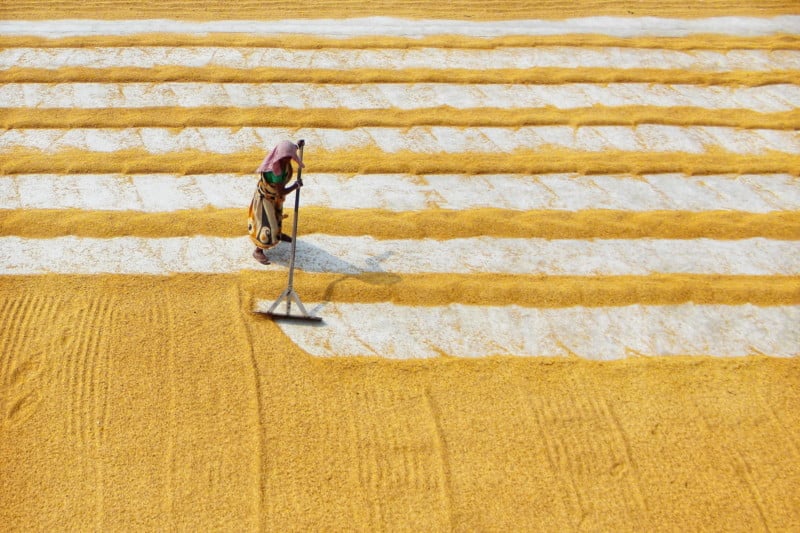 Roy purchased his camera in 2015 — which followed a simple Kodak point-and-shoot he used from 2001 until that point — and continues to use it to this day. A self-taught photographer, Roy first began by photographing the beauty of nature in the area surrounding his home before taking part in exhibitions, contests, and workshops.
Since then, Roy has won an Honorable Mention in The Sanctuary Wildlife Award 2017 and achieved several other accomplishments, such as becoming the DCP Upcoming Talent Photographer of the Year 2018, second place winner in The RHS Photographic Competition 2019, winner of Sony Great Little Moments 2021, and most recently claimed first place in the EISA Photography Maestro Contest 2021.
Roy says that he believes everyone is capable of nurturing photography and building on their skills step by step, more so than merely being born with talent. Roy himself started out with photography as a hobby during his childhood and built on it day by day as it became a passion of his.
"I think photography is the process of getting knowledge, involvement, and improvement. I learn every day to see everyone's photos but never try to copy them," he says.
His photography focuses on capturing normal everyday moments from his own personal point of view and presenting them to the viewer in a unique way, just like he did with the rural fields of India.
More of Roy's work can be found on his 500px profile and on his Instagram.
---
Image credits: All images by Dibakar Roy and used with permission.