Apple's iOS 15 Updates to Facetime Puts Zoom and Teams on Notice
Apple has announced the latest updates for FaceTime which opens up more opportunities for users to share media with each other in a way that looks very much like what Zoom and Microsoft Teams offer, but with the signature Apple touches.
At its 2021 Apple Worldwide Developers Conference, Craig Federighi, Apple's Senior Vice President of Software Engineering, unveiled the latest updates for FaceTime, the company's proprietary video-call app.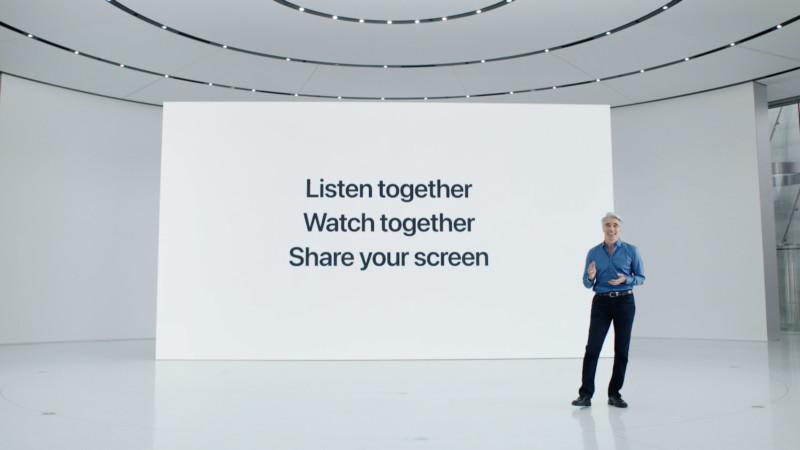 Apple iOS 15 will bring improved video call quality by adding spatial Audio, which spreads out the voices of other call participants in the direction that they appear on the user's screen. Apple says that this will enhance the experience and make video calls feel more like they are taking place in person. The company has also added voice isolation which ensures that the microphone prioritizes the user's voice during a call and reduces distracting background noises. It is akin to how noise cancellation works in headphones, but for microphones on Apple devices.
During a call, FaceTime shows other users in an easily viewable grid view and uses the same size tiles for all call participants which makes it simple to identify who is speaking by highlighting their tile. Apple will also bring a portrait mode feature to FaceTime, which adds a blurred background and puts the focus on the subject.
Expanding into the video conferencing sphere which has seen explosive growth during the pandemic, Apple will also be giving users the ability to generate FaceTime links, positioning the service in direct competition with Zoom and Microsoft Teams. FaceTime links will make it easy for users to share a group call and also permits Android users to join in the call from their browser. Further, the links work on any device on any operating system. Apple notes that for those using a browser to join the call, FaceTime still uses end-to-end encryption for privacy.
To further connect users, the company has also introduced what it is calling SharePlay. This new feature allows users to share their screens with others, including while watching television and movies or while gaming. Users can watch movies and listen to music with others in real-time, which has been further enhanced with Apple's partners through its SharePlay API. Apple says that at launch, multiple apps will work with SharePlay such as Disney+, Hulu, TikTok, NBA, ESPN+, Twitch, PlutoTV, and several others.
SharePlay can be used in the background while other apps are active thanks to a screen-in-screen feature, which doesn't disrupt the call. Users will be able to use this screen share across different Apple devices and it can be applied not just for entertainment or communication but also for educational purposes, Apple suggests.
These updates and others will be available to developers starting today with a public beta scheduled for release in July. The public release of iOS 15 will come this fall.