What It Was Like Photographing March Madness During COVID
The COVID-19 pandemic changed a lot about the national sports scene, and the 2021 NCAA Tournament — AKA March Madness — was no exception. According to the NCAA basketball's official photographer Jamie Schwaberow, the experience was filled with firsts both on and off the court.
Schwaberow is the Director of NCAA Photos and the owner of Clarkson Creative Photography in Denver, Colorado. His team is tasked with capturing photos of college athletes in both the men's and women's tournament every year, and the changes that the pandemic brought to his staff and how they all did their jobs in 2021 has been significant.
"Almost everything was different about shooting these events this year, except for what was happening on the court," Schwaberow said in an interview with PetaPixel. "It was a bubble, though it was a little different from the NBA bubble from all the people I've talked to about that. There were different tier systems: Anyone who would be on the court was Tier 2, which meant daily testing every day in the hotel."
Schwaberow himself, along with his team, was on-site in Indianapolis for an entire month in order to properly isolate and work within the NCAA's protocols for safety. Not being able to go home and staying the entire time in a hotel was quite a change.
Schwaberow would know, as he's been photographing sports and basketball since 1998 and the Final Four since 2000. Specifically, he shot the women's final four for 15 years and took over duties for the men's Final Four in 2016.
"We could only be transported to the games via NCAA busing," he continues. "It was a group of basically a couple of photographers, NCAA committee members, NCAA staff, maybe some refs, and that was about it. It was a really small group who had access to be on the court."
As the total number of people actually on the court was reduced, even more so were those with cameras when compared to previous years.
"For the NCAA tournament, they only had a couple of us on the court. At NCAA photos, we basically have the contract to do the photography for all the teams and Getty licenses the content. Getty got court access also, so it was me, a Getty photographer, a social media person, and someone from CBS on each end of the court. That was it, everyone else had to shoot from up top this year."
On the one hand, this meant that Schwaberow had a lot more room to operate, though despite this he is looking forward to returning to the way things were.
"We had a lot of room to spread out, I won't lie there were a lot of good things about it but for photography as a whole I hope it goes back to the way it was."
Just the small number of Tier 2 photographers, wasn't enough to properly cover the event. Schwaberow explains that he had additional team members that were classified as Tier 3, but because they were not allowed on the court they were relegated to shooting only from elevated positions, significantly limiting their ability to assist him. That situation worked both ways, as Schwaberow was also unable to assist the teams working from those positions due to policies that insisted on strict separation.
"So much of what we have been used to as photographers we were not able to do this year," he says. "Tier 2 people could not go into the catwalks, we had to rely on Tier 3 for that."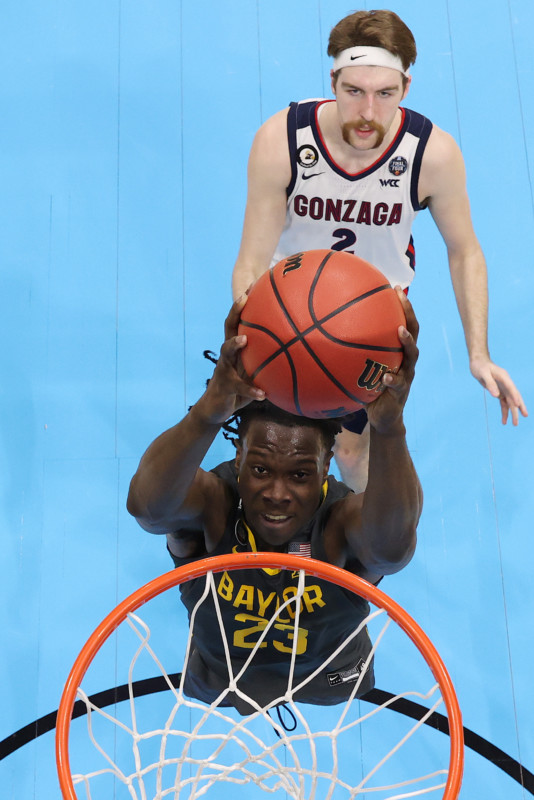 Schwaberow's entire team for the full tournament was 14 people to start with, but the scheduling of the events changed a lot in 2021 which required him to adjust accordingly.
"The whole schedule of the tournament was different," he explains. "Normally, you have the Thursday and Friday first-round games, and there are four games each at different venues across the nation. And then it goes down to two games on Saturday and Sunday at each venue. This year, because of how they wanted to do things, they had two venues — Indiana and Purdue Universities — which had games for the First Four and the First Round, and then those two venues were eliminated. So we had photographers at those venues, and then they were cut."
The other venues were also set up differently, with one that even had two courts set up inside — though the venue would not host two games on those courts at the same time.
"So we had 14 team members to start with, which fell to six at Sweet Sixteen and Elite Eight, and then went back up to seven at the final four and a couple more editors — we had three editors and four photographers at the Final Four."
Schwaberow says that everything that he and his team had gotten used to over the years as far as preparation was concerned was dramatically changed. In short, they had significantly less time than they normally would.
"It was such a scramble," he says. "As photographers, you want to get in early a day or two beforehand depending on the event, and start setting up your remotes. We often had two hours in advance because the transportation system was catering to our whole group not just photographers.
"It was a challenge. We had to scramble once we got to a venue and had to try and set up stuff… almost everything was different."
Schwaberow says that his gear kit changed quite a bit when compared to what he and his team usually work with.
"My kit changed because when you're putting up all these remotes it's kind of the only time of year when you need a lot of extra stuff. We have a team at the women's Final Four as well, so we need a lot of gear," he explains.
"We typically get a ton of gear on loan from Canon for the Final Four, and this year I told them that honestly we are gonna be in Indiana for an entire month so I asked if we could get that gear three weeks sooner to utilize all the opportunities we had at the tournament, and also to equip my full team spread out over all the different venues."
Schwaberow said that Canon agreed with his request, and his team had access to a huge amount of gear that they would normally only get for the last couple of games.
"This year it was fantastic because we had the whole loan from Canon for the whole time we were there."
While the games leading up to the semifinal and the final were different, Schwaberow says that the Final Four was a totally, entirely different beast than ever before.
Perspectively, he and his team usually have a lot more time to make sure everything is working correctly.
"Normally we start setting up Monday afternoon for Saturday games. Work all day Tuesday, most of the day Wednesday, part of the day Thursday. It's just a lot of work and frankly, a lot can go wrong with all of the cabling," he says.
"We typically have put up about 10 remotes on and around the baskets," he explains. "So we have four on each basket: on top of the shot clock, through the glass, the stanchion, and then a little cutout at the bottom of the hoop as well as at least one side remote."
Normally, setting up these remotes would fall on Schwaberow and one other photographer. This year, it was more of a team effort given the truncated amount of time they were given to work with.
"We were the last two remaining Tier 2 people who were part of the bubble so we did not have access to set up all that stuff. We were running ethernet, power, remotes, but we had to rely on our Tier 3 guys to do the bulk of that work which was nerve-wracking."
Luckily, he says that he has a great team and they were able to persevere.
"As the tournament went on, we were able to get in a little bit earlier than the two hours in advance to just start testing and checking things, but man, it was so different than the norm," he says.
Schwaberow says that while the types of equipment that he used around the courts were different, the equipment on his person stayed largely the same.
"I used three 1DX Mark IIIs as my handhelds throughout the games," he says. "I had one on a 70-200mm, 200-400mm to be able to shoot tighter, and then one with a 16-35 f/4 for pregame and postgame for the most part. For the most part, the 70-200 is really the dominant lens for anything I use on my side of the court."
"It was a learning experience for everyone. Earlier on, we definitely did not go onto the court at all for team huddles, celebrations, things like that. We either stayed in our photo positions or on the border around the court," he explains. "But as the tournament went on, after 17 days of straight negative COVID tests and just getting more familiar with the NCAA staff on-site, there was a higher level of trust.
"So we went out when it was appropriate."
"The way I always love to photograph celebrations is I'll shoot it with my longer lenses until I just can't anymore. For the Jalen Suggs game-winning shot, for example, I was fortunate: he was coming towards me and I got photos of his actual shot."
"For his celebration, I shot probably 40 frames of him jumping on the table. Once he was on the table, I finally needed to bust my butt over and get that shot also. In the chaos of those moments, you end up running onto the court and the NCAA was very I guess cool about it frankly, and willing to allow us to move around the court to get the content we need."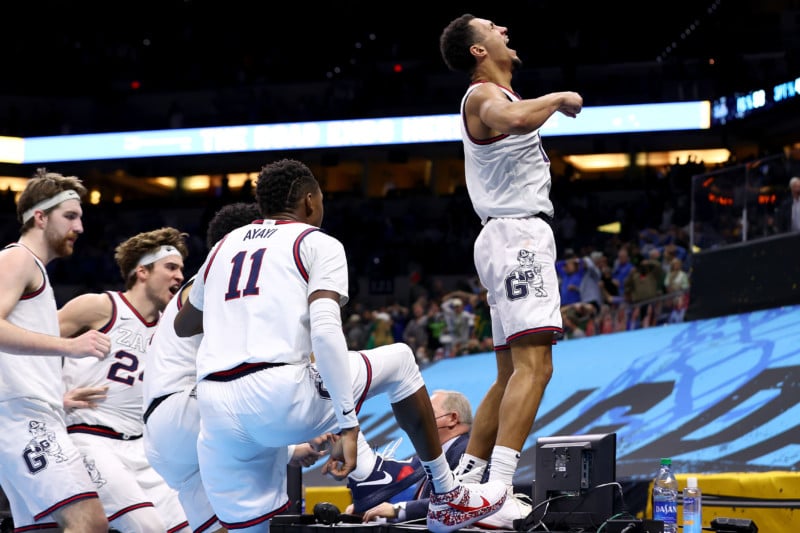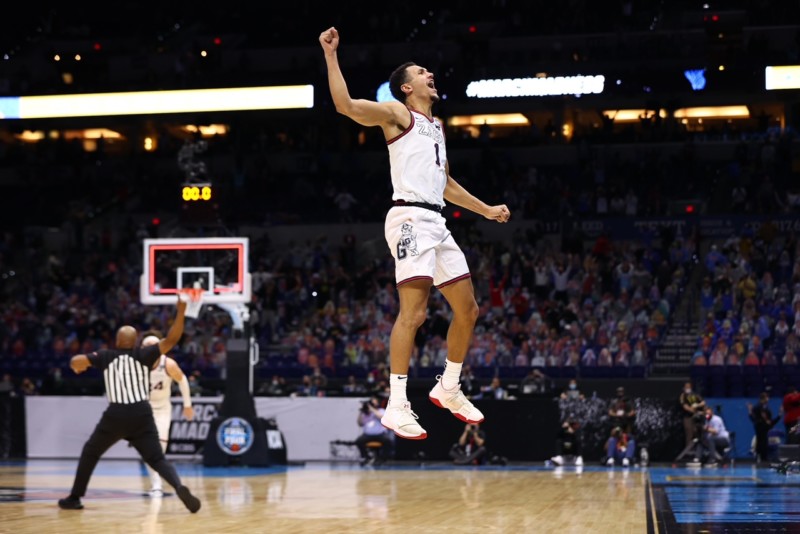 While the tournament is full of a ton of amazing moments, there was one that stood out the most to Schwaberow.
"Man, there are so many games that we covered but there was no bigger moment than the Jalen Suggs shot in the entire tournament," he says. "So honestly, I would say my favorite photo is I have Suggs and Joel Ayayi walking down the hallway ten minutes after all the on-court celebration where they are just laughing arms around each other, they just have this expression like 'did this really just happen? There is no way this actually just happened.'
"They looked like two little kids having a great time, amazed by the moment," he says.
Looking back on the whole experience, Schwaberow recalls one more thing worth mentioning.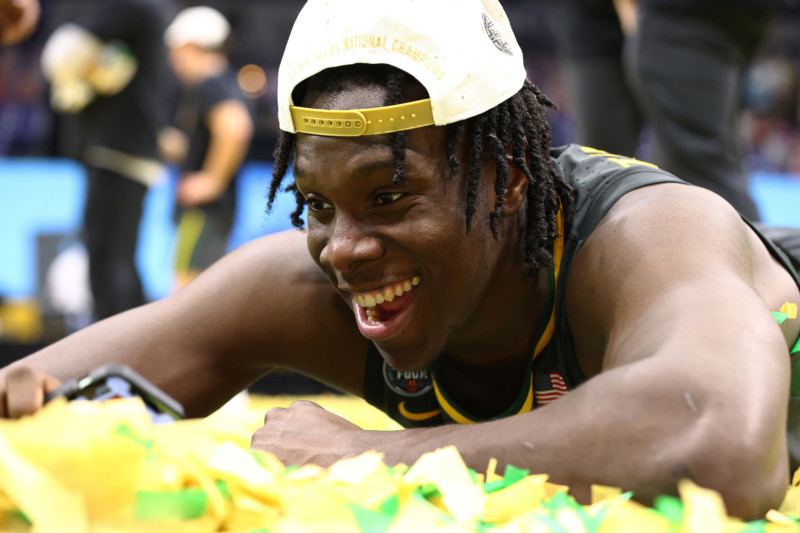 "We would go down for testing every single day between 7 AM and 9 AM part of the time, and then 8 AM to 10 AM starting at the Sweet Sixteen. It was like this weird little family. I had a birthday while we were there, so one of the top guys at the NCAA and Indiana University people played happy birthday over the loudspeaker there and that's just something you don't normally get," he says.
"The small bubble feel was a special, cool moment that we hopefully are never going to have again."
---
Image credits: All photos by Jamie Schwaberow/NCAA Photos via Getty Images