Photographer Spends 12 Years, 1250 Hours, Exposing Photo of Milky Way
Finnish astrophotographer J-P Metsavainio has released a Milky Way photo that took him nearly 12 years to create. The 1.7-gigapixel image has a cumulative exposure time of 1,250 hours.

Note: Click the photos in this article to see them at a larger resolution.
Metsavainio began shooting for the project back in 2009. For the next 12 years, he focused on different areas and objects in the Milky Way, shooting stitched mosaics of them as individual artworks. To complete the ultra-high-resolution view of the Milky Way as a whole, Metsavainio then set out to fill in the gaps that weren't covered by his original artworks.
"I think this is a first image ever showing the Milky Way in this resolution and depth at all three color channels (H-a, S-II, and O-III)," Metsavainio tells PetaPixel.
The photo is 100,000 pixels wide and comprises 234 individual panels stitched together.

The photo spans 125 degrees of the sky, from Taurus to Cygnus, and shows about 20 million visible stars.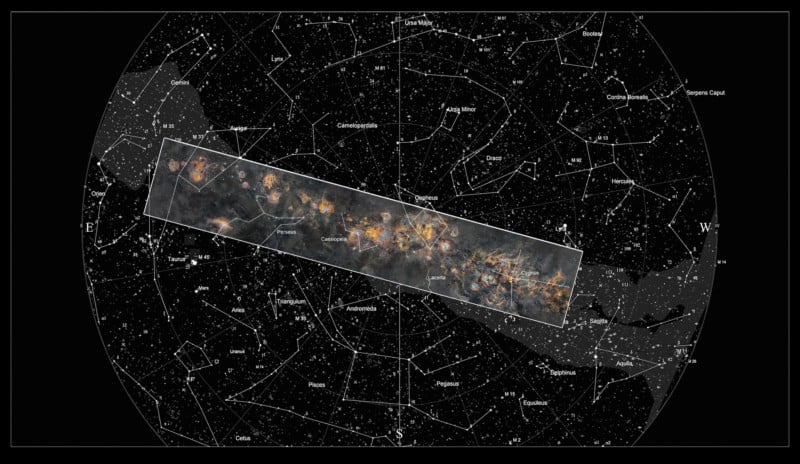 "My processing workflow is very constant so very little tweaking was needed between the mosaic frames," Metsavainio writes. "Total exposure time is over 1250 hours. Some of the frames have more exposure time than others."
Metsavainio's equipment changed a bit over the years.
"Up to 2014 I was using an old Meade LX200 GPS 12″ scope, QHY9 astrocam, Canon EF 200mm f/1.8 camera optics and Baader narrowband filter set," he writes. "After 2014, I have had 10-micron 1000 equatorial mount, Apogee Alta U16 astro camera, Tokina AT-X 200mm f/2.8 camera lens and the Astrodon 50mm square narrowband filter set.
"I have shot many details with a longer focal length, before 2014 by using Meade 12″ scope with reducer and after 2014 Celestron EDGE 11″ and reducer. Quider camera has been Lodestar and Lodestar II."
All of the mosaic work is done in Photoshop. Metsavainio does the "straightforward work" of matching the separate panels using shared stars to align them.
"My processing has become so constant, that very little tweaking is needed between separate frames," he writes, "just some minor levels, curves, and color balance."
Here are a few of the individual artworks that can be seen within very small areas of the completed photo:
You can find more of Metsavainio's work on his website and Facebook.
---
Image credits: Photographs by J-P Metsavainio and used with permission