Man Loses HR Day Job, Becomes WaPo and NY Times Photographer
At the beginning of 2020, Cornell Watson's full-time job was in human resources. At the end of the year, he was shooting for the New York Times and Washington Post and creating fine-art projects for which he has received a $20,000 grant award.

"I got into photography about two and a half years ago right before our daughter was born," Watson tells PetaPixel. "I really wanted to document our new adventure of being parents."
And then Watson started photographing his friends and their children. Then it was the neighbors. Soon it escalated very quickly to family photography.
"I worked in talent acquisition for eight years," says Watson, who graduated with a marketing degree from North Carolina A&T State University. "Up until June of last year, I've worked a full-time job while doing family photography as a business on the side. I was laid off on Juneteenth of 2020, which fell on a Friday."
One of his followers on Instagram worked at Durham magazine in North Carolina as a staff photographer. She referred his information to them when the opportunity came up.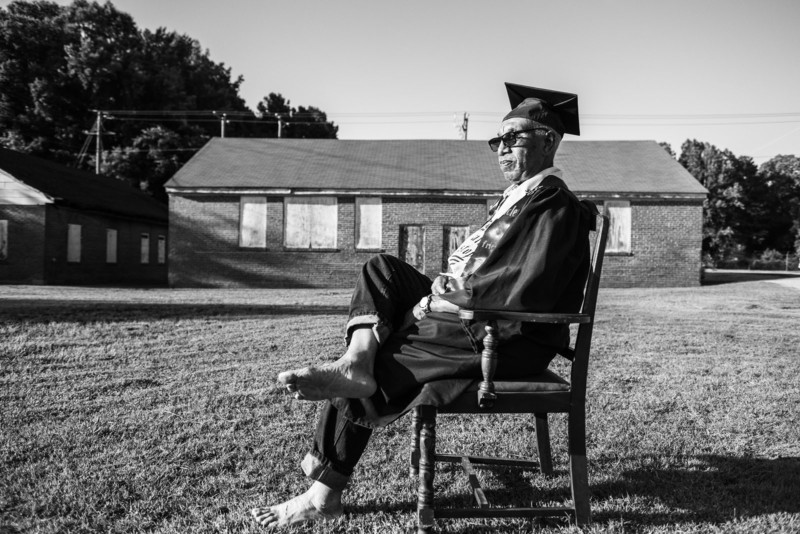 "That following Monday, I was interviewing with Durham magazine, and I've been a full-time photographer since," says Watson.
Watson got his first assignment for Durham to photograph cartoonist Keith Knight and his family. Knight is the writer and co-producer for the "Woke" comedy show on Hulu.
"We had an awesome time, and he called me about three weeks later because he wanted me to photograph him for the story The Washington Post was doing," remembers Watson. "And that was the first story I photographed for them."
Around the same time, he had finished the photos and the writing for Behind the Mask, a personal photo project he was working on. He pitched it to Kenneth Dickerman, the photo editor at the Washington Post, which ran it, "and the rest is history as they say."
"Behind the Mask is not only a powerful collection of images and words, it is extraordinarily timely and relevant," says Dickerman. "It is a reminder, to me, that sometimes I just need to shut up and listen to voices that have long been undervalued and underrepresented."
Here's an excerpt from Watson's artist statement:
This photo series is in honor of my ancestors who smiled when they were not happy, laughed when nothing was funny and cried when they were not sad so that I could be here today.

This is for the time we cut or straighten our hair to be "professional." For the times we pretend to be happy around our managers after seeing photos of them in Blackface…For the times we change our voices and profile pics to make hotel and dinner reservations. For the times we pretend to be strong when we are dying from the weight of racism…This is for all the times we wore the mask.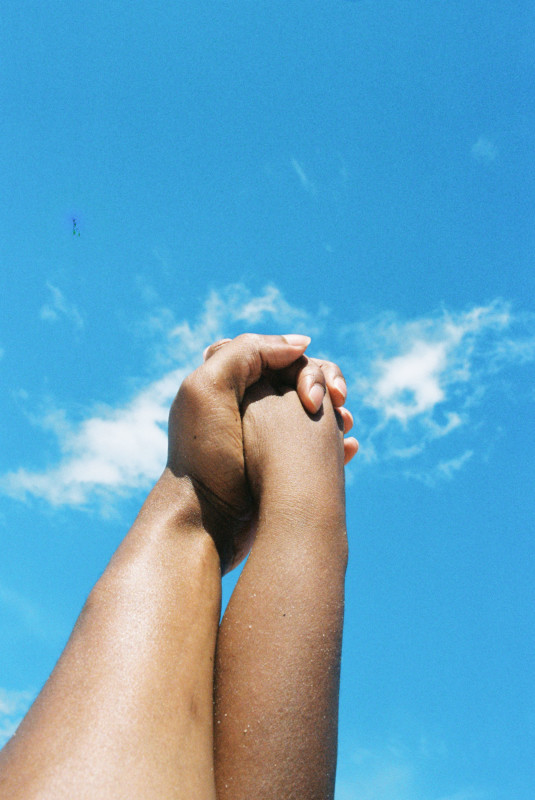 The title is inspired by the poem by Paul Lawerence Dunbar, "We Wear the Mask." Most of the images in Behind the Mask are in black and white.
"I love black and white as I felt black and white would really allow the viewer to feel the emotions of the photos," the photographer says.
Watson is the recipient of The Alexia grant for his personal work, Behind the Mask. The Alexia is a grant of $20,000 provided by S.I. Newhouse School of Public Communications at Syracuse University in New York.
"The Alexia promotes the power of photojournalism to give voice to social injustice, to respect history lest we forget it, and to understand cultural difference as our strength—not our weakness," says the proclamation on the Syracuse University site.
Getting the feature into the Washington Post opened the door to shooting election coverage.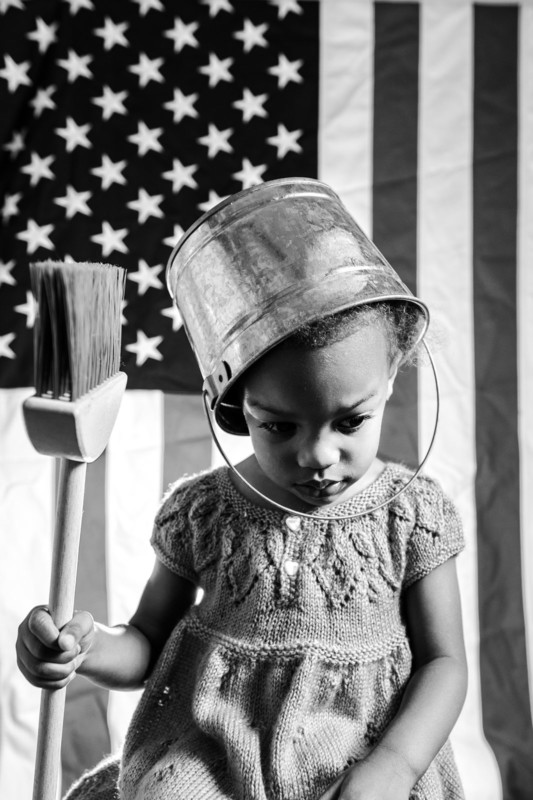 Watson uses Fuji X-T3 cameras and Godox lighting gear. He shoots in RAW and uses Lightroom for editing.
"I'm quicker than I use to be with post-processing, but it still takes time," he says.
Watson's press images were spotted by the New York Times, and they commissioned him for a story on "How Black Parents Survived 2020."
Does Watson see a difference between shooting for a local magazine and a national paper?
"With the magazine, the stories are about attracting people to the city," says Watson. "They are all feel-good stories. The stories for the NYT and WaPo are not all feel-good stories. These stories have a much larger impact. They have the potential to impact policy or influence personal views. The work is more meaningful in a way."
"The last two years have felt like I was on a photography crash course," says Watson. "I've attended two in-person photography conferences with the Family Narrative. The topics ranged across documentary, editorial, and commercial. I've taken a ton of courses on editing, lighting, writing, etc. While I had zero editorial experience, I have prepared."
"Lighting is one of the rabbit holes I will be going down for sure this year," says Watson about his future plans. "I want to find something funky and weird. Ha-ha. Writing is another rabbit hole I'll be jumping down. Writing adds another dimension to the visuals. There is so much to say, and having that in the tool belt really helps."
"The goal for [the future] is to spend more time hearing stories, creating concepts, and executing," he says. "This award [The Alexia grant] allows me to take the time to solely focus on that because I didn't have that opportunity last year. I was working a full-time job while trying to do all these things for the project."
---
About the author: Phil Mistry is a photographer and teacher based in Atlanta, GA. He started one of the first digital camera classes in New York City at The International Center of Photography in the 90s. He was the director and teacher for Sony/Popular Photography magazine's Digital Days Workshops. You can reach him via email here.
---
Image credits: All photos by Cornell Watson and used with permission