5 Signs Your Landscape Photos Are Way Too Busy
Figuring out the line between "good" and "too much" is one of the big challenges in photography, whether it's making adjustments in post-processing or figuring out what to include in a composition. In this 14-minute video, photographer Mark Denney shares 5 things to look for to figure out if your landscape photos are too busy.

"[I]n an effort to determine how I can better understand when I've added too much into my landscape scenes, I decided to dig into the archives of some of my past photos in search of images that I now feel are way too busy," the photographer says. "I'll share with you the 5 most common signs of busy landscape images I encountered in my own photos and how best to resolve them."
Here's a quick rundown of the 5 things covered in the video:
#1. Edge Patrol: Walk your eyes around the edges of the frame to see if there are any distracting elements that could distract your viewers' eyes from the center/subject of your photo to the edge.
#2. The Subjects: Is there a main subject (or cohesive subjects) to capture your viewers' attention, or will they be confused about what to look at?
#3. Bounce Factor: Is there a visual "flow" to your photo, or does it make the viewers' eyes bounce around?
#4. Scene Stuffing: Trying to stuff everything in a landscape into your photo can lead to too much going on.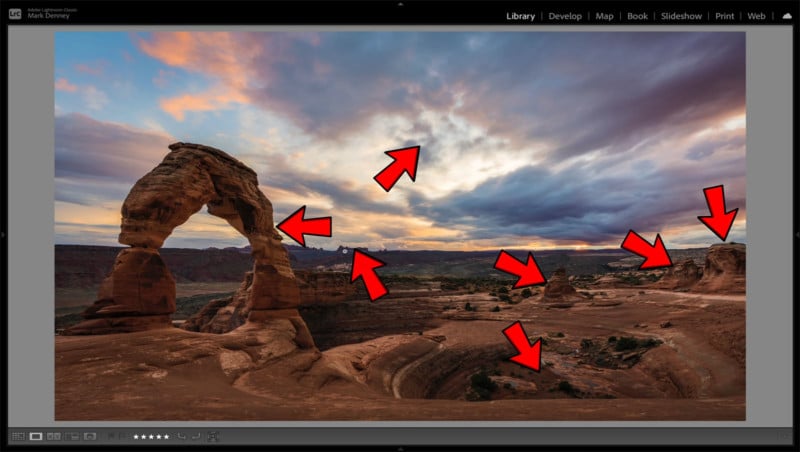 #5. Distractions Count: Is the landscape photo littered with so many small distractions that could be composed, cropped, or cloned out?
Watch the video above for Denney's explanations for each of these points and for more examples showing what to and not to do.
You can also follow along with Denney's work by subscribing to his popular YouTube channel.