Great Reads in Photography: November 22, 2020
Every Sunday, we bring together a collection of easy reading articles from analytical to how-to to photo-features in no particular order that did not make our regular daily coverage. Enjoy!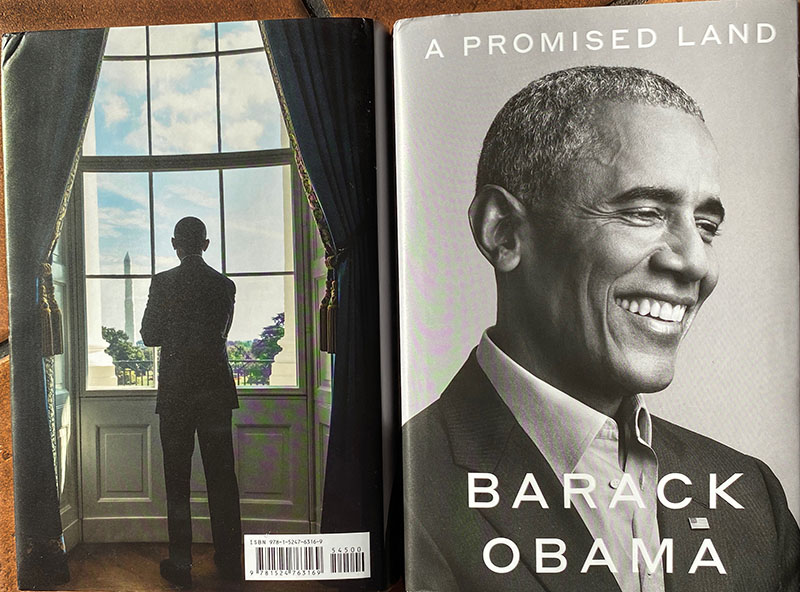 How the Photo on Barack Obama's New Memoir Almost Didn't Happen: A Wife's Special Request Went Awry ­- People
Shooting at the White House on August 25, 2016, for New York magazine, Dan Winters was given five minutes of President Obama's time for a cover story. He spent at least five hours carefully pre-setting each shot: "Each setup had its own camera and tripod, [was lit and dialed in] so I could just jump from setup to setup quickly, 45 seconds on one setup."
Winters got to the final shot (back cover photo above) — where the president was instructed to gaze out the Blue Room window. There, Winters discovered in a panic: that his wife Kathryn had separately called his first assistant and asked him to take some souvenir shots of Winters at work with Obama. The assistant had changed all the camera settings when he dashed off the shots that Winters' wife wanted and "casually put the camera back without restoring my settings."
Winters took his final frame, checked the camera's monitor, and found the image over-exposed — almost completely white — from the light through the window.
"While I was lamenting the predicament and trying to guess the exposure, the president was like, 'I don't hear any clicking. Dan, I don't hear any clicking.' He said it twice. And everybody was on me, his handlers were giving me the stinkeye," the Austin, Texas-based Dan Winters recalls. "But I think I nailed that shot on my second frame."
Five years later, Obama himself selected the photo to be a prominent part of the historical record that A Promised Land will portray, which has already sold a record 890,000 copies on its first day. Winters' portrait, which was printed in black and white for the October 3, 2016, issue of New York, appears in full color for the first time on Obama's memoir on the back cover. This will eventually end up being his first photo to be printed over 10 million copies for Winters!
Notable:  The magazine's [New York] photo director actually called my wife while the shoot was going on and said, "Your husband is bossing around the president of the United States!"
Treat every assignment as if it's your first one. I think there is a misconception, especially that students have, and I really make a point when I speak at schools to talk about the fact that you never really arrive. You are always working towards something, but you never stop. I think there is this crazy idea that you get somewhere, and then everything is cool. – Dan Winters
Print Sale to Support Conservation Efforts – Conservation International
The pandemic overwhelmed National Geographic photographer Ami Vitale, and she knew she had to do something. COVID-19 was devastating conservation efforts globally as tourism and economies have collapsed, creating increasing pressure on nature. Driven by desperation, poaching and deforestation were on the rise.
Vitale tells PetaPixel, "I reached out to photographers that I deeply admire to ask for their support. I was surprised by how enthusiastic the photographers have been. They are checking in with me, asking how the sale is going, and sharing it with their own audiences."
Vitale created Prints for Nature as a fine art photographic print sale offering collectors the chance to own work from some of the most impactful names in the photography industry and contribute to conservation. It includes eighty-five fine art and nature photographers who have generously donated prints for this cause.
The collection includes images from a diverse group of artists, many of whom are National Geographic photographers, like Joel Sartore who contributed an image from his National Geographic Photo Ark collection, Academy award-winning 'Free Solo' director Jimmy Chin, Emmy Award-winning artist Beverly Joubert, Ami Vitale, Anand Varma, Bertie Gregory, Brent Stirton, Charlie Hamilton James, David Doubilet, David Guttenfelder, Danielle Zalcman, David Liittschwager, Jasper Doest, Keith Ladzinski, Michael Yamashita, Steve Winter, Vince Musi and many more inspiring photographers.
Images are crafted by Paper & Ink and will be printed at 11×16 inches and sell for $250. The price per print will increase to $275 after Black Friday, November 27, 2020. The sale ends December 10, 2020.
Graciela Iturbide's Photos Show the Beauty and Dreams of Mexico And Its People – NPR
Graciela Iturbide, who was born in Mexico City in 1942, set out to be a film director, enrolling at the Film Studies Center at the Universidad Nacional Autónoma de México at the age of 27. But while traveling with her mentor, the Mexican modernist Manuel Alvarez Bravo, she realized how drawn she was to photography and travel.
Iturbide photographs everyday life, almost entirely in black-and-white, following her curiosity and photographing when she sees what she likes. Iturbide's Photos of Mexico Make "Visible What, to Many, Is Invisible," said the New York Times in quoting Kristen Gresh, curator of photographs at the Museum of Fine Arts, who has worked closely with Ms. Iturbide. Iturbide eschews labels and calls herself complicit with her subjects. She became interested in the daily life of Mexico's indigenous cultures and people (the Zapotec, Mixtec, and Seri) and has photographed life in Mexican cities and on the Mexican/American border (La Frontera). She uses photography as a way of understanding Mexico, combining indigenous customs, assimilated Catholic practices and foreign economic trade under one scope.
I never use a telephoto lens. I need to be close to people. I need their complicity; I need them to be aware that I am there taking their picture. – Graciela Iturbide
A Decade Ago, Supersize Images by German Photographers Were Selling for Millions. Now, Prices Have Fallen Off a Cliff  – Artnet News
Photographs by members of the Düsseldorf School—a group of German photographers that studied under influential photography duo Bernd and Hilla Becher, including Andreas Gursky, Thomas Struth, and Thomas Ruff—were snapped up by collectors like actor Leonardo DiCaprio for millions. One London hedge fund reported The New York Times purchased five of Gursky's stock-exchange photos to decorate its trading floor.
These days demand for the extra-large works has diminished. In 2011, work by contemporary German photographers generated a combined $21 million at auction. Last year, that total fell by almost 50 percent, to $10.6 million, according to the Artnet Price Database. In the first half of this year, sales shrank further to just $3.9 million at auction.
How can three artists with impeccable collectors, museum presence, and curatorial attention fall into such a rut on the auction block? Experts attribute the dynamic to a combination of factors, starting with oversupply. Another is that these huge mounted photos are difficult to move and relocate as they are not as forgiving as canvas.
… for me [Rhein II], it is an allegorical picture about the meaning of life and how things are. – Andreas Gursky
Notable: Gursky carefully digitally removed [from Rhein II] any intrusive features – dog walkers, cyclists, a factory building – until it was bleak enough to satisfy him. The 73×143 (image size) chromogenic color print face-mounted to Plexiglas sold at Christie's in 2011 for a record $ 4,338,500.
Apple iPhone 12 Pro Camera Review: Great Smartphone Video – DxO
With a DXOMARK camera overall score of 128, the Apple iPhone 12 Pro makes it into the top five of their ranking, improving on last year's 11 Pro Max by four points and replacing it as the best Apple device in their database. The overall score is founded on a high Photo score of 135 and a very good Video score of 112. With a score of 66, Zoom is the area where the iPhone 12 Pro loses some points against the best in class, mainly due to its tele-lens offering only a 2x optical magnification.
In Photo mode, DxO found the autofocus system to be one of the highlights, offering fast and accurate performance in most situations. "Exposure is mostly good, but our testers found the dynamic range to be a little limited, with both highlight and shadow clipping occurring in difficult conditions. Color rendering is accurate under indoor lighting, but color casts can be noticeable in outdoor images, and while the camera also offers good detail retention, if you don't shoot in very dim conditions, you can often find image noise in indoor and low-light shots."
Note: This review is of the iPhone 12 Pro and NOT the top-end iPhone 12 Pro Max, which also comes with a triple-camera setup, but uses a larger sensor in the standard-wide and a slightly longer tele-lens compared to the 12 Pro.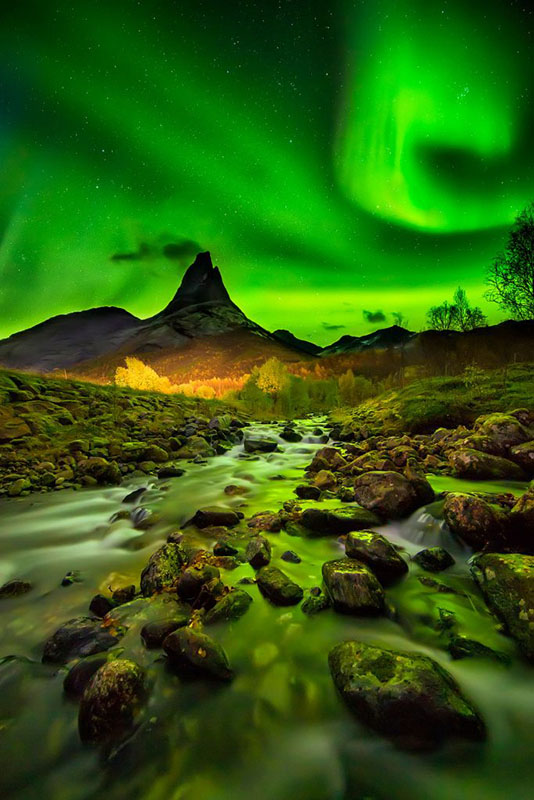 Magnum Photographer Bruno Barbey Dies at 79  – Blind
Bruno Barbey, a French photographer for the Magnum Photos agency who produced powerful, empathetic work in war zones as well as in peacetime, died November 9. Although he captured conflicts in Nigeria, Vietnam, the Middle East, Bangladesh, Cambodia, Northern Ireland, Iraq and Kuwait, Barbey rejected the title "war photographer," perhaps recognizing the fight for freedom was an integral part of life. Barbey, along with photographers Marc Riboud and Henri Cartier-Bresson, worked without flash to preserve the atmosphere of Paris's streets in their night photographs during the civil unrest of 1968.
Barbey traveled all over the five continents for half a century and published more than 30 books documenting the beauty of places and the people he encountered. Always open to new techniques and styles, Barbey pioneered the use of color film in photojournalism while on assignment for Vogue in Brazil in 1966. Throughout his career, Barbey photographed Morocco, often returning to make pictures in the place where he was born in 1941. "It is very difficult to photograph there because in Islam, photography is supposed to bring the evil eye," he told Magnum Photos. "You have to be cunning as a fox, well organized, and respect some customs. The photographer must learn to merge into the walls. Photos must either be taken swiftly, with all the attendant risks or only after long periods of infinite patience."
Photography is the only language that can be understood anywhere in the world. – Bruno Barbey
Portrait Photographer's Unethical Pricing Generates 800 Comments – Reddit
Family enters photoshoot giveaway on Facebook.
Family wins a photoshoot.
Mother and daughter get professional hair and makeup done and do a 3-hour photoshoot with multiple dress changes.
Then comes the price list: 4×6 print $350; 8×10 print $500; 10 prints plus a photo album $4500; Digital rights, 15 prints, and photo album $6500!
To offer free shoots in the hope of making money on the backend is not uncommon marketing. But shouldn't one ask, "What does the average customer spend or how much are prints going to be?" etc., when there is no indication provided?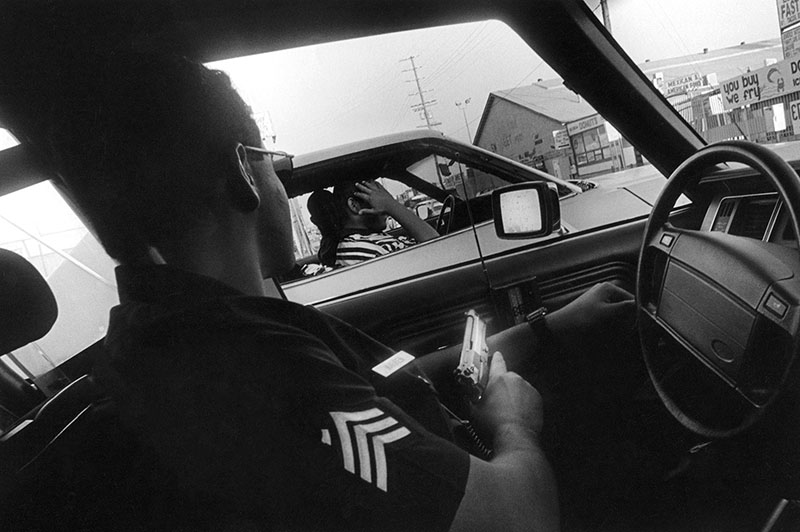 My Thoughts on This Photo – Ken Light
I made this photo in Los Angeles, California, in 1995 while on a three-day assignment for Newsweek magazine to document the LA Police after the Rodney King riots and the OJ Simpson debacle. The photos were never published by the magazine. An assignment like this always raises issues of access and how a photographer should prepare. I arrived at the South-Central LA precinct wearing a bulletproof vest, silently pronouncing to the cops that I took what they did seriously, and this helped gain their trust. Photographing with Kodak Tri-X, I used two Nikon N90s, which at the time were noted for their fast autofocus speed, a recent accomplishment of photo technology.
I sat in the front seat of the patrol car, my cameras ready, with a 20mm and 28mm lens. As we drove in South-Central, he spotted a possible stolen car driving on the street. The Sergeant pulled his gun and held it below the window, and I started photographing, partly in denial, wondering if he thought they had guns, wondering would we be shot at, would my exposure be right, how many un-exposed frames did I have left in my camera.
This photo caught a moment of tension on the street, the fear the suspects had of being stopped and questioned, the officer's uneasiness, finger near the trigger, and my own concern that this moment could escalate to something deadlier.  I was worried about the ambient light outside, given we were inside the patrol car, and worried it might mess with my exposure, especially since the photo is nothing without showing the gun hidden on the cop's lap. The moment I saw what was happening, I kept pressing the shutter button, my camera slightly tilted, the subject's hands raised, the gun with a slight shine of light, and the officer looking towards the suspects.
I still like the composition of the photo, the patrol car window framing the two guys in their car, yet with the wide depth of field, you can see the donut shop and warehouse in the background creating a sense of place. The hands held high of the suspect add to the tension; a brief moment caught so important to the photo.  The 45-degree angle of the officer's arm lets your eye follow the gun, and in your mind, you know what could happen. It was a moment that showed the danger for all, in the day in the life of South-Central Los Angeles.
Ken Light is the Reva & David Logan Professor of Photojournalism at UC Berkeley, Graduate School of Journalism. Light has worked as a freelance documentary photographer for over forty-five years, focusing on social issues facing America. His work has been published in 9 books, including the recent Picturing Resistance: Moments and Movements of Social Change from the 1950s to Today.
Quote of the Week (or a Previous Week):
I haven't been everywhere, but it's on my list. — Susan Sontag, author of On Photography, first published in 1977.
---
To see an archive of past issues of Great Reads in Photography, click here.
---
We welcome comments as well as suggestions. As we cannot possibly cover each and every source, if you see something interesting in your reading or local newspaper anywhere in the world, kindly forward the link to us here. ALL messages will be personally acknowledged.
---
About the author: Phil Mistry is a photographer and teacher based in Atlanta, GA. He started one of the first digital camera classes in New York City at The International Center of Photography in the 90s. He was the director and teacher for Sony/Popular Photography magazine's Digital Days Workshops. You can reach him via email here.
---
Image credits: All photographs as credited and used with permission from the photographers or agencies.