Nik Celebrates its 25th Anniversary with 25 New Presets
In celebration of its 25th anniversary of creating plugins for Adobe Photoshop and Lightroom as well as DxO PhotoLab, Nik Software has announced Version 3.3 which includes a pack of 25 new presets for Color Efex Pro and Silver Efex Pro.
The new presets included in the Nik Collection 3 focus on five photography genres: color portraiture, black-and-white portraits, landscape photography, wildlife photography, and street photography. Nik chose these genres because they are the most popular among expert and amateur photographers alike.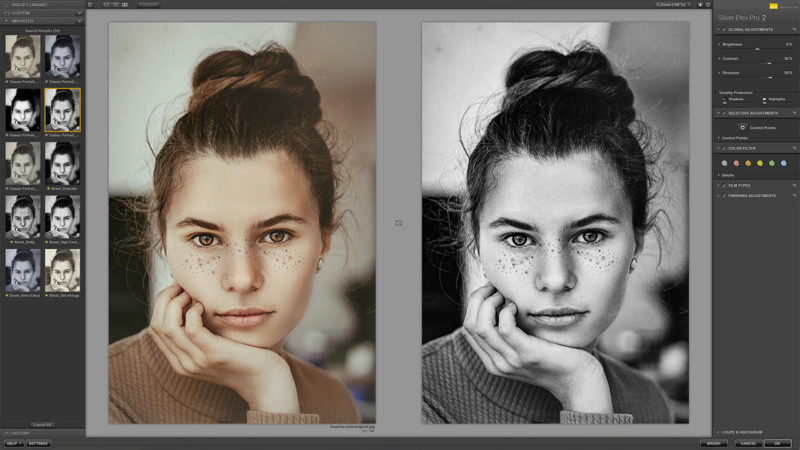 The first ten presets are categorized under "Classic Portrait Color" for both Color Efex Pro and Silver Efex Pro. Examples of the presets include "High Key Bright" which Nik says brings out the whites and brightness in color portraits. Another called example is "Hint of Color," that Nik claims "creates a more dramatic look that nonetheless remains soft through the addition of a color tint."
With respect to black-and-white photography, Nik says "Hollywood Glamour" produces images with high contrast yet controlled darker tones, while "Rugged" provides a more nostaligic, film-like look with a fine grain look.
Nik says that the "Light & Bright" series designed for Color Efex Pro opts for a colorful take on landscape photography. For example, the company says "Cafe Mocha" wadds a dark beige tint, while "Pink Lemonade" follows its namesake with a pink tint. With their green and blue tones, "Fade Away" and "Heavenly Blue" give landscapes what Nik describes as "a timeless look." Finally, Nik says "Sunshine Morning" creates softer and more balanced tints.
The "Wildlife" series for Color Efex Pro includes presets that Nik says showcase a variety of lighting effects and highlight detail. "Cool Evening" will bring a twilight look with blue tint and slight blur, while "Sunny Day" was made to mimic the lighting effects of a bright, noon-time sun without the side effect of flat lighting. Nik says "Fur Details" increases micro-contrast and enhances textures which it says will make images of wildlife seem even more realistic.
The "Street" series for Silver Efex Pro focuses on contrast, grain, and tints. Nik says that "High Contrast" creates dense blacks and stark whites that are common in classic street photography, and "Street Gritty" adds a slight grain over the top that the company says is similar to the look you get shooting Leica. With its "Street Dramatic" preset, the background of the photo is darkened, and the depth of field is shortened.
Gratefully, the Nik Collection 3.3 has been optimized to be fully compatible with macOS Big Sur as well as the latest versions of Adobe Lightroom Classic, Photoshop, and Photoshop Elements. Though not specifically mentioned, support for Apple Silicon versions of Adobe products will likely come after their release next year.
If you purchased the Nik Collection 3 after June 2020, you can upgrade your software for free. The Nik Collection 3.3 by DxO (Windows and macOS) is now available for download on the DxO website for $149 for the full version and for $79 for the upgrade. You can also get a one-month free trial version of the software here.