Photographer and Fashion Blogger Capture Colorful Quarantine Portraits
San Diego-based photographer Angela Garzon recently teamed up with fashion and art blogger Sarah Grossman to inject a bit of color and creativity into the world during these strange and difficult times. The result is a set of six monochromatic "group" shots captured using only the clothes and props they had at hand.
"Since the outbreak of COVID-19, we've lost so much. The ability to be in a room with more than a few people, events being postponed and cancelled, feeling trapped at home," Garzon tells PetaPixel, explaining the inspiration behind the playful series. "Creatives find inspiration in living life and the world around them, so instead of giving into boredom, we created a world of color using only items found in and around Sarah's home."
The result are six monochromatic scenes—"group" shots that actually only feature Sarah, stitched together in post.
"Due to the social distancing culture we now live in, incorporating other people in the photo was impossible, so I combined several images of Sarah in various outfits and poses," explains Garzon. "No studios and no fancy lighting, just a heavy dose of theatrics, and proof that nothing can stop the creative mind."
Scroll down to see what they captured: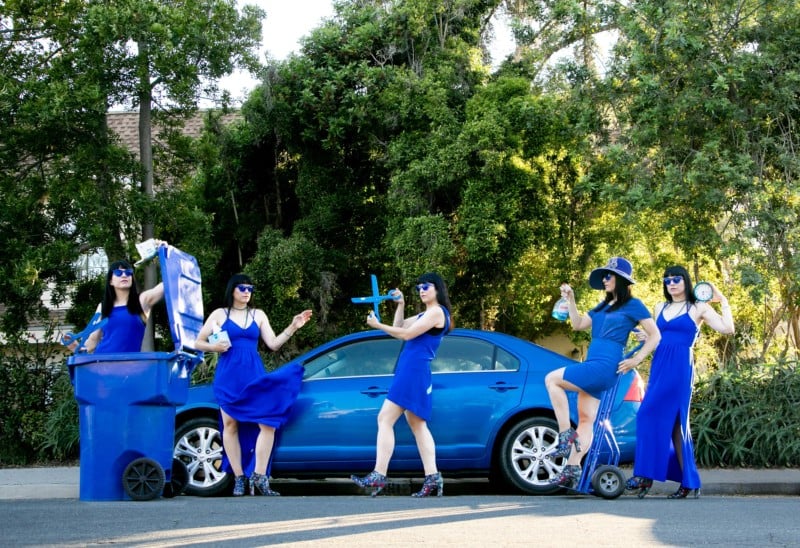 Blue: The blue car parked across the street from Sarah's home provided the backdrop for this image. A recycle bin, dolly and Windex were whimsical additions to the scene.
Green: Sarah's green home as well as the various trees were a no-brainer. A green parasol and fake palm leaves were favorite props to incorporate.
Purple: Finding purple elements in the exterior of a home was a pretty difficult task. We settled on the stairs which were a light peach color and enhanced the color in post processing. Purple hand weights, mirror balls and balloons give a Jane-Fonda-at-a-disco vibe.
Yellow: A banana yellow jeep provided the backdrop for this sunny photo with quarantine staples such as lemon Pledge, a power drill and BoomChikaPop making it relatable.
Red: also providing a bit of a challenge considering vehicles were already used in 2 compositions. Laundry was hung on the fence to provide the red backdrop and a giant bouncy ball, kettle, rubber gloves and red bubble wand punched up the image.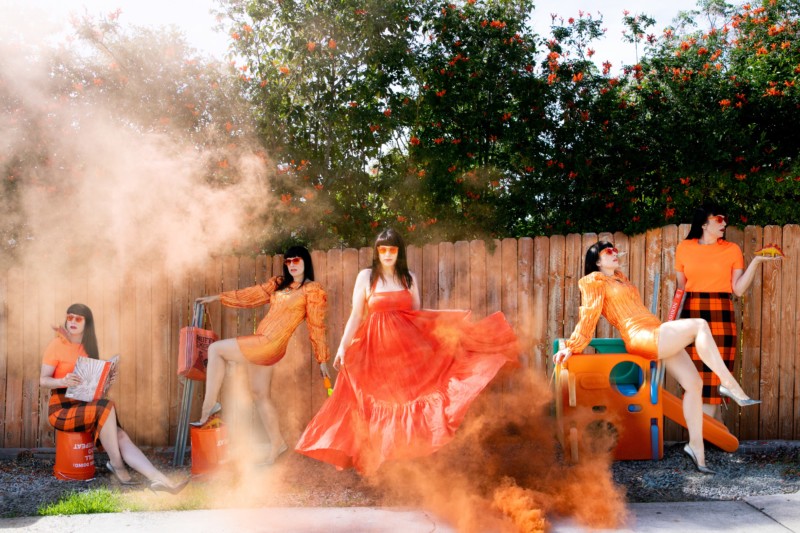 Orange: flowers and fence were the perfect shade of orange to provide the background. The orange smoke bomb added drama and children's slide a bit of levity.
---
"We hope these images bring a little happiness and inspiration to other struggling artists and art-lovers to keep creating despite limitations," says Garzon. "Even though work and events are cancelled, creativity is not."
To see more from either of these creators, you can check out Angela's photography on her website and Instagram, and explore Sarah's popular fashion and art blog here. And if you're looking for more creative "stuck-at-home" inspiration, check out these amazing studio-quality sunbird portraits Steven Benjamin captured using his underwater photography gear.
---
Image credits: All photos by Angela Garzon and used with permission.