Striking Protest Photo Wins World Press Photo of the Year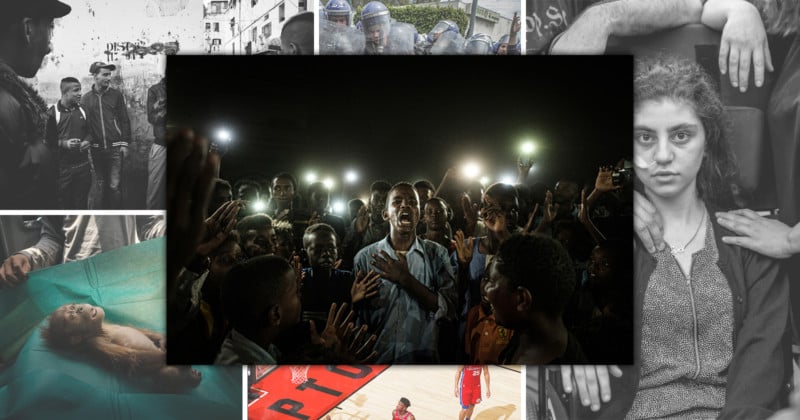 The World Press Photo Foundation has announced the winners of its prestigious annual photojournalism competition, crowning a World Press Photo of the Year, a World Press Photo Story of the Year, and honoring winners and runners up in eight separate categories.
The coveted title of World Press Photo of the Year was given to the Winner of the Global News category, a powerful photograph by Japanese photographer Yasuyoshi Chiba, Chief Photographer for East Africa at Agence-France Presse.
The photo, titled "Straight Voice," shows a young man reciting protest poetry during a blackout in Sudan, his face illuminated by the smartphone flashlights of the demonstrators surrounding him: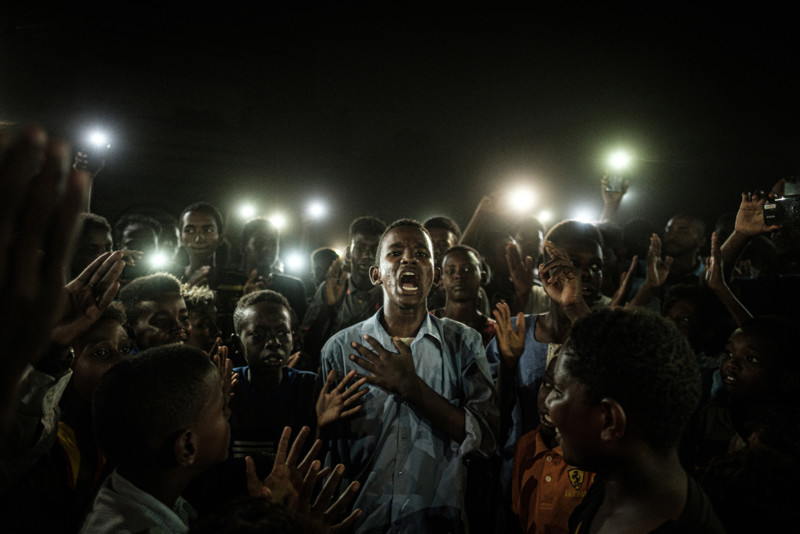 "This moment was the only peaceful group protest I encountered during my stay," recalls Chiba. "I felt their undefeated solidarity like burning embers that remain to flare up again."
World Press Photo Story of the Year was awarded to photographer Romain Laurendeau, for his series "Kho, the Genesis of a Revolt," which also won the Long-Term Projects category. The series of photographs captures the story of Algeria's youth and how they were able to spark "the largest protest movement in Algeria in decades."
You can see the full series below: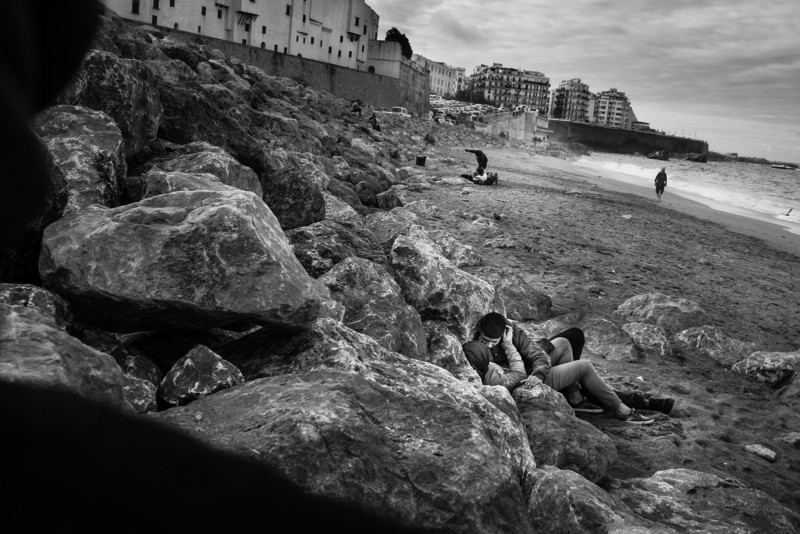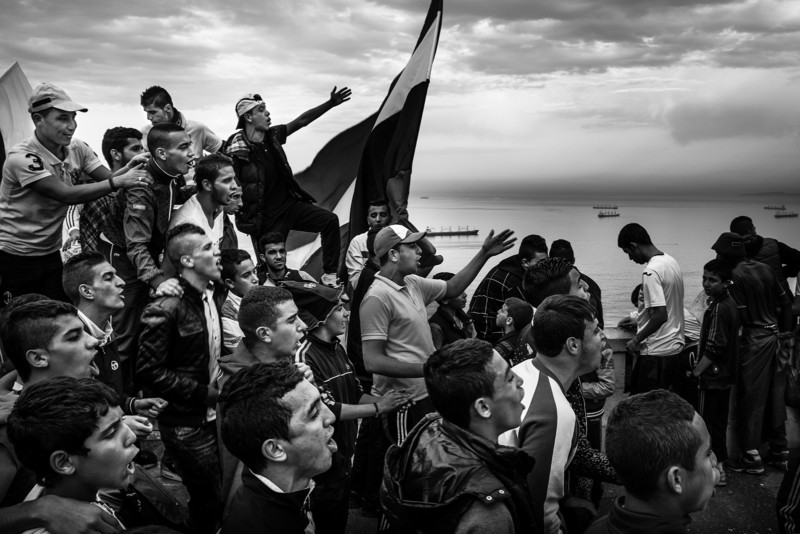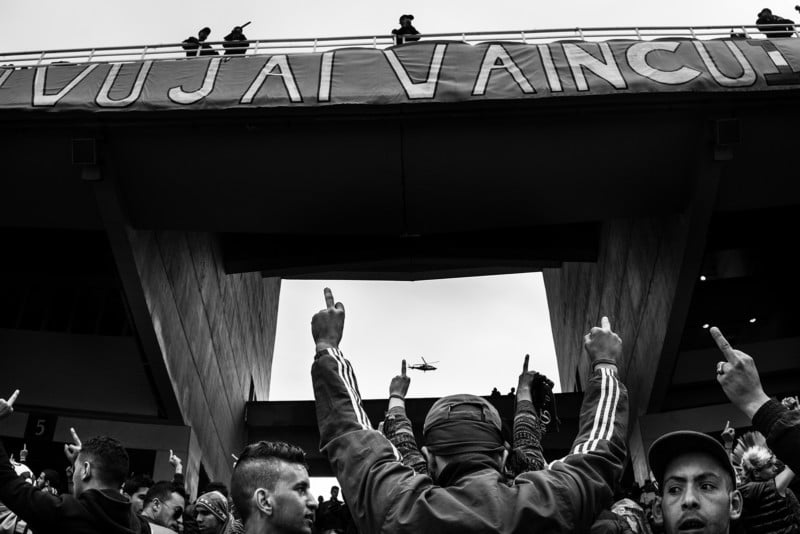 "It was impossible for a part of me not to recognize myself in these young people," Laurendeau tells World Press Photo. "They are young but they are tired of this situation and they just want to live like everyone else."
His story, as with all of this year's winners, resonated with the judges for its intimacy, flawless technical execution, and the spirit of change that each of the winners were able to capture in their own way.
Scroll down to see the winners in each individual category, and if you want to learn more about the contest winners and how the judges made their decisions, head over to the WPP website.
Winner – Contemporary Issues
Photographer: Nikita Teryoshin
Photo Title: Nothing Personal – the Back Office of War
Caption: A businessman locks away a pair of anti-tank grenade launchers at the end of an exhibition day, at the International Defence Exhibition and Conference (IDEX) in Abu Dhabi, United Arab Emirates, on 18 February.
---
Winner – Environment
Photographer: Esther Horvath
Photo Title: Polar Bear and her Cub
Caption: A polar bear and her cub come close to equipment placed by scientists from Polarstern, a ship that is part of a scientific expedition investigating the consequences of Arctic climate change, in the central Arctic Ocean, on 10 October 2019.
---
Winner – Nature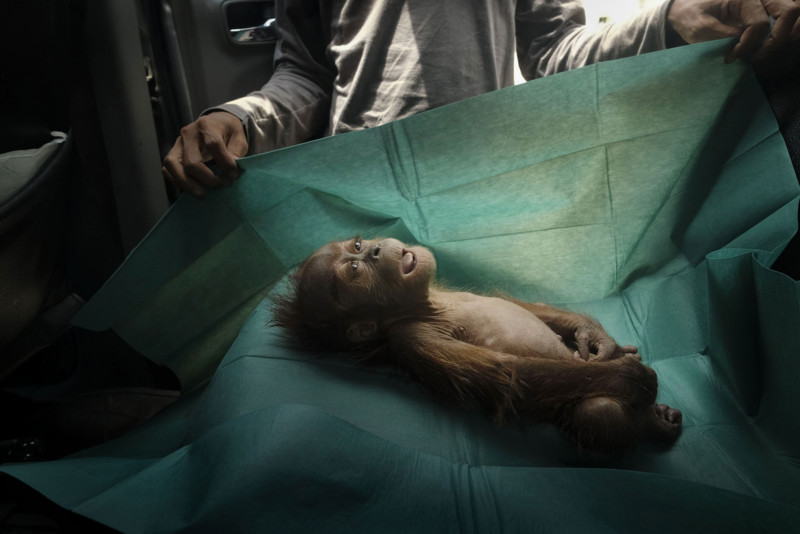 Photographer: Alain Schroeder
Photo Title: Final Farewell
Caption: The body of a month-old orangutan lies on a rescue team's surgical drape, near the town of Subulussalam, Sumatra, Indonesia. She died soon after being found with her injured mother on a palm oil plantation, on 10 March 2019.
---
Winner – Portraits
Photographer: Tomek Kaczor
Photo Title: Awakening
Caption: Ewa, a 15-year-old Armenian girl who has recently woken from catatonic state brought on by Resignation Syndrome, sits in a wheelchair, flanked by her parents, in a refugee reception center in Podkowa Leśna, Poland, on 1 June 2019.
---
Winner – Sports
Photographer: Mark Blinch
Photo Title: Kawhi Leonard's Game 7 Buzzer Beater
Caption: Kawhi Leonard (squatting, center) of the Toronto Raptors watches his game-winning buzzer-beater shot go into the net, while playing against the Philadelphia 76ers in Game 7 of the Eastern Conference Semifinals of the 2019 National Basketball Association (NBA) Playoffs, at the Scotiabank Arena, Toronto, Canada, on 12 May 2019.
---
Winner – Spot News
Photographer: Farouk Batiche
Photo Title: Clash with the Police During an Anti-Government Demonstration
Caption: Students scuffle with riot police during an anti-government demonstration in Algiers, Algeria, on 21 May 2019.
---
Image credits: All photos credited individually, used courtesy of the World Press Photo Foundation