Court Rules Your Instagram Photos Can Be Embedded Against Your Wishes
A federal court has tossed a photographer's claim of copyright infringement against a major online publication that embedded her Instagram photo against her wishes. The court concluded that the photographer signed over the right of embedding by posting the shot to the photo sharing service.

The Hollywood Reporter reports
that the dispute between professional photographer
Stephanie Sinclair
and the news site
Mashable
began after Mashable began working on a March 2016 article titled "
10 female photojournalists with their lenses on social justice
."
Mashable had approached Sinclair, who's known for capturing gender and human rights issues, to feature her and ask for permission to include one of her photos of a Guatemalan mother and child in the article. Sinclair declined Mashable's offer of $50 to use the photo. Mashable used the photo anyway.
But instead of hosting its own copy of the photo on its servers, Mashable displayed the photo by embedding Sinclair's Instagram post of the photo. Sinclair responded by filing a copyright infringement lawsuit against Mashable.
New York federal court judge Kimba Wood dismissed Sinclair's lawsuit on Monday, ruling that the photographer had agreed to allow Instagram embeds by signing up for the service and posting the photo to it.
"Here, [Sinclair] granted Instagram the right to sublicense the Photograph, and Instagram validly exercised that right by granting Mashable a sublicense to display the Photograph," Wood writes in her opinion. "By creating an Instagram account, [Sinclair] agreed to Instagram's Terms of Use […]
"The Terms of Use state that, by posting content to Instagram, the user 'grant[s] to Instagram a non-exclusive, fully paid and royalty-free, transferable, sub-licensable, worldwide license to the Content that you post on or through [Instagram], subject to [Instagram's] Privacy Policy.'"
Wood notes that Instagram users are able to set their accounts to private if they do not wish to allow their photos to be searchable and embeddable by the public.
"[B]ecause Plaintiff uploaded the Photograph to Instagram and designated it as "public," she agreed to allow Mashable, as Instagram's sublicensee, to embed the Photograph in its website," Wood continues.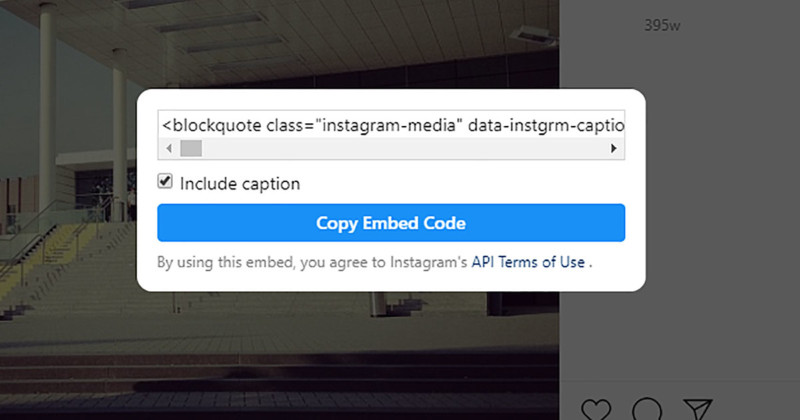 So, heads up: when you post your photos to a social media service like Instagram, Flickr, and Twitter, you're almost always also agreeing that those copyrighted photos can be embedded (with the social media service's embed code) on third-party websites, even against your wishes. If you're uncomfortable with this, check the service and see if there's a way to set your account to private or to turn embedding permissions off. If not, your only option may be to stop using those services.
"[Sinclair] argues that it is unfair for Instagram to force a professional photographer like [Sinclair] to choose between 'remain[ing] in 'private mode' on one of the most popular public photo sharing platforms in the world,' and granting Instagram a right to sub-license her photographs to users like Mashable," Wood writes. "[B]y posting the Photograph to her public Instagram account, [Sinclair] made her choice.
"This Court cannot release her from the agreement she made."