How to Use Studio Strobes with Fuji Instax Instant Film
Fuji's Instax film is typically thought of as a "snapshot" product, not something you'd use in a studio, but Brooklyn-based photographer Anthony Tripoli hasn't let that stop him. He's figured out a way to shoot studio portraits on Instax film, strobes and all.
In this video, Tripoli shares his setup for using studio strobes to capture professional looking portraiture on Instax Wide Film. While experimenting with the idea, he discovered that it's not actually all that difficult, you just have to work around a few limitations found in most Instax cameras.
To capture his shots, he uses a Lomography Lomo'Instant Wide camera, mainly because it has a PC Sync port. Then, he sets the camera to its one manual shutter speed (1/30 second), covers the camera's light meter with gaff tape to ensure the camera will shoot at f/8, and uses a hand-held light meter to measure the proper exposure, given that Instax film has an ISO of 800.
As an additional tip, he actually suggests that you meter your light at f/9 instead of f/8, because, according to Tripoli, "I find that Fuji Instax film slightly under-exposes when its metered for f/8, 1/30 of a second, ISO 800."
He then walks you through the whole workflow in his own home studio, using a Broncolor strobe with a beauty dish and a grid, and photographing his friend's back tattoo against a black background.
Here are a few samples (including the tattoo shot) that Tripoli shared with us: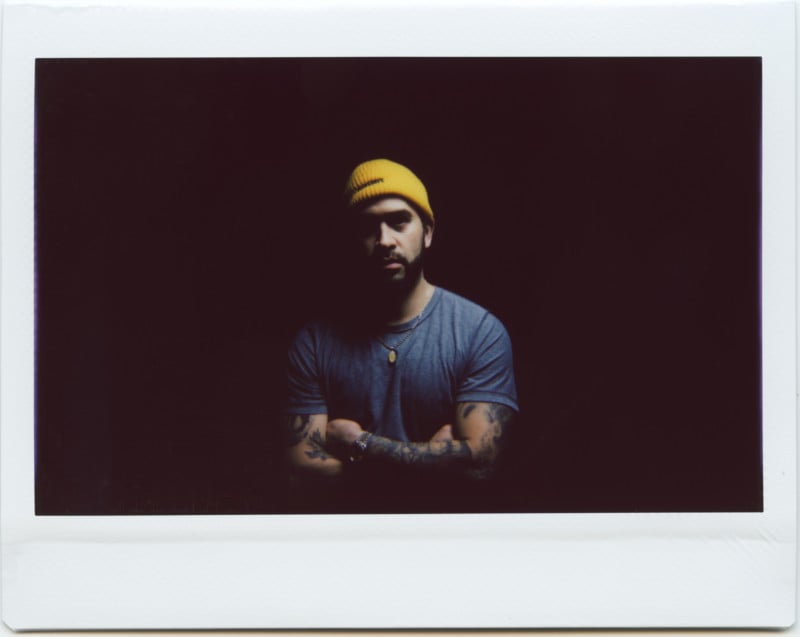 His results might not be your style, but they prove a point that it is possible to shoot studio-style portraits using an Instax camera. You just need the right camera, a PC sync cable, and a little bit of gaff tape to make it happen.
Check out the video up top to hear more about Tripoli's setup, and if you want to see his professional work, visit his website or give him a follow on Instagram.
---
Image credits: All photos by Anthony Tripoli and used with permission.