How to Make and Photograph Frozen Soap Bubbles
Nature and macro photographer Don Komarechka made this 4-minute video tutorial in which he shares how you can make and photograph frozen soap bubbles (if you live somewhere cold enough).

First, you can mix up your own soap bubble solution using water, dish soap, and white corn syrup. The white corn syrup, what Komarechka calls the "secret ingredient," gives you thicker bubbles that don't pop the moment they come into contact with snow.
For a more controlled environment, you can take your photo shoot indoors by moving some snow into a room that's cold enough. Once you have your set, lighting, and gear ready, all you need to do is blow some soap bubbles onto the snow using an ordinary drinking straw and then shoot them as they freeze.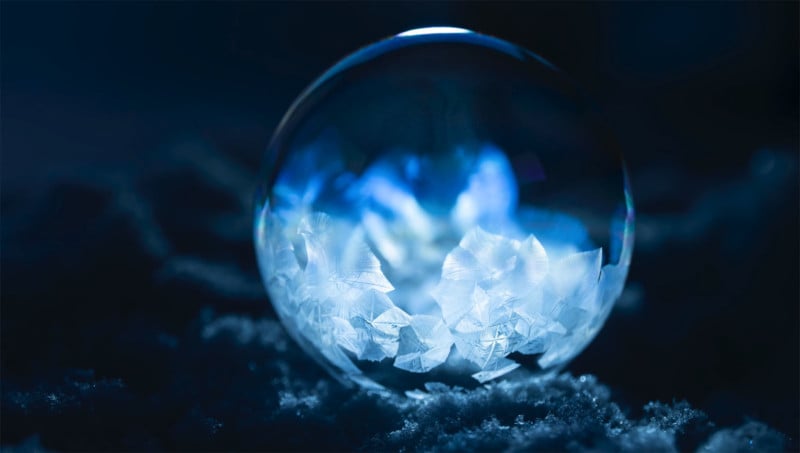 Once you get a good feel for the basics of shooting the freezing bubbles, you can take your photos to the next level by getting creative with the lighting. Komarechka shows how putting polarizing film on the front and back of a broken CD case creates a neat rainbow color effect called birefringence.
In addition to still photos, you can also try capturing the mesmerizing freezing process of soap bubbles on video.
This video is part of a new show Komarechka is hosting over at DPReview TV. We've also shared a number of in-depth tutorials by Komarechka in the past in case you're looking for some new photographic frontiers to explore from the comfort of your own home.