This Animation Was Made from Seven Wet Plate Collodion Tintypes
Photographer Markus Hofstätter has made a name for himself by pushing wet plate photography to new heights, trying things others have never even thought to do. Today brings yet another example of his creativity, as he sets out to create an animation using, not digital files, but wet plate collodion tintypes.
The idea was born out of the crisis that is on all of our minds: COVID-19. "You know me, if something bothers my mind, I have to make an art out of it," he wrote to PetaPixel over email. "It also fits with the Collodion process: no touching and no breathing the chemicals, just as you do not want to touch or breath the virus."
So he teamed up with his friend Erich and, together, they came up with a method for ensuring that each frame of his 7-shot GIF would be similar enough to create a smooth animation.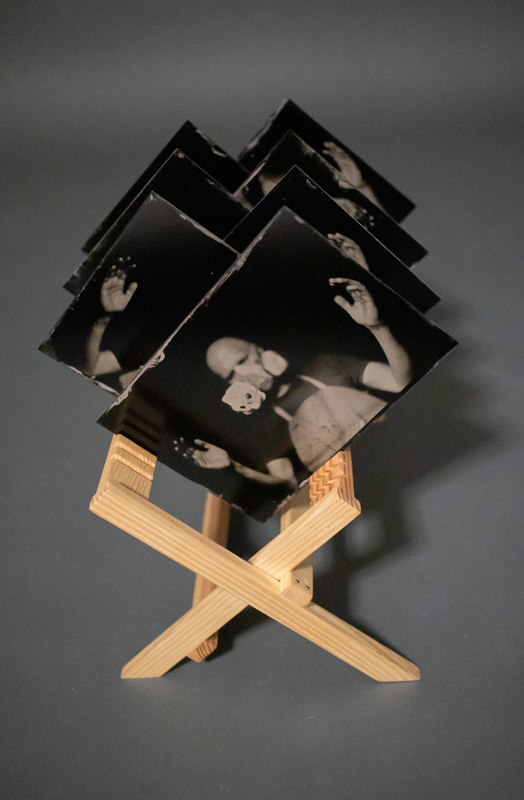 As you might imagine, creating a watchable animation using only tintypes is no easy feat. Hofstätter tells PetaPixel that the whole process took about four hours—including preparation and varnishing the plates—and was only done this quickly thanks to some modification he made to his studio.
"We had to figure out how to fix my hands on the same spot and how to move the plush virus from one point to the next one. For the virus we used a boom stand and for my hands we mounted a nylon string from the chair up onto my ceiling," explains Hofstätter. "When I rebuild my studio, I integrated metal sheets into the ceiling, so I can easily mount anything with magnets there. This was very helpful for this project."
Here's the final product for your viewing pleasure. Seven tintypes transformed into an animated GIF… or, as one of Hofstätter's friends put it, "the most expensive way to make a movie."
Check out the BTS video up top to watch this whole process from start to finish. For those of us who get annoyed at cameras that can't shoot below 7 frames per second, you have to admire Hofstätter's determination—7 frames per 4 hours sounds significantly more troublesome.
And if you're looking for more creative inspiration, head over to Markus' blog, visit his website, or give him a follow on Instagram. If you're a wet plate photography fan and you don't already follow him, you're missing out.
---
Image credits: Photos, videos, and animation created by Markus Hofstaetter, and used with permission.