Nissan Turned a Sports Car Into 'The Ultimate High-Performance Camera Rig'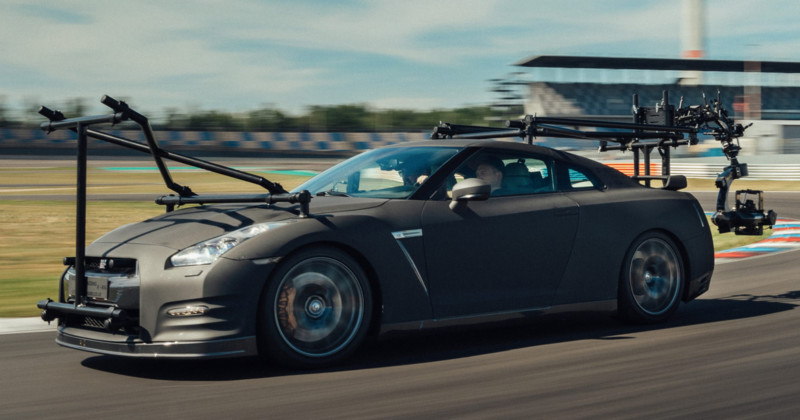 Nissan recently teamed up with professional driver and "automotive video expert" Mauro Calo to transform a Nissan GT-R into what they've dubbed "the ultimate high-performance camera rig." The result should appeal to video and car geeks alike.
The project came about as Nissan was preparing to unveil the 2020 Nissan GT-R NISMO: the fastest GT-R yet. But how, exactly, are you supposed to capture a car this fast on the track without making it slow WAY down and losing some of the umph the images and video should convey?
"The vehicle of choice for this type of filming would be a high-performance SUV," explains Nissan. "However, SUVs lack the speed or agility to follow the world's fastest performance cars on track."
That's where Calo came in. He was given license to transform another Nissan GT-R into a sportier, speedier camera car that could keep up with the NISMO around the track and capture some pretty epic high-speed shots at the same time.
"When I started to think about developing a high-performance camera car, I quickly realized that the Nissan GT-R was the only car that would meet my criteria," said Calo in a press release. "It has supercar performance, with outstanding all-wheel drive handling and stability. It's famously reliable, and it can seat the team I need to operate the camera system. There were no other contenders."
The final product was made by welding a "bespoke tubular structure" to the GT-R's chassis, and then mounting a carbon-fiber gimbal camera mounting system onto the new exoskeleton. Depending on the shots they're trying to capture, the gimbal mount can be attached to the front or the back of the car without compromising the camera's low center of gravity.
You can see the car in action in the video below, filmed at Lausitzring racetrack in Brandenburg, Germany:
Of course, it's entirely possible that a high-speed SUV like the Lamborghini Urus—which we saw converted into a camera car at last year's NAB show in Las Vegas—may have had the power and stability to keep up with the new GT-R for the kinds of shots they were going for here.
Then again, it probably wouldn't look quite this cool:
---
Image credits: All photos used courtesy of Nissan UK