Moment Unveils Pro Quality Variable ND Filters for Cameras and Drones
Smartphone accessory maker Moment is breaking further out of its established niche today. The company—which recently expanded into drone accessories—is debuting Variable ND filters for cameras and drones that it claims "hit the sweet spot on affordability, functionality, and quality."
This reveal marks Medium's first foray into full-sized camera accessories, and the company is intent on making a splash by offering a compelling combination of quality and affordability.
Variable ND Filters for Cameras
On the "full-sized" camera front, Moment is releasing three sizes of Variable ND: 67mm, 72mm, and 87mm. Each size is then available as either a 2-5 stop (ND4 – ND32) or a 6-9 stop (ND64 – ND512) variant; as an added bonus, the front of each filter accepts standard pinch-style lens caps.
The filters themselves are made using Schott B270 Pro Cinema glass held inside an aerospace grade aluminum frame, and they've been engineered with hard stops at both ends of the working range to avoid ugly cross-polarization or vignetting.
Finally, Moment's Variable NDs also feature an interesting parlor trick: thanks to special "laser etched geometry," you can actually see the stop you're shooting at while looking through the viewfinder. No need to keep looking at the front of your camera.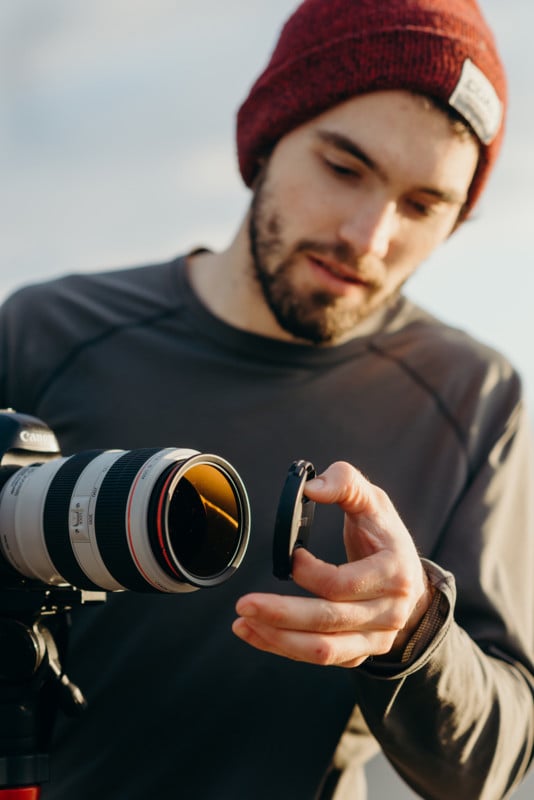 Both strengths of Moment Variable ND filter are available to order today. You can pick up the 67mm variants for $150, 77mm for $160, and 82mm for $170. To learn more head over to the Moment website.
Variable ND Filters for Mavic Pro 2
In addition to the full-sized filters for DSLRs and mirrorless cameras, Moment has also unveiled "the first cinema quality, variable ND filters for drones" in 2-5 stop and 6-9 stop variants.
Both filters are made from "premium Fused Silica glass" with an eye to both optical quality and weight, and like the DSLR version they're made from aerospace grade aluminum. Laser etchings on the front of the filters let you know which stop you're shooting at, and hard stops at either end of the spectrum should keep cross-polarization and vignetting under control.
The Mavic Pro 2 filters are available to order today. Both the 2-5 stop and 6-9 stop variants will run you $80, or you can buy both as a set for $150. To learn more or order yours, head over to the Moment website.