Twenty Meters of Rocks: Revisiting the Same Spot Multiple Times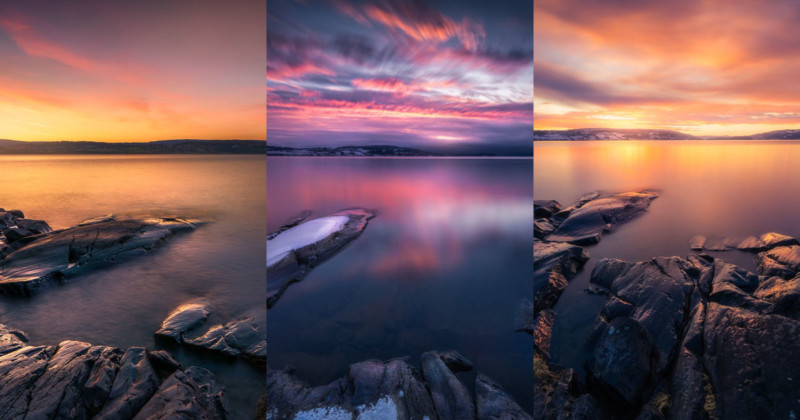 Tyrifjorden is one of Norway's largest lakes. Along its shores, I have found a spot that I have visited frequently over the past few years. It has become my favorite location for sunrises, especially during winter when the sun rises right in front of me.

The images included cover a stretch of roughly twenty meters (~66ft) of rather photogenic rocks. Due to various water levels, snow, perspective, and other factors, almost every image has a unique quality in spite of being shot at the same place.
December 30th, 2016: The first time I headed down here. Darkness still reigned when I arrived so I had to be careful where I placed my feet. I usually forget my headlamp for sunrises. Colors had, however, already begun to adorn the sky. Probably one of the most beautiful sunrises I have ever witnessed. It blew quite a bit that morning resulting in lots of wave action. I shot several exposures of each composition trying to capture as much wave action as possible intending to blend the exposures in Photoshop.
Five meters to the left from the first image:
January 21st, 2017 offered a very still lake and a moon which still hadn't set. My favorite aspect of this image may be the structures and patterns in the foreground ice.
December 2nd, 2017: Winter sunrises this far north can be amazing in terms of colors and they often come in three stages where colors vary from strong reds to yellows. Owing to the fact that I have this affection for colors, the first strong reds are my favorite part of a sunrise. Strong reds can, however, be challenging to both capture and edit since they are so easy to clip, that is, the red-colored clouds lose detail and it looks like the reds are smeared across the sky.
Next image: I didn't move the tripod and added a ten stop filter which yielded a 90-sec exposure. What surprised me when examining the raw was how the clouds blew in various directions probably depending on their altitude.
As far as I can recall, the image below is one of the first I shot that morning.
December 21st, 2017: Again I was overwhelmed by sunrise colors which almost defy description. I first shot the foreground. The frame also covered some of the sky. Since I wanted more of the beautiful sky I lifted up the camera a little and shot one more image. The two are blended in Photoshop.
This last image from that morning portrays the very first colors. A 6 stop filter provided 60 secs of beauty (to my eyes).
January 20th, 2018: Snow had so far been sparse that winter leaving the archipelago looking rocks free from ice and snow.
September 16th, 2018: Early fall means that the light isn't strongest right in front of me. The sun rises to my left something which often demands a different perspective or angle if you so prefer.
February 16th, 2019: One of the last images I captured that morning. The sky had taken on a sort of eerie quality which I found intriguing.
December 31st, 2019: The last day of the year didn't offer great colors. However, the light was very nice and a relatively low water level exposed some beautifully shaped rocks.
January 2nd, 2020: Two days later the water level hadn't changed much. For some minutes the clouds were colored from the rising sun. Unfortunately, it didn't last long.
Admittedly, some visits have resulted in zero images due to fog, no clouds, or clouds obscuring the light. In other words, the images shared are from those mornings when conditions have been favorable.
I have a tendency of charging myself with being a person driven by habits or that I am uncreative, but I suppose the moral of this story is that it is perfectly okay to visit a location multiple times.
The location actually offers far more than this twenty meter stretch of rocks as exemplified in these final four sunrise images.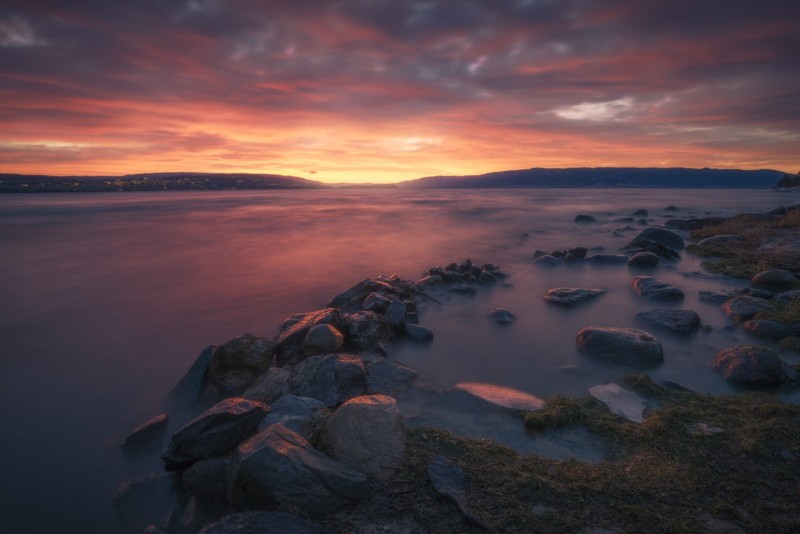 ---
About the author: Ole Henrik Skjelstad is a landscape photographer and math teacher from Norway. The opinions expressed in this article are solely those of the author. You can find more of Skjelstad's work on his website, Flickr, 500px, and Instagram. This article was also published here.