The Zenit-M Full-Frame Rangerfinder Made by Leica is Finally Available in the US
The Zenit-M camera first announced over a year ago is finally available to purchase in the US. The full-frame M-Mount rangefinder, which was created in collaboration with Leica, is very similar to the Leica M (Typ 240)… and it has a price to match.
The Zenit-M was first teased to the public back in 2016 when Krasnogorsky Zavod, announced that the Soviet camera brand would come back from the dead to battle Leica for luxury camera domination. In 2017, the plot thickened when the company revealed that it would be launching a full-frame mirrorless camera in 2018 with a "leading photographic equipment company." Finally, in September of 2018, the Zenit-M was unveiled. But far from challenging Leica, it basically is a Leica.
The "leading photographic equipment company" that Krasnogorsky Zavod partnered with was Leica and the Zenit M is an altered Leica M (Typ 240), as you can see from these product renders pulled straight from the Zenit online store: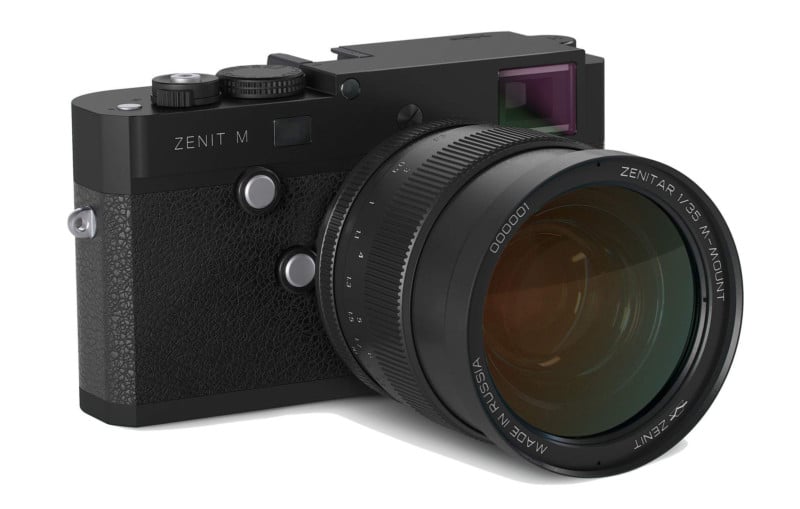 The extent to which the Leica has been altered is up for debate. Zenit is says the camera was "designed in Russia" and is only "assembled in Wetzlar," while the accompanying 35mm f/1.0 Zenitar lens is "designed and assembled by Zenit – 100% Russian." According to Leica Rumors, the camera is "essentially a Leica M240 without the 6-bit lens code reader and with Zenit software." In other words, the only lens profiles built into this camera are for three Zenit-made lenses: the 35mm f/1.0 "kit" lens, a 50mm f/1.0 and a 21mm f/2.8.
According to the product page on the Zenit store, only 500 units will be made and sold worldwide, starting with the silver version. Just be ready to drop some serious cash if you want to pick one up. Like the Leica camera that it's based on, the Zenit-M will cost you $7,000 (on sale) for the camera and 35mm f/1.0 lens.
To find out more about this camera or order one for yourself, head over to the Zenit website. One thing's for sure, you'll be picking up a piece of photographic history… whether or not this particular piece of photographic history is worth the investment is a different question entirely.
(via Leica Rumors)