Dr. Seuss Goes After Photographer Over Grinch-Themed Photo Shoot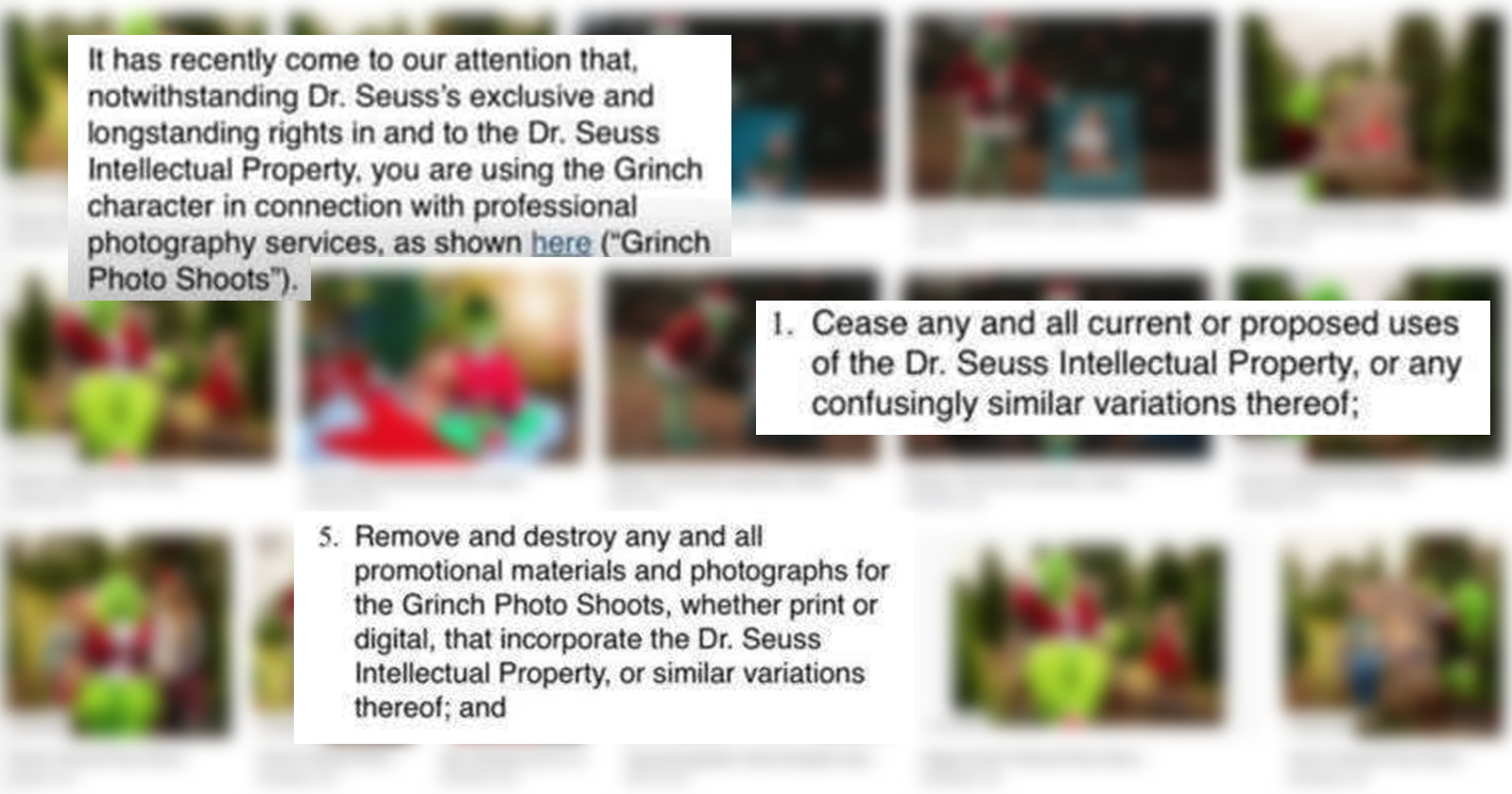 If you're a family photographer preparing for the holiday season, a word to the wise: don't offer Grinch-themed photo shoots. After a photographer's holiday photo shoot went viral—with coverage in People, TODAY, Pop Sugar and more—Dr. Seuss Enterprises purportedly went on the offensive, sending an aggressive cease and desist letter that has since spread like wildfire across social media.
This is a strange situation, because Dr. Seuss Enterprises is well within its rights to protect its intellectual property. Unlike Santa Claus or the Tooth Fairy, the Grinch is not folk lore—it is a character created by Dr. Seuss and owned by Seuss Enterprises. That said, some photographers online were taken aback by the aggressive response from such a storied brand—a name synonymous with kindness.
The email—which has been spreading across Facebook photography pages and groups for the past 24 hours—does not request any licensing fees or legal restitution, as long as the photographer immediately complies with six separate points, including: "cancel any scheduled photography sessions […] media appearances, interviews, or other promotional efforts" related to grinch-themed photo shoots, "remove and destroy any and all promotional materials for Grinch Photo Shoots," and "agree to never again use the Dr. Seuss Intellectual Property […] in the future without express written authorization of Dr. Seuss."
You can read the full email in the screenshots below:
While this seems to be a single email sent to a single photographer who had the bad luck of attracting too much attention for their Grinch-themed photo shoot, the email has sparked unconfirmed rumors on social media that other photographers are being contacted or even sued by Dr. Seuss Enterprises.
For now, these are rumors only that we have not been able to substantiate, but screenshots of the email above, often accompanied by the subsequent rumors, are being shared by many photographers online as a warning to other family photogs who may have been planning to offer similar paid family shoots.
We have reached out to Dr. Seuss Enterprises for comment, and will update this article if and when we hear back.
---
Editor's Note: We've reached out to the affected photographer, who requested that we keep their name and images out of our coverage. We've chosen to respect their request, and ask that commenters refrain from identifying the photographer in question.