Photographer Turns Symphony Hall into the World's Largest Darkroom
During this year's STORY conference in Nashville, TN, photographer Blake Wylie did something really cool. He turned a massive symphony hall into what might be the world's largest darkroom so that he could capture and develop a tintype portrait on-stage, in front of an audience of 1,400 people.
The theme of this year's conference was "liminal space," and Wylie was one of several creatives who were invited to give presentations and speak in Nashville in September. In the past, he's attended the conference to capture tintype portraits of the conference's speakers and VIP guests; this year, thanks to "a half-crazy idea via Twitter," he was one.
That's how he found himself in the Schermerhorn Symphony Center, only mostly convinced that this would actually work.
"The planned shoot was going to be of a live musician who would be performing on an open stage," explains Wylie on his blog. "I normally shoot with strobes in rooms where the ceiling and walls are close. I get more light from some of the bounce. I also have the luxury of ensuring the subject is, for the most part, sitting still when I expose the plate."
Which left Wylie wondering: "How does one prepare for this?"
Then there was the darkroom part of it all. How exactly do you turn a symphony hall into a functional darkroom?
"That's where an expert lighting and video team came to the rescue," says Wylie. "We worked through the timing of dimming the house lights, bringing up all red, and ensuring that no external sunlight was going to make its way in. Wet Plate photography has an effective ISO of under 5, so as long as we didn't get anything full spectrum or UV, we *should* be good."
He was still worried that it might not work, but he needn't be. When the day came, and the lights went down, the hall took on that characteristic red glow and there were no major leaks to ruin his shot.
Here's what the hall looked like from the audience, taken by his friend Adam Davis:
And here's a peek at Wylie at work, courtesy of photographer Ashel Parsons:
Gear wise, Wylie tells PetaPixel that he was using a Century Studio camera from 1907 with a converted back for wet plate use, a reproduction Dallmeyer 3B lens (one of only 50 that were made as part of a crowd source campaign from a couple of years ago), and two old Speedotron strobes—one 4800Ws and the other 2400Ws.
So… did it work? If you're asking, you're not alone. Here's Wylie, describing the anticipation in the hall on that day, as he waited to see if his portrait of cellist Okorie "OKCello" Johnson to appear on the plate:
You could feel the anticipation from the audience. Would it work? It felt really great when the plate appeared through the fix, and the crowd loved it. Even more of a surprise to everyone was that it was done as a triple exposure.
And here is that portrait: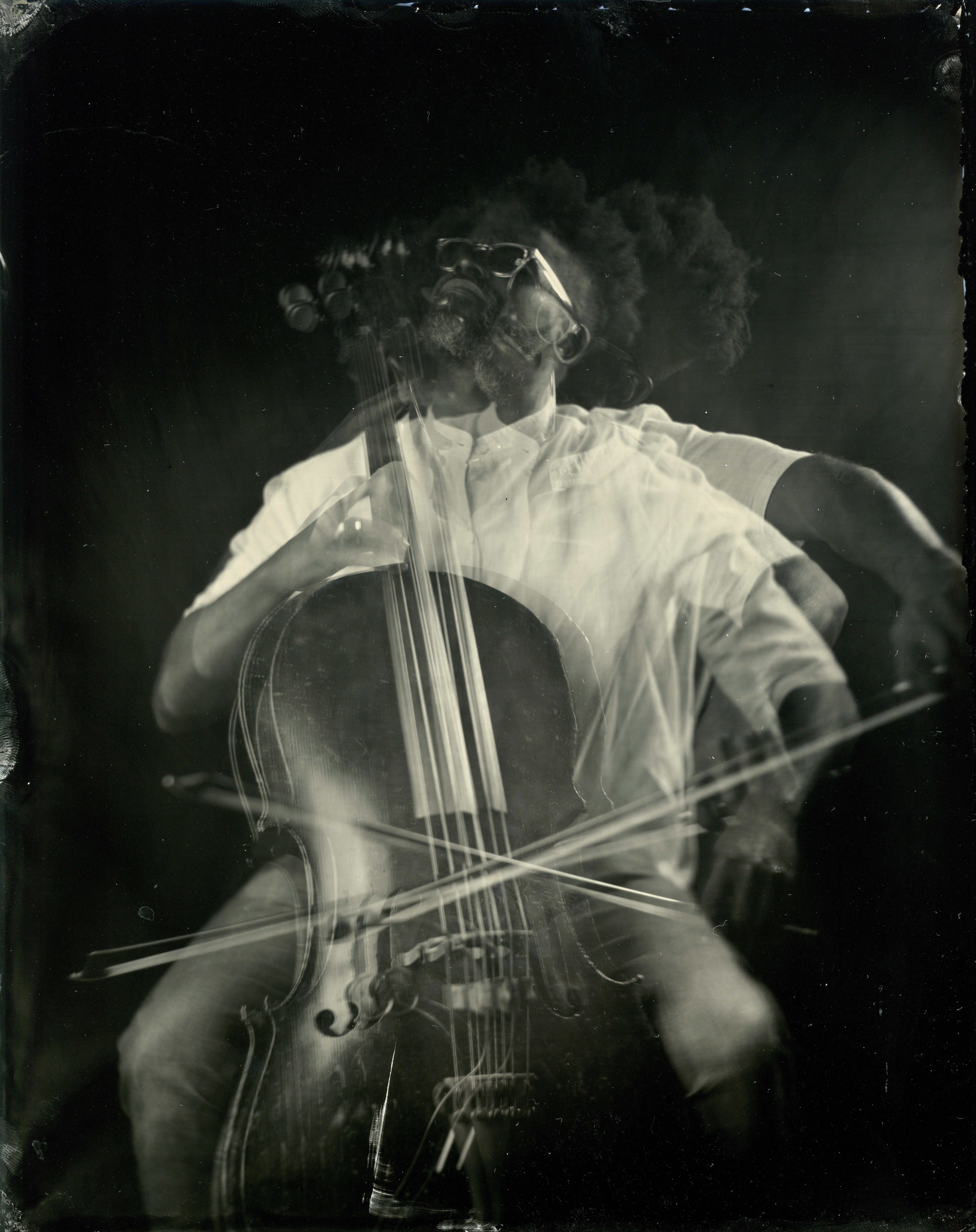 Guiness World Records wasn't on hand to "confirm" or officially call this the world's largest darkroom. It may well not be. But the presentation remains both memorable and just plain cool.
To see more of Wylie's impressive work, visit his website or give him a follow on Instagram. And a big thank you to Adam Davis and Ashel Parsons (@ashelphoto) for allowing us to use their images from this (potentially historic?) event.
---
Image credit: Photographs by Ashel Parsons, Adam Davis and Blake Wylie, all used with permission.