Aerosmith's Steven Tyler to Fan: Stop Shooting and 'F***ing Watch the Show'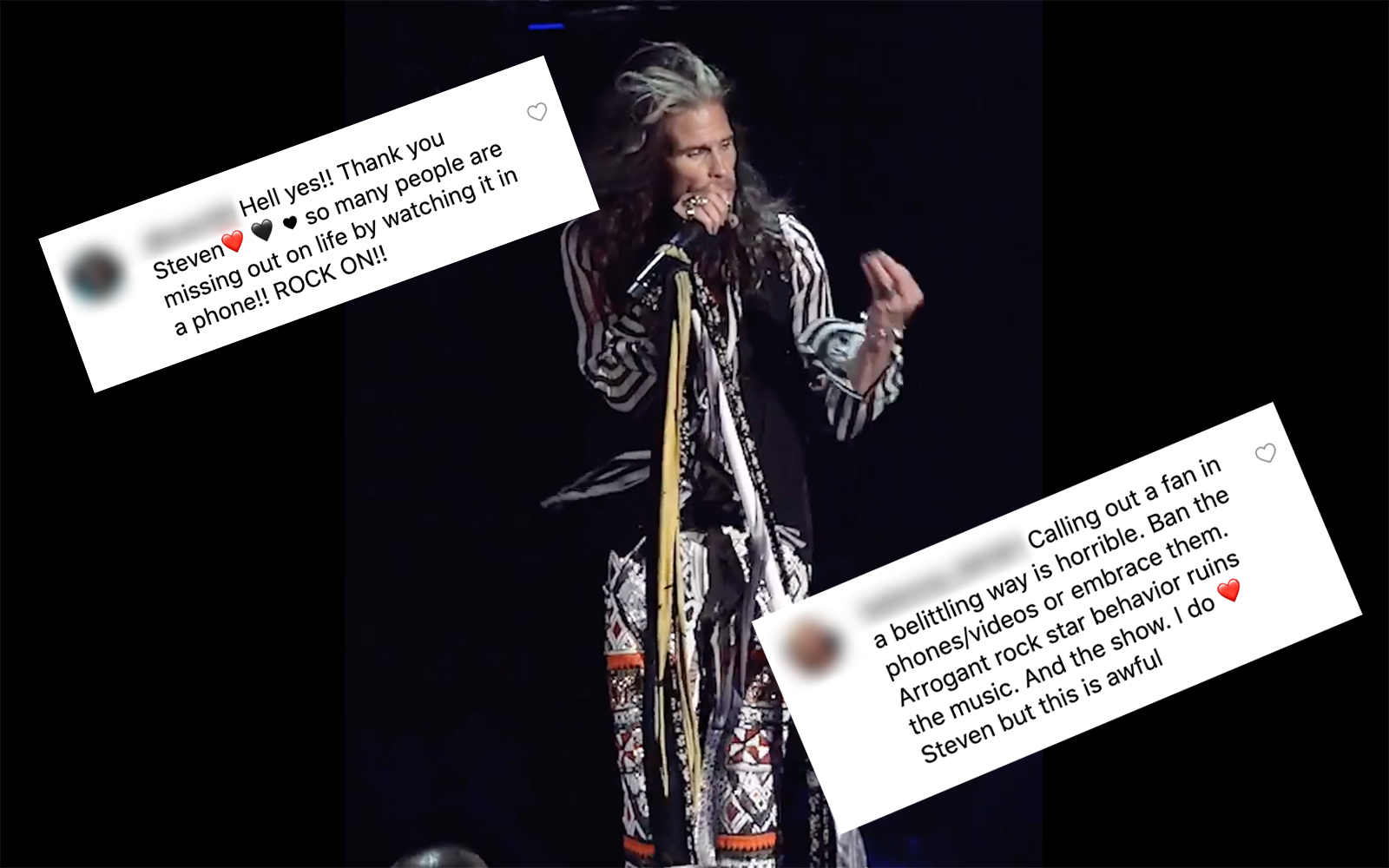 Aerosmith lead singer Steven Tyler is drawing mixed reactions today after posting a video to his Facebook and Instagram accounts in which he chastises a fan for recording him during a show, telling the fan to "turn it off" and "F***ing watch the show!".
This isn't the first time a musician has been recorded telling a fan to "put the d*mn camera down" and just watch the show. Peter Frampton once threw a fan's phone into the rafters because he wouldn't stop taking pictures. But Tyler went a step further than most by posting the interaction to his official social media accounts, alongside a warning to snap-happy fans. "F***ING WATCH THE SHOW PEOPLE… OR I'LL #AEROPHONEVID YOU!" reads the caption.
"Are you gonna put that on your website? No? Why are you filming me then?" asks the Rock and Roll Hall of Famer. "Well then turn it off! F***ing watch the show, man!"
The video and warning have drawn mixed reactions from his fans. Some supported him, writing that they "agree" and this is "a huge pet peeve." Others pointed out that they should be allowed to record whatever they want once they've paid for the ticket.
"I love you Steven, but recording my favorite song is something I like to do," wrote on fan on Instagram. "With price of tickets, I think that's fair. Recording the whole show—no."
Finally, some fired back at Tyler, calling his behavior into question. "Calling out a fan in a belittling way is horrible," wrote one fan. "Ban the phones/videos or embrace them. Arrogant rock star behavior ruins the music. And the show. I do ❤️Steven but this is awful."
What do you think? Is it okay when musicians stop a show to call out a fan for recording? A necessary antidote to our screen-addicted culture? Or did Tyler cross the line? Let us know in the comments.
(via iHeartRadio and Steven Tyler)