Apple Patents Watch Band with Built-In Camera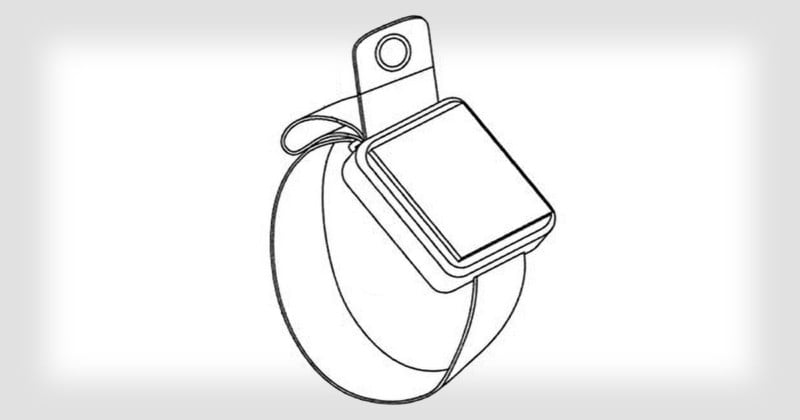 Apple has patented a new Apple Watch band that features a camera built into it. But unlike other bands with built-in cameras, this new Apple design allows the wearer to point the camera in all kinds of directions without having to bend the wrist.

The patent (#10,331,083) is simply titled, "Watch band with optical sensor." It was filed back in September 2016 but was just granted today.
Instead of building the camera into the part of the band that hugs the user's wrist, the band instead features a camera on a loose end that sticks up from right above the watch face. This location means the photographer will be able to extend, bend, and twist the camera section to capture the desired composition.
Having the camera on a loose end would also allow Apple to place a camera on each side of the band, opening the door to things like 360-degree photos and videos.
Apple suggests multiple ways to capture photos, including using voice control, pinching the band, pressing a button on the band, pressing an on-screen button.
If this watch band camera does make it into the real world, Apple says it could allow people to be even less reliant on their phones in their everyday life, as they could document their life's moments with their watch instead.
"A smartwatch that has the capability of capturing images and video may provide an opportunity for users to be more reliant on their smartwatch and less reliant on other devices (e.g., smartphones, tablets, digital cameras) to capture images or videos," Apple states in the patent. "Thus, a smartwatch with the capability of capturing images or videos may enable a user to forego carrying a smartphone when doing some activities, especially activities or environments where it would be difficult to take a smartphone (e.g., hiking, running, swimming, surfing, snowboarding, and any number of other situations)."
But as with all patent filings, this is just a peek at what Apple has dreamed up and worked on, and there's no guarantee we'll actually see it announced anytime soon.