GQ Ran a Photo of 'Tech Titans' That Had Women Photoshopped In
GQ ran a story last week about a group of "tech titans" making a "pilgrimage" to small Italian village to visit luxury designer Brunello Cucinelli. The article's lead image was a group photo of the attendees, but something looked off…


BuzzFeed News Ryan Mac noticed that the two women in the photo, SunRun CEO Lynn Jurich and Peek CEO Ruzwana Bashir, looked out of place in the strangely low-res image. The pixelation, lighting, and color didn't seem to match the other 15 men in the frame.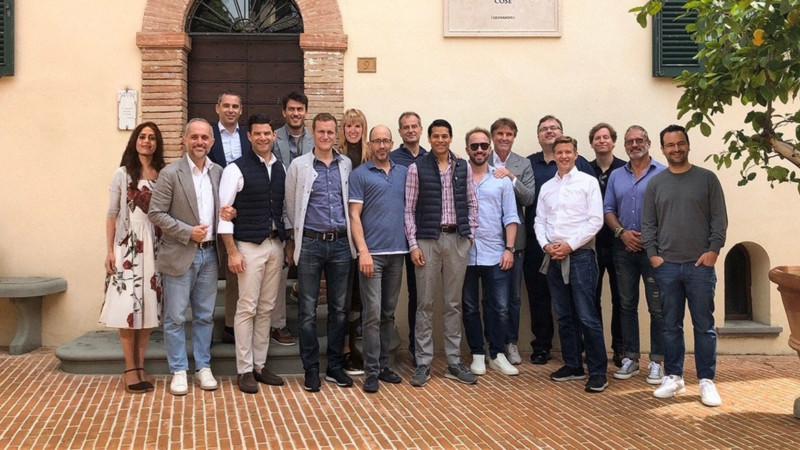 After some sleuthing and help from the Internet, Mac was pointed to the original photo that was discovered with a Google reverse image search — the shot only contains the 15 men without Jurich or Bashir.
LMAO THEY PHOTOSHOPPED THE WOMEN IN.

(credit to @benjymous for the incredible find via reverse image search and LinkedIn) pic.twitter.com/NzSHT5jO6S

— Ryan Mac (@RMac18) June 12, 2019
The photo was linked to the LinkedIn account of Ferdinando de Bellis, a partner at an Italian communications firm that has worked with Cucinelli. A representative for Cucinelli then got back to BuzzFeed News with an explanation.
"When we realized we didn't have a shot where all attendees were represented, we added in photos of two female CEOs taken during the weekend," the spokesperson says. "The photos were shared and approved with all the participants including the two women, Lynn Jurich and Ruzwana Bashir, before posting them on Instagram and they also shared the group photo on their own Instagram handles.
"We meant no harm or had any malicious intent in doing this and we are sorry."
GQ edited the article yesterday, removing the doctored photo and adding a note stating: "An image provided by a Brunello Cucinelli representative that did not meet GQ's editorial standards was removed from this story."
The men's magazine also tells BuzzFeed News that "the image had been altered and GQ was not made aware."