Tamron Unveils the 35-150mm f/2.8-4 FF Lens for Canon and Nikon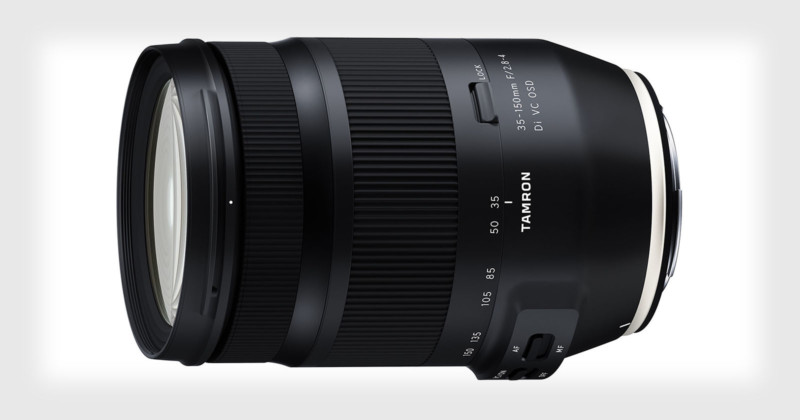 Tamron has announced the new 35-150mm f/2.8-4 Di VC OSD (Model A043), a fast and compact portrait zoom lens for Canon and Nikon full-frame DSLRs.

The lens measures just 4.9 inches (12.4cm) long and features fast, quiet, and precise autofocus thanks to the OSD (Optimized Silent Drive) DC motor.
The Dual MPU (Micro-Processing Unit) system in the lens helps provide solid AF performance and 5-stop vibration compensation at the same time.
Other features and specs of the lens include special lens elements that "quash" optical aberrations, a minimum object distance of 17.7 inches (45cm), a 77mm filter size, a 9-bladed circular aperture, a moisture-resistant construction, a BBAR (Broad-Brand Anti-Reflection) coating that reduces ghosting and flare, and a fluorine coating that resists water and oil.
"Tamron has applied magnificent craftsmanship to a beautiful, intuitive design to produce a zoom with superior look and feel," Tamron says regarding the lens' build quality. "From the outer contours of the lens, to the deftly worked Luminous Gold brand ring, the quality of this lens is second to none. Even details like the shape of the switch box and the precision and stability of the metallic mount reveal a commitment to functionality as well as design."
The Tamron 35-150mm f/2.8-4 Di VC OSD will be available for Nikon F on May 23rd, 2019, and for Canon EF on June 20th, 2019. It can now be preordered for $799.