Actress Pranks Lewd Insta-Perverts with Fake Cleavage Photo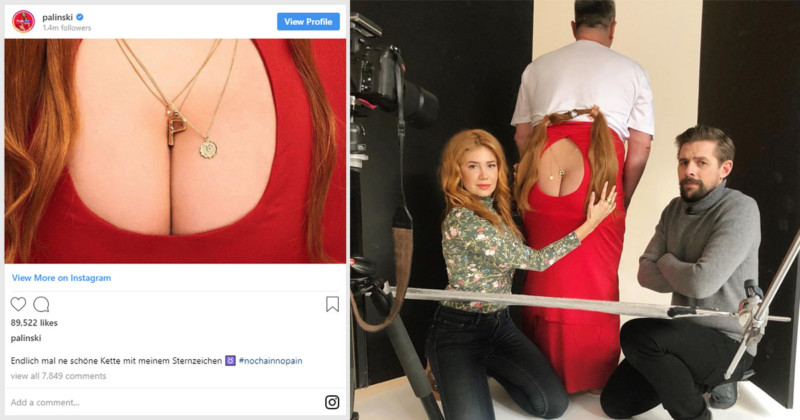 Like many women these days, German actress and model Palina Rojinski has been on the receiving end of wildly inappropriate and lewd comments left on her Instagram photos. She recently got back at the abusive and sexist Internet commenters in quite a clever way: by sharing a fake cleavage photo featuring a guy's butt crack.

Warning: This article contains lewd comments and views of someone's butt crack.
Rojinski teamed up with the German late-night talk show Late Night Berlin and host Klaas Heufer-Umlauf for the project, which involved a full professional studio photo shoot.
They had a man wear various outfits and jewelry over his butt cleavage, and fake hair was even thrown in to complete the illusion.
Once they had the perfect photo, Rojinski posted it to her Instagram account (with the caption "Finally, a nice necklace with my zodiac.") and then sat back to see what would happen.
As Rojinski expected, the lewd commenters came out in full force.
One commenter stated, "I would like to put my head between these."
"I would like to polish these Howitzers," wrote another.
What's more, the photo was even featured by a number of German publications as a bit of juicy celebrity news…
You can watch the full prank for yourself in this 6.5-minute video by Late Night Berlin (in German with English captions):
"I don't wave a flag in my photos saying, 'Please, all perverts of Germany, gather in my comments section,'" Rojinski tells Heufer-Umlauf.
"Nobody is going to dare have frivolous thoughts on your page no matter what you post," Heufer-Umlauf says. "I promise you that."
(via Late Night Berlin via Laughing Squid)