Tourist Posing for Photo Gets Blasted Off Rock by Huge Crashing Wave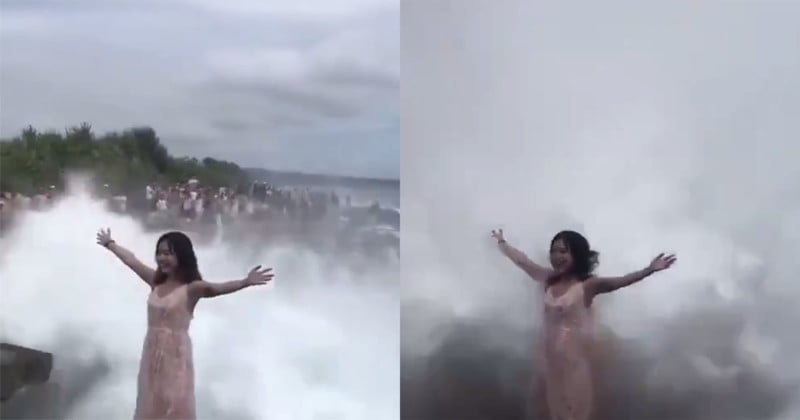 A tourist visiting Bali just received a scare while posing for a photo at a popular spot known as "Devil's Tears." While standing on the edge of a cliff, a gigantic wave crashed against the rock and blasted the woman off her feet. The frightening incident was captured in a video that's now going viral in China.

The woman was on the Indonesian island of Nusa Lembongan with a crowd of tourists when she decided to get a little too close to the dangerous waves. And as she posed for a photo with her back to the ocean and her arms outstretched, a wave swelled up and crashed over her. Here's the viral 6-second video that shows what happened next:
花季少女,巨浪吞噬,命懸一線 pic.twitter.com/qTo7vDyDRu

— 人民日報 People's Daily (@PDChinese) March 17, 2019
The woman luckily didn't get swept into the ocean, and she somehow emerged from the accident with relatively minor injuries. A followup video captured immediately afterward shows that she only got scrapes and bumps on her shoulder and elbow:
死裡逃生,有驚無險,值得慶幸 pic.twitter.com/oBaNnTbykh

— 人民日報 People's Daily (@PDChinese) March 17, 2019
Devil's Tears is well known for its giant crashing waves, and it's a spot that's often crowded with tourists.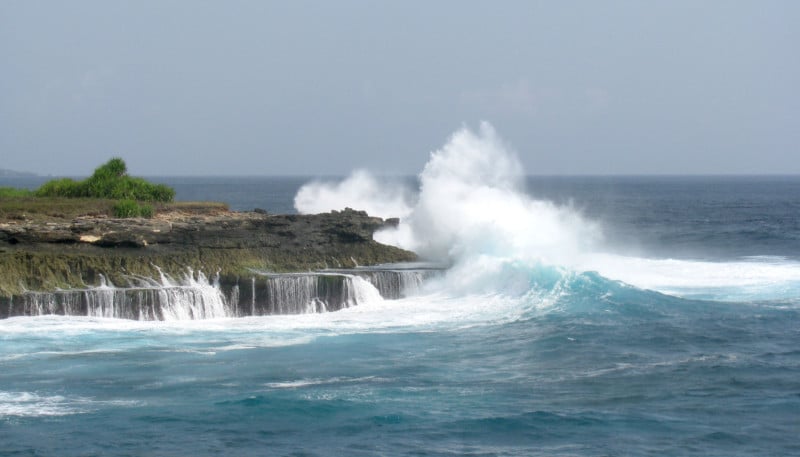 Standing on rocks next to rough ocean waters can be extremely dangerous, and there are reports that "Devil's Tears" may not have enough warnings for tourists who venture too close to the edge.
"[V]ery spectacular to see but I would like to place a warning here," states a review posted to TripAdvisor in late 2018. "We were there one week ago and there are absolutely no warning signs that every area beyond the immediate vicinity of the parking area is extremely dangerous. […] Apparently there is a warning sign at the parking area but we never seen/passed it."
(via People's Daily via Fox News)