A Comparison of PhotoShelter and Squarespace for E-commerce
I recently I canceled my PhotoShelter account after being with the service for 8 years, and I wanted to provide a better understanding of the pros and cons of PhotoShelter and Squarespace. I currently use Squarespace and while I wouldn't say the service is without its faults, I do believe that it is a better service for my needs.

I wrote this article so I can better sum up what those needs are, and how the services differ in their strengths. I'm going to compare the two services based on their main selling points and will award a winner of each round.
Though I have been displeased with PhotoShelter service, I will do my best to remain objective. However, since both are content management systems at their core, they can be compared nearly one to one. Please note, I'm not affiliated with either service.
Ease Of Use
Both Squarespace and PhotoShelter claim to be very easy and you can be up and running in minutes, according to the marketing of each. PhotoShelter offers 9 website templates for the user to customize while Squarespace offers (by my count) 67 templates for the user to customize.
On the PhotoShelter customization platform, your choices are limited to picking colors and fonts, which does allow the user a quicker set up than Squarespace's more robust style and page editor. PhotoShelter also gets points for their simple choices when it comes to templates since you only have 9 to pick from it's an easy choice on which one the user prefers.
Contrasting that to Squarespace, with 67 templates it can be daunting for the user to find a single template to use. Because the Squarespace templates can be customized to the nth degree, their page and style editor is much more robust and can be, at times, more difficult to use than PhotoShelter's very basic editing tools.
For my choice, I like the freedom of being able to design my website the way that suits me and my style. I would consider myself an advanced user and the robust editing of Squarespace was a major selling point for me. I remember setting up my PhotoShelter site in under an hour though and since I named this "ease of use", I'm going to play by my rules and give this round to PhotoShelter because of its bare-bones editing options.
Winner: PhotoShelter
Gallery Presentation And Checkout Process
Since I am a landscape and nature photographer, the way my artwork is presented matters to me. PhotoShelter offers different viewing experiences for each template while Squarespace's offers 4 different presentations within pages and blogs. Both services have checkout pages that are pretty standard, with Squarespace gaining an edge on the simplicity of their menu system. PhotoShelter once again makes it more difficult to buy photos through a convoluted menu/tab system.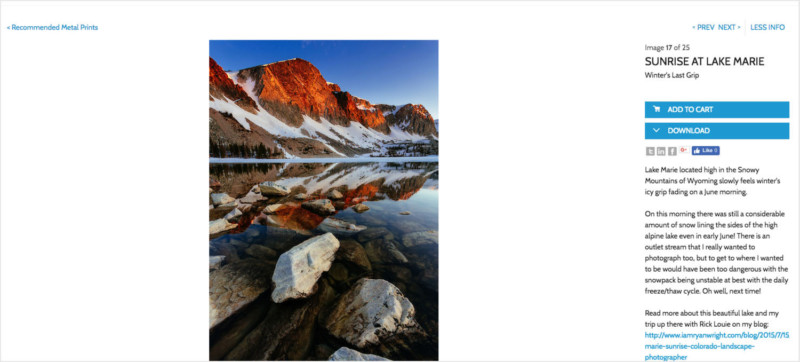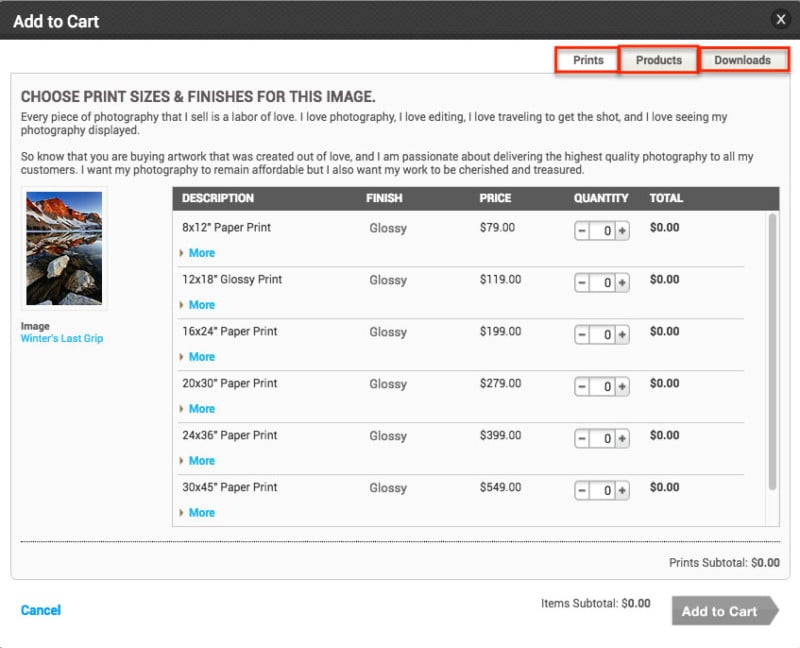 By using menus to have multiple variations, it reduces the confusion and makes it easy and straightforward. A basic tenant of good web design that is optimized for conversions is putting the fewest amount of clicks in between the buyer and the product, and the design here by Squarespace is what I would consider the industry standard. It's not groundbreaking because I believe it just works.
Additionally, though I'm not utilizing it but plan to in the future, there will be a blurb about each medium down below the fold to give potential buyers more information about making a purchasing decision. Squarespace has made these pages very easy to use and they definitely get the win here.
Both companies display the images fairly well and both have shortcomings, which you're going to find with any CMS. But one major pitfall for PhotoShelter is that some of their templates display nearly full-screen photos, which doesn't sound like a bad thing whatsoever. The problem is if you're looking to convert to sales, those templates are going to make it very difficult for the buyer to even get more information about the photo.
As you can see, the presentation is beautiful and I give PhotoShelter major points for how great the images look in these galleries. They are what photographers want: big images to show off their work. A caveat I should mention, my focus is to provide knowledge via my blog and to sell prints. If you're just looking for a gallery to display your images and do not make your photos available for sale, then PhotoShelter is a good option.
From the gallery page above, you can see the little orange cart icon, which I had to beg their support team just to change to orange. Normally it would be dark gray like the others. You can see that this might make it hard for people to buy. Clicking that icon prints up a menu that whites out the rest of the screen and asks you to choose one of the following.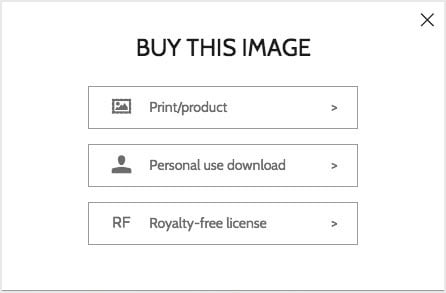 Once you click one of the options, you are taken to the menu that I mentioned above to select your options. PhotoShelter does a phenomenal job in displaying the images which makes it all the more frustrating and disappointing when it comes to the user experience.
This is actually a reason why I left — PhotoShelter does such a tremendous job in displaying the images, only for potential buyers have to email me about how to actually buy a print. Happened multiple times. A knock on Squarespace here, they do a decent job at displaying images but it's mainly through splash/cover pages. Within the store or on the blog, it's pretty standard lightboxes and none of them are particularly great. Still, though, I think it's pretty obvious who gets the win here.
Winner: Squarespace
Backend Content Management System
Here is not something you find in many comparisons between these two companies, how well does each manage your content and in particular, your images. I'm going to be looking for primarily the store aspect in this part because it would be unfair to compare blog pages since PhotoShelter doesn't offer blogging.
There are aspects to PhotoShelter's backend CMS that I really liked. In particular, being able to create products in bulk and add pricing in bulk by using pricing profiles. You can have an endless amount of pricing profiles and it makes it very handy for pricing different images. As you can see below.
This made it very easy to apply profiles to images at bulk without having to copy and paste pricing information individually as you do with Squarespace. My main pricing profile was a 2:3 ratio and I had that applied to 175 images. It would take me a week or more to create 175 images for sale here in Squarespace because there simply aren't bulk options.
Now, you can duplicate products, and that is how I do add products now. I have a template for the pricing that I want to use and I duplicate that product, then change the details. It cuts down on some of the work but it far from a perfect system. Major props to PhotoShelter here, this is something that would be a real game-changer for Squarespace. Imagine using Squarespace and trying to update the pricing on 100+ products. No thanks.
Squarespace doesn't do this well because there isn't a true content management system outside of their blogging. All images you upload to your site are only used in that instance; be it a blog, page, or store. Unlike Wordpress, PhotoShelter, and others, you cannot access images you have uploaded before in another place.
Say I wanted to write a blog about an image I have in my store, I have to write that blog AND upload that photo again if I want it to display in the blog. It's not a completely 1 to 1 though because again, blogging doesn't exist on PhotoShelter. But the use case is there if I'm creating a new gallery I don't have to upload the images each time. I can copy them from one gallery to another very easily. Here is what Squarespace's store management and product editing look like.
Not very robust if you ask me, even without a bulk editing option. Here are PhotoShelter's store management and product editing.
With PhotoShelter, your images live in galleries and you can easily add to those galleries by uploading new photos or copying them from different galleries. I highlighted the actions button the first image because I had selected 3 images and I wanted to show how you can bulk edit very easily. You can bulk edit the pricing, the IPTC info, make them hidden, download them, quickly email them to clients, etc. This is not a feature with Squarespace and one of the major disappointments when using their service is that you have to upload photos multiple times for different uses.
Winner: PhotoShelter
On-Site Analytics And Integrations
This might seem like a pretty minor section because analytics is easy, just use Google Analytics right? Yes. Do that. But since both platforms offer "analytics" to their customers I decided to compare them and because I didn't just want to talk about analytics I grouped in integrations too because it's 2019 and your website should work with other services and/or use other services. But first, analytics.
With a background in digital marketing, I do care about analytics and looking performance gives me insight into action for my day-to-day job. But using analytics should matter to photographers as well because you should want to know if your blog is being read by anyone. Suppose your site was getting lots of traffic and you could monetize that traffic by including a few ads or promoted posts, without analytics you may not be aware of that opportunity. Or say your website gets a lot of visits but no one checks out, why is that? Analytics can give you a picture of why that might exist. Another reason I wanted to compare analytics is that both PhotoShelter and Squarespace advertise their analytics to potential customers as a selling point. After reading this section, you'll learn that one of those companies should cease marketing their "analytics" post haste.
Squarespace has what I would consider being "very good" analytics, there are loads of data that they provide you with even if the UI is adhering to their minimalist mentality a little too much. Here's what you are given looking at the analytics section of the site and a look at my site's purchase funnel for 2018.
The user is given a ton of options here and if you don't want to use Google Analytics, then this is a great suite of tools to measure your site's performance, track sales, look at purchase funnels, re-engage abandoned carts, etc. I can quickly see what content is most popular, how many people are signing up for my newsletters, and a lot more. This is why I would call this suite of tools "very good" because while you can access this all in Google Analytics (for the most part), this is like a distilled version of GA in the most useful data. You can even integrate Facebook and/or pixels so you can track facebook and google advertising.
With PhotoShelter, you are given analytics and they do market analytics as a feature so let's take a look at them. The first image is proof that they do market this as a feature for potential customers and then a screenshot of the actual analytics for my site on PhotoShelter.
PhotoShelter, you might rethink marketing these "analytics" as a feature of the website. I mean, I can see traffic over a period but I can't input what period that is. Is my traffic up? Is it down? I have sales data, my last sale was back in August of last year. I have what states visit my site and where the traffic comes from. Then because PhotoShelter loves to remind you how much space you're using, that is included too. Also, how did I have 95 TOTAL VISITS but 143 UNIQUE VISITS? The screenshot in the marketing says the same thing to so I know it's not an error in my analytics. Yikes PhotoShelter, this is a bad look.
Moving on to integrations, with Squarespace you can integrate a whole list of services and apps that you probably use. I don't have a screenshot of the integrations because the list is too long so if you want to see that list, here's the most complete one I could find. What integrations I like the most is Squarespace's integration with Google and their GSuite set of tools. I was quickly and easily able to set up a Google domain, get GSuite, and all in a manner of minutes. Squarespace uses Stripe and I use that as well, so that works well for me too.
With PhotoShelter, they let you choose if you want to use Stripe, PayPal, or a merchant account and then there are social sharing buttons for five platforms including Facebook, Pinterest, Twitter, and the now-defunct G+. I had to go to a product page to see if I could get Instagram and sadly, they do not have Instagram integrations. Analytics and integrations are not PhotoShelter's strong suit, so if you want a 2019 website and want to use Shipstation to ship out your orders (yes please), then using PhotoShelter would make you need an intern for manually entering orders.
Winner: Squarespace
Overall Value
The score is tied up at two apiece so let's examine the overall value of the platforms. I have clearly pointed out that both have significant downsides to their service and both do some things very well. Overall value is a little subjective because I'm writing from how I use this site and how it meets my needs. So taking that into account, I'll try to remain objective here. Squarespace and PhotoShelter both have different pricing tiers so we'll start there. I'm focused on e-commerce so I'm not considering Squarespace's lower-priced tiers for their non-commerce accounts.


For commerce accounts, Squarespace offers you two pricing options while PhotoShelter offers three and all three can be used for e-commerce. PhotoShelter's pricing isn't exactly accurate though because what they don't tell you upfront is that you're going to be paying them a commission of every sale you make, and it varies by which pricing level you have. Let's take a look at those.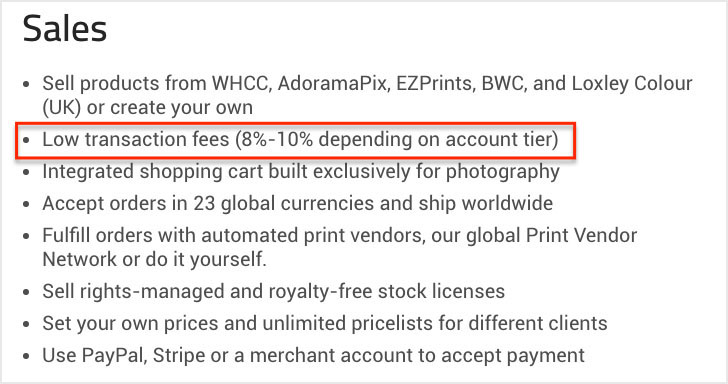 If you're using PhotoShelter for e-commerce, you're going to be paying them transaction fees for each transaction you make. Even if you're paying them $45/month, you're still paying 8% for each transaction.
Let's take that $100 transaction that I last month back in August of 2018. The customer pays $100, and immediately Stripe takes $2.50 for their 2.5% processing fee. Then in September of 2018, PhotoShelter billed me an additional $9 on top of my monthly service fee. So in actuality, my $100 sale is now $88.50. I was using their mid-tier pricing option my transaction fee was 9%. Squarespace, on the other hand, doesn't take a transaction fee and I do still pay Stripe 2.5% for their processing fee.
One of the other value systems I would say is important is the ability to customize your site to fit the style you are looking for. PhotoShelter offers you 9 templates whereas Squarespace offers 67. I'm not knocking PhotoShelter for offering only 9 templates here because for the basic user, they are not going to be looking for every option under the sun and 67 is way too many to choose from. But for the advanced user, Squarespace allows you to insert your own code, your own CSS styling, and a whole host of other things to improve your site and truly make it yours. PhotoShelter does not offer custom CSS or custom code injection beyond Google Analytics tracking.
This is where PhotoShelter falls way behind, because like I mentioned, your basic user isn't going to want to insert their own CSS but at least Squarespace gives the advanced user the ability should they want to. I was able to do some basic coding on this to add before/after photos, custom social sharing for all blog pages, and custom lightbox containers for blog posts with a little coding help from my developer friends. With PhotoShelter, I had to beg them to change the color of an icon from black to orange and that was the extent of their custom editing that could be done to their CSS.
Winner: Squarespace
In Conclusion
If you're still reading this, thanks for reading the whole article. I wanted to present the sides of this comparison as fairly as possible and trying to remain impartial. I am not saying that Squarespace is perfect, because they have some major growing to do if they want to keep their massive user base happy — add bulk product editing and pricing!
I hope you have found this article informative. My aim was not to shame one company, it was to bring to light their strengths and weaknesses so you can cut through the marketing and decide if that service is right for you. Because I work in marketing and own a marketing consulting business, I am particularly aware that a lot of thought goes into copywriting and hiding non-flattering information. You won't see Squarespace advertising that they don't offer bulk updates or bulk pricing, and you won't find PhotoShelter advertising that you're paying them for each sale you make.
Which service do you prefer?
---
About the author: Ryan Wright is a photographer based in Boulder, Colorado. The opinions expressed in this article are solely those of the author. You can find more of Wright's work on his website
, Facebook, Twitter, Flickr, and Instagram. This article was also published here.