Documenting Cosplay Culture in the UK
Long-term projects can be one of the most frustrating creative pursuits for a number of reasons. There is a large investment of time, obviously, but there can also be the uncertainty of where a story goes as you watch it unfold over years, while constantly adjusting and readjusting the scope of the issues you want to deal with in your stories.

I very rarely show off my work in progress, which can lead to feeling unmotivated, as I have so much work which I have never received feedback on, and which I am uncomfortable sharing until I have a full set of excellent images which tell the story of the entire project.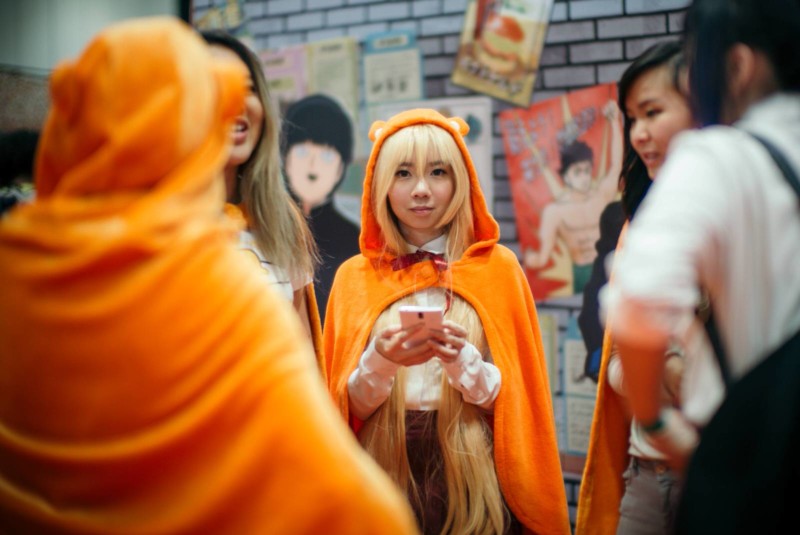 Maintaining this kind of patience over decades can be very difficult, and one way I tried to deal with this was by starting my own blog, where I discuss the more intricate details of my day-to-day experiences, and show a few images, sometimes rejects and first-drafts. This way I am able to present my work in progress without feeling that I am giving too much away, or showing off something that is half finished.
I thought it would be interesting to take a look at one of the first long-term photography projects I ever began and to analyze the way that it has progressed over time. This project, which I started in October 2016, started out as a simple portrait series at MCM London Comic Con. I was attending as press to cover the event for a few outlets and decided that the best use of my time would be to photograph the vibrancy and detail in the costumes.
While working on these portraits I realized, through conversations with my subjects, that there was much more to this than just colorful costumes, and that a far more powerful and interesting story could be told. I have always had an interest in BTS activity, which I normally apply commercially in my Fashion and Production BTS images. The majority of cosplayers make their costumes themselves, investing money into materials and time and effort into research and the actual creation of these unique pieces. There is a real craft involved, which I feel is underrated. Although there are professional cosplayers many enthusiasts learn to create under their own steam, which is really fantastic.
My focus then moved to seeing whether I could document the process of making these outfits, and although I wasn't satisfied with the images that resulted from this it is still a direction I want to explore. While working on these images I noticed that there was a story to be told involving the positive influence of Cosplay culture on mental health. I continued this line of thought while working at similar events, including Hyper Japan and LAGC.
In order to tell that story, I would have to become far more involved with my subjects than when working on a simple portrait. I also am not a fan of photo stories/essays that only consist of portraits. I much prefer action, and to not only see things happen but to investigate and understand why. Isolating a subject for a portrait was where this project began but now I wanted to take a different direction entirely, in a far more candid style closer to my production and fashion BTS work.
Although I already felt that these conventions were a great environment for me, catering to many of my interests both from my childhood and present I had a long way to go in creating connections with the attendees I was interested in documenting. Luckily there is a wonderfully friendly environment, and I had no trouble in striking up conversations. Although not everyone wanted to be involved in my project, they were all interested in how it would turn out and had perspectives to offer regarding the topics I was discussing.
Although I wanted my work to be candid it was important for me to become familiar to enough people that I would be free to shoot as I pleased. The more comfortable people are with the presence of not only myself but my camera then the easier it is to shoot candid scenes and moments. Especially when exploring themes of community and friendship this kind of access is unparalleled.
By involving myself with these groups I was able to learn about aspects of the community I would have never known existed, let alone thought to document — for example the "Fight Club" which sometimes happens between the closing of the Comic-Con and the opening of the after party.
I shot all of the images here on small, friendly, rangefinder cameras which I think are perfect for the style of reportage I am trying to achieve in most of my work, but which also allow a much friendlier dynamic between a photographer and subject while working on a portrait.
As I mentioned earlier this project is one of the first long-term project's I've ever worked on and looking back over my images is really interesting to me. It's fascinating to me to see how my style has changed in such a short period of time in only three years, and how I have moved between genres and approaches to storytelling in the project itself.
There are only a handful of these kinds of events in the year, which gives me maybe 20 days total a year to work on the project. In the time between those events, I work on many other projects, so when I "check back in" to one of these events I bring everything new I've learned with me. This has meant playing around with wide aperture lenses down to f/0.95, macro lenses, telephoto, shooting candidly, posed, stage-work, celebrity portraiture, artificial light indoors, natural light outdoors, on black and white film, panoramic on the XPan, and any number of other techniques, in order to really nail down exactly what story I want to tell, and how I want it to be told.
Thanks for taking the time to read about my process and approach to this long-term project! I look forward to sharing the entire series when the entire project is complete; hopefully, it will be an entirely different and better set of images than the ones included here!
---
About the author: Simon King is a London based photographer and photojournalist, currently working on a number of long-term documentary and street photography projects. The opinions expressed in this article are solely those of the author. You can follow his work on Instagram and you can read more of his thoughts on photography day-to-day over on his personal blog. Simon also teaches a short course in Street Photography at UAL, which can be read about here.