Lightsaber Light-Painting on a New Zealand Beach
Photographer Charles Brooks made this 30-second video showing how he recently shot a lightsaber light-painting portrait on a beach in Auckland, New Zealand.

"The lightsaber is an acrylic tube with a high powered torch (1000 lumen Nitecore)," Brooks tells PetaPixel. "It is naturally orange and I have sanded it down to help get more diffusion."
Brooks had his mode, Laura Jane, hold a pose while he spun the lightsaber in a circle behind her. The long-exposure portrait was shot with a Panasonic GH5 with a Leica Summlux 12mm f/1.4 lens.
"The still camera is operated by wireless remote in Bulb mode (the transmitter's in my right hand)," Brooks says. "I wave the light stick around with my left hand — takes a bit of coordination to get right, and needs a very still model. "
Here's the photo that resulted: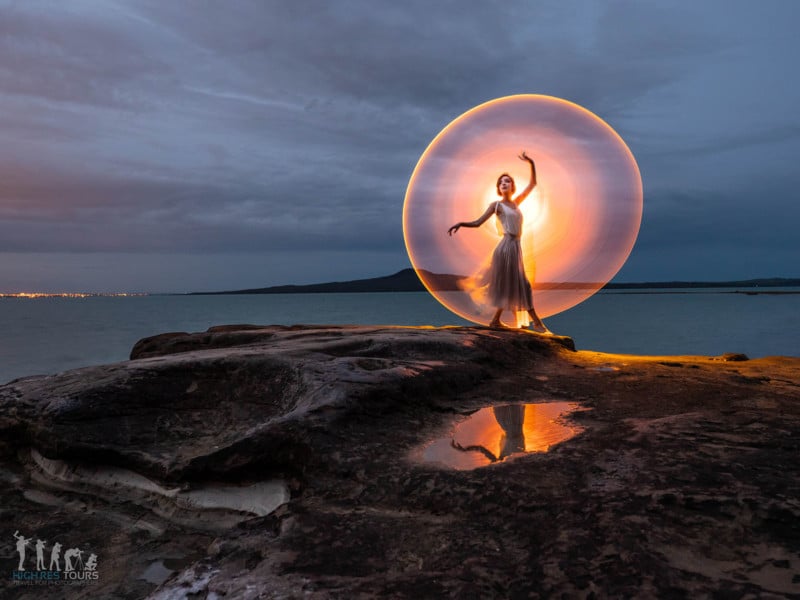 Brooks says he was inspired by photographer Eric Pare, who's widely known for pioneering this type of lightsaber light-painting photo.
You can find and learn more of Brooks' work and techniques on his website, Facebook, and through his workshops.
---
Image credits: Video and photo by Charles Brooks and used with permission