This Photographer Uses a Beer Helmet to Mount Flashes to His Head
Japanese photographer Nishihiro has come up with a clever and unusual lighting accessory: he turned a party helmet designed for beer cans into a way to mount off-camera flashes to his head.

You can find these types of
party helmets
online for about
$7
to $15, and they come with a can holder on each side of your head as well as a forked straw that lets you suck from both cans at once.
But instead of cans, Nishihiro inserted flashes into the holders.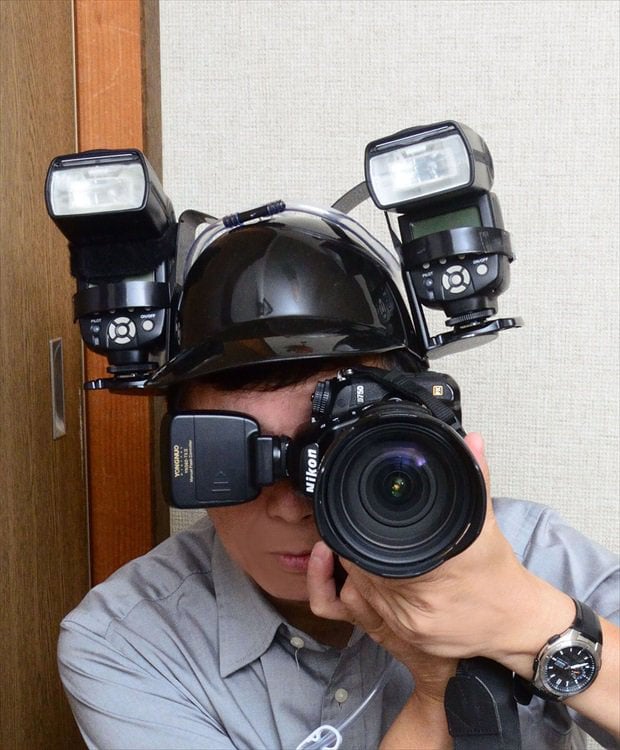 He also placed circular diffusers in front of each flash for softer lighting (and a Mickey Mouse look).
And when Nishihiro doesn't need double the flash power and would rather stay hydrated during a shoot, he swaps out one of the flashes for a drink.
Nishihiro's idea has gone viral over in Japan, and other photographers are now following in his footsteps:
にしひろスペシャルお借りしました! pic.twitter.com/Ez252Nfx5v

— Sei@🔚 (@clubsei2003) November 4, 2018
If you'd like one of these flash helmets of your own, just head over to Amazon and do a search for "beer helmet."
---
Image credits: Photographs by Nishihiro and used with permission