Samsung's New Galaxy A7 is its First Triple-Camera Phone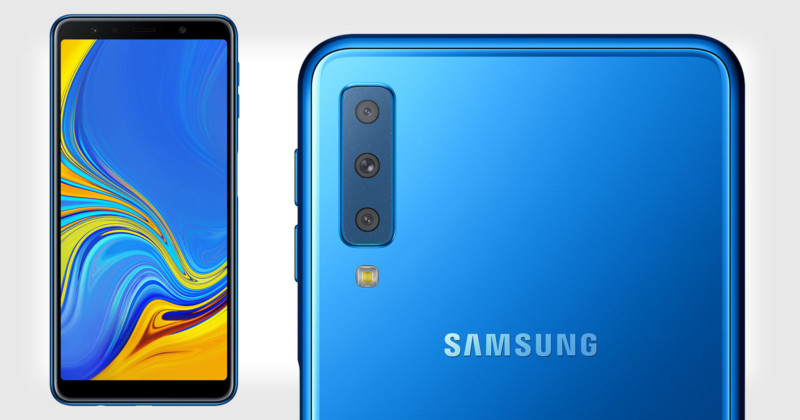 Samsung has announced the new Galaxy A7, the company's first triple-camera smartphone. As dual cameras have become a norm in the industry, the South Korean electronics giant is adding a third module for even greater photography powers.

The rear setup includes an 8MP ultra-wide f/2.4 camera, a 24MP f/1.7 standard camera, and a 5MP f/2.2 "Depth" camera.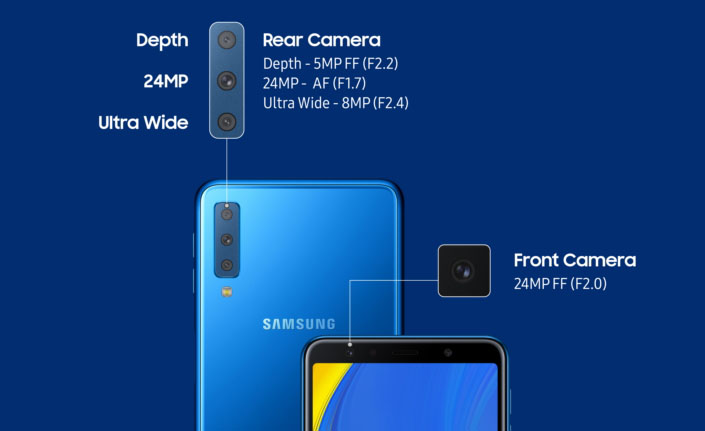 The Ultra Wide 120° lens has "the same viewing angle as the human eye," Samsung says, allowing you to capture the world exactly as you see it. The standard and Depth lenses combine for a Live Focus feature that lets you adjust control depth of field by adjusting the bokeh effect.
In low-light conditions, the 24MP camera can also combine every 4 pixels in a single pixel for lower-res 6MP photos with higher image quality.
There's also an intelligent Scene Optimizer that identifies what your subject is and adjusts color, contrast, and brightness to optimize image quality for you.
On the front of the Samsung Galaxy A7 are a 24-megapixel front camera and an adjustable LED flash. Users can shoot "portrait mode" selfies with the Selfie Focus feature as well as selfies that look like they were shot with pro lighting with the Pro Lighting feature.
Other features and specs of the A7 include a 6-inch Super AMOLED display, a 3,300mAh battery, an octa-core 2.2GHz chipset, up to 6GB RAM, up to 128GB internal storage, a microSD slot for 512GB of expanded storage, Dolby Atmos 2 immersive sound, Android 8.0, a side fingerprint sensor, and four colors (blue, black, gold, pink).
The A7 is just one phone in a new movement toward a higher number of rear cameras. Light is reportedly developing a smartphone with as many as 9 rear cameras, and its technology might appear in phones by other brands as well.
The Samsung Galaxy A7 will hit select European and Asian markets this fall and additional markets in the "near future." No word yet on the phone's pricing or if/when it will be sold in the US.