Nikon Launches the 500mm f/5.6 PF VR, a Tiny Super-Telephoto Lens
Nikon just released the new Nikkor 500mm f/5.6 PF ED VR, a new super-telephoto prime lens that's ultra small and lightweight for its class.

The development of this lens was announced back in June with minimal details, and now Nikon is providing a full picture of what this lens is.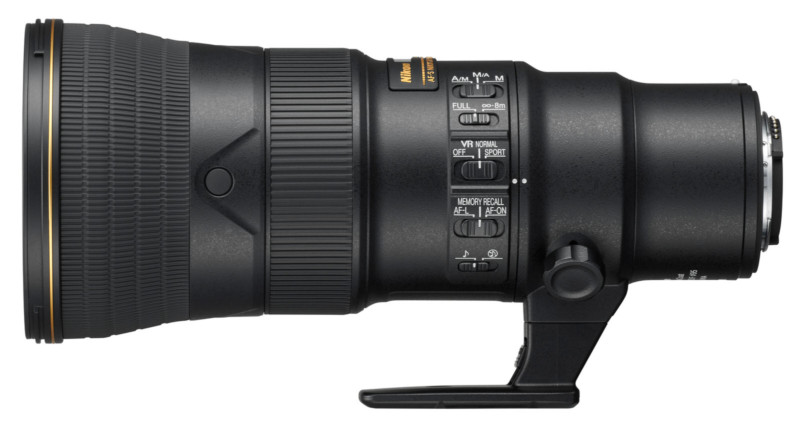 The Phase Fresnel (PF) lens element inside the new lens greatly reduces the size and weight. While you might expect a 500mm f/5.6 lens to be huge and impractical for handheld shooting, the new 500mm f/5.6 PF ED VR weighs just 3.2 pounds (1,460g), or about the same as a Nikon 70-200mm f/2.8 FL ED VR lens. 500mm lenses typically weigh twice as much.
In July, we shared a photo by Moscow-based photojournalist Pavel Bednyakov showing just how tiny the new lens is:
The portability of the new 500mm f/5.6 PF is perfect for Nikon's newly announced Z Series full-frame mirrorless cameras. Using the new Nikon FTZ lens adapter, the new 500mm can be mounted onto the Z6 and Z7 cameras, creating an ultra-compact 500mm mirrorless camera kit.
Other features and specs of the new 500mm include PF lens element materials that reduce PF (diffraction) flare, a Nano Crystal Coat that controls ghosting and flaring, a faster AF system thanks to lighter lens elements, a VR system with 4.01-stops of compensation, and a SPORT VR mode for shooting fast and unpredictable subjects.
The new Nikon AF-S NIKKOR 500mm f/5.6E PF ED VR lens will be available on September 13th with a price tag of $3,600.