Adobe Releases August 2018 Update for the Lightroom CC Ecosystem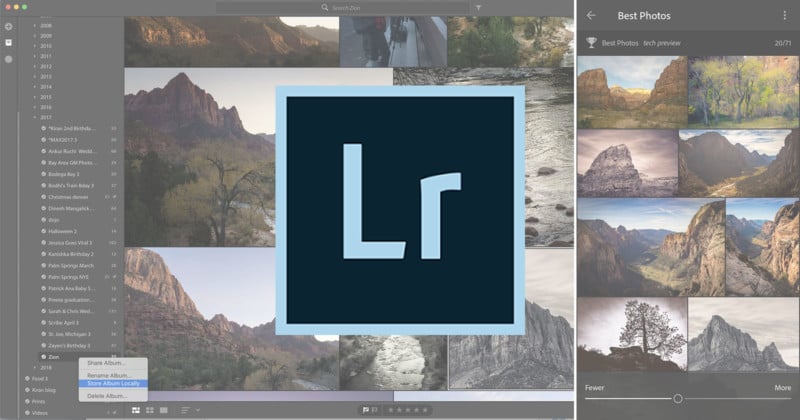 Adobe has announced a new wave of updates to the Lightroom CC ecosystem, including new features in both Lightroom Classic and Lightroom CC for Windows and Mac users — features "based off of top customer feature requests."

Lightroom Classic CC
Lightroom Classic CC can now import a zip archive of presets and profiles. Simply click "Import" from the preset panel or profile browser and select a zip file, and Lightroom will automatically import those presets and profiles into the correct locations.
There are also major updates to the Book Module. New Blurb book styles include Layflat (seamless spreads), Magazines (semi-gloss cover and velvet finish paper), and Trade Books (affordable books for distribution).
Book pages now have custom-sized cells, allowing you to refine the layout to what your envisioning.
"Add multiple cells, move specific cells to the front or back, and drag the cell exactly where you want with the help of new grids and guidelines," Adobe says. "You can even save the custom layout to use it in another album in the future."
Lightroom CC
Lightroom CC will now let you save an album's photos locally for offline editing. You'll find a new "Store Album Locally" setting that tells Lightroom to keep an original copy locally, which can be useful for people who often pass through areas with limited or no Internet for connecting to the cloud.
The Info Panel now displays the album any photo is part of, making it easier to explore and organize your work.
You'll find this detail under the new "Albums" box by scrolling down in the panel.
Lightroom CC Mobile
Lightroom CC Mobile users on iPhone, iPad, Android, and ChromeOS are getting new features as well.
iOS
iOS users will see organizational improvements, including new smart folders (Lr Camera Photos and Recently Added).
There's also a new Shared Album tab for browsing the albums you've shared on the Lightroom website. When viewing multiple photos, you can now multi-select by long tapping.
The filter menu has been updated to allow filtering by media type, camera, location, keyword, and whether the photo has been edited.
Adobe has optimized HDR and long exposure photos captured in Lr Camera, making them take up less size without any loss in quality, helping you save your precious smartphone storage space and bandwidth. Adobe says the files are now 2/3 smaller.
Finally, Adobe has also released a new technology preview called Depth Map Support. Lr Camera now has a mode that captures HEIC photos with depth maps — the same kind used by Apple for its Portrait Mode. There's also a new selective tool that can be used to turn any depth map into a selection that can be edited with a brush.
Android
The Android version of Lightroom is getting an improvement in the Optics section that lets photographers reduce chromatic aberrations in photos. You can also now manually select from the lens profiles Adobe makes available inside Lightroom CC, of which there are over 1,200.
Apple's push into HEIC images is spilling over into Android as well, and HEIC/HEIF format photos are now supported in the Android app.
While you're in the cloud status tab, you can now pause and resume synchronization.
Like the iOS app, Android's version is also getting a technology preview. It's called Best Photos, and it uses AI and other analytics to provide a selection of your best shots (the ones with the "highest potential," Adobe says) within any photo album.
Availability
The updates to Lightroom Classic CC and Lightroom CC are available today — just update your software through Adobe Creative Cloud. The updates for mobile will be arriving in the next few weeks.