Uzbekistan's Secret Underground: A Photo Ban Lifted After 41 Years
After a longtime ban on photographing the Tashkent Metro was lifted this summer, I went underground to reveal the art, architecture, and nuclear-blast protection in Central Asia's oldest subway system.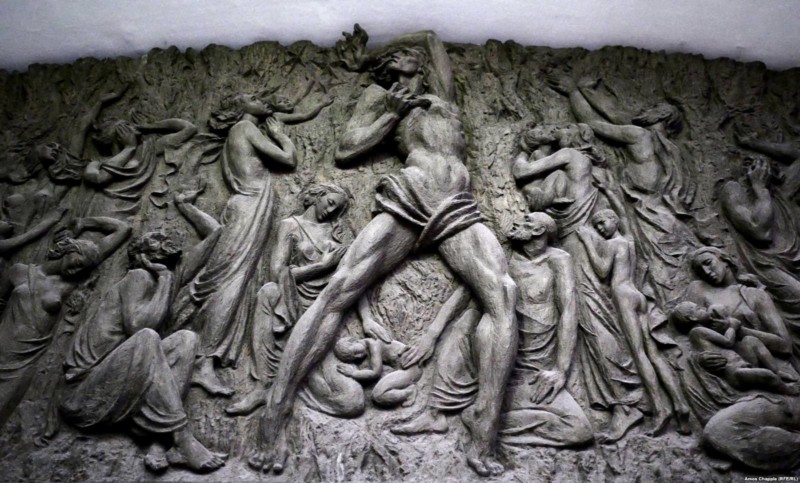 Writhing figures in a relief at the exit to Buyuk Ipak Yuli (Great Silk Road) station.
A moment between trains in Kosmonavtlar (Cosmonauts) station. The stop is famous for its dreamlike portraits of cosmonauts.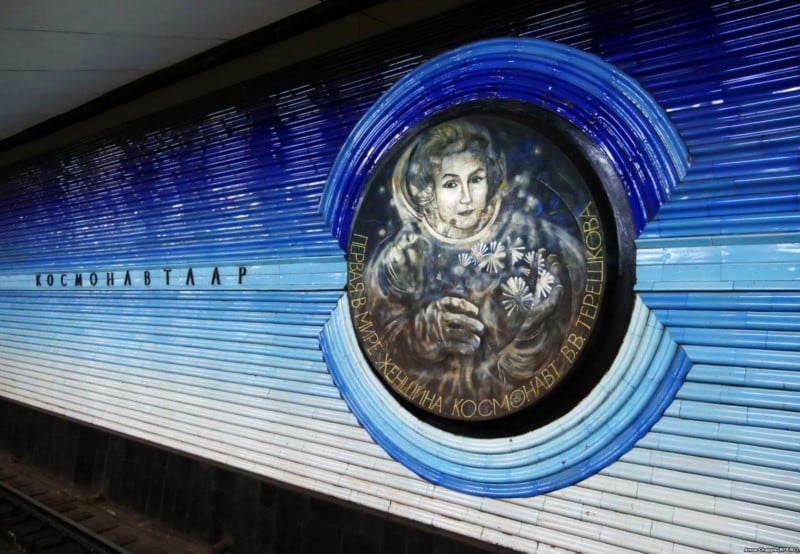 Valentina Tereshkova, the first woman in space, immortalized in Kosmonavtlar station. The ceramic wall panels fade from blue to black in imitation of Earth's atmosphere.
Passengers squeeze into a carriage in Pakhtakor (Cotton Worker) station.
Gafur Qulom station, named after an Uzbek intellectual. During the Soviet period, planners required a city's population to top 1 million before work would begin on a subway. Tashkent's population reached the milestone in the early 1960s.
Commuters in Pakhtakor station. Tunneling for the underground system got under way in 1971, and the Metro opened in 1977.
A glistening corridor linking two stations. After an earthquake devastated Tashkent in 1966, newly cautious planners reportedly reduced the depth and increased the strength of the Metro, tunneling within a few meters of the streets above.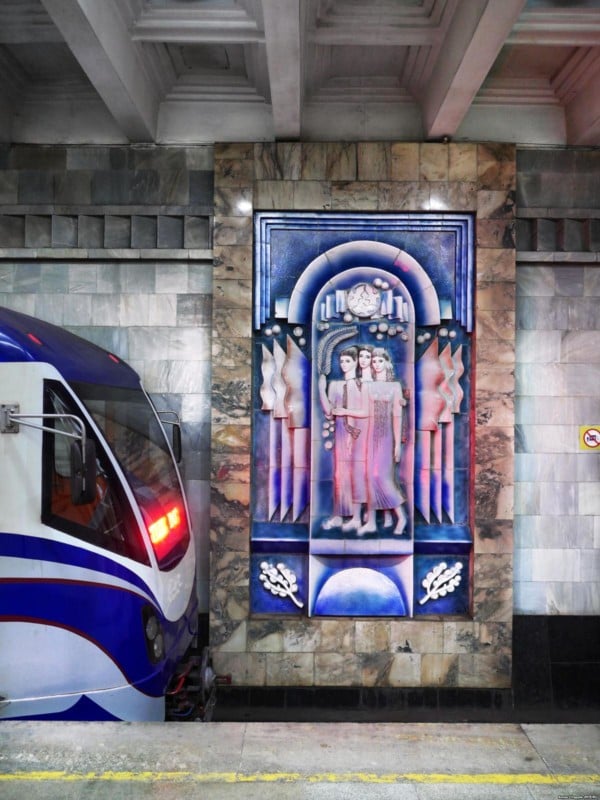 A ceramic mural is revealed as a Metro car rolls out of Tashkent station.
Chandeliers in Chilonzor station, named after a region of Tashkent. Artists were brought in from across the Soviet Union to work on the Tashkent Metro. These 5-meter chandeliers were designed by Latvian artist Haim Rykhsin.
A carefully monitored portrait of Alisher Navoi, considered one of the founders of the Uzbek poetic tradition.
Mosque-like architecture inside Alisher Navoi station.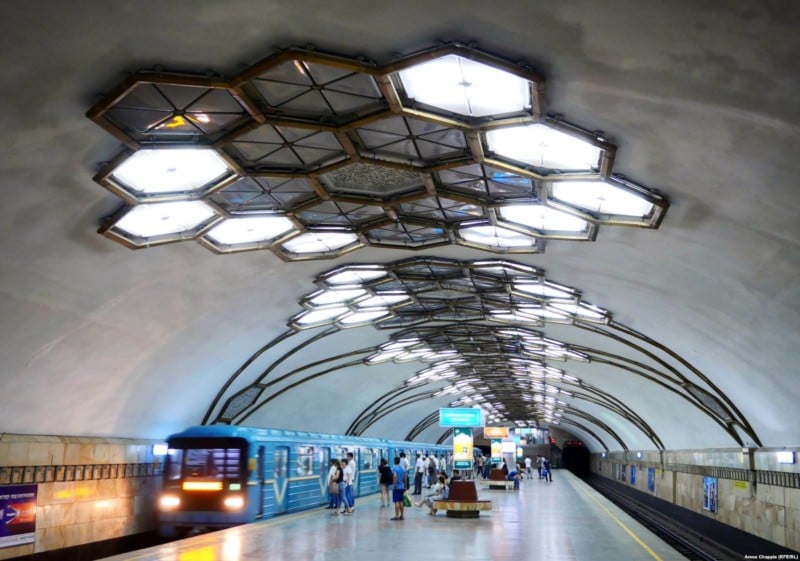 A Metro car rumbles into Novza station, named after a region of Tashkent. The underground mostly operates similar cars to the Moscow Metro, a model known for its screeching roar when driving at speed.
A cashier at an entrance to the Metro. A trip costs 1,200 Uzbek soms, the equivalent of $0.15, making it the cheapest subway ride in the former U.S.S.R.
Many of the Metro stations were "decommunized" and had their names changed after the breakup of the U.S.S.R. in 1991. Amir Temur Khiyoboni (Amir Temur Square) station (pictured) is the former October Revolution station.
A Red Army soldier waves a blank flag that apparently had its hammer and sickle removed.
A ceramic panel depicting a woman playing a lute inside Alisher Navoi station.
A mosaic of freshly puffed cotton bolls inside Pakhtakor station. Uzbekistan is one of the world's leading producers of cotton and is still thought to use forced labor in its cotton industry, although a 2018 decree was aimed at ending the practice.
Photography inside the the heavily policed Metro was forbidden until June 2018 because of the military sensitivity of its second role: as a nuclear bomb shelter.
This slab of steel is a blast door that would swing locked behind soldiers and civilians in the event of a nuclear attack.
While the threat of a nuclear strike on Uzbekistan has faded, the new perceived menace of terrorism is reflected in signage like this declaring: "Awareness is a requirement of the modern era!"
Another safety message exclaims: "Vigilance — the guarantor of our security!"
A decorative panel inside Alisher Navoi station.
A portrait of Soviet cosmonaut Yury Gagarin, the first man in space, in Kosmonavtlar station.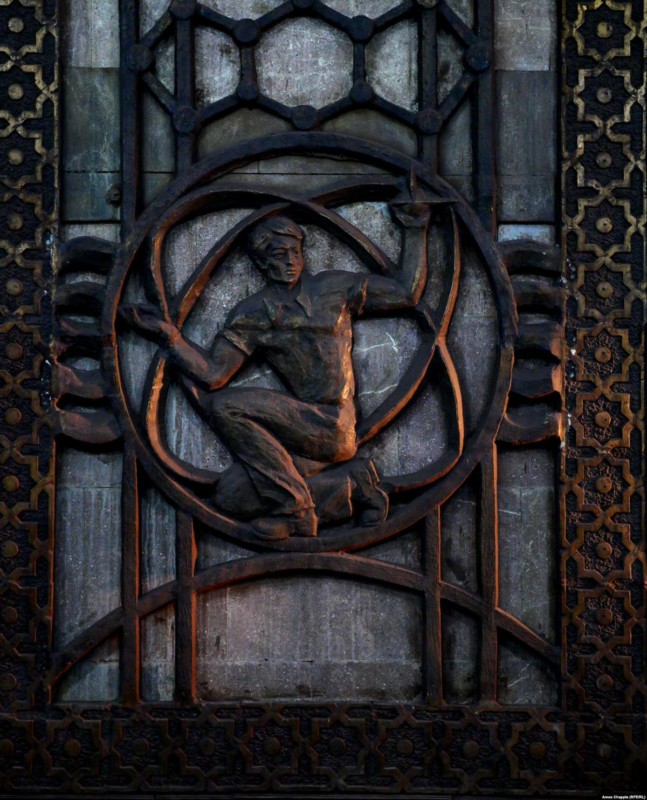 A wall relief shining in the glow of an approaching Metro car's headlights in Milliy Bog (National Park) station.
A mural celebrating 2,200 years since the founding of Tashkent, inside Tashkent station.
Characters from an epic poem by Oybek in the station named after the Uzbek poet.
Commuters peering out at the novel sight of a foreigner taking photos of their Metro.
Most of the Metro stations have humble entrances, giving no hint of the dazzling architecture below. Now that photography is permitted, however, the fame of the Soviet-era spectacle is likely to spread quickly.
---
About the author: Amos Chapple is a Kiwi photographer who makes news-flavored travel photos and writes for Radio Free Europe/Radio Liberty. He started off at New Zealand's largest daily paper in 2003. After two years chasing news, he took a full-time position shooting UNESCO World Heritage sites. In 2012, he went freelance but kept up the travel. Since then, he has been published in most major news titles around the world. You can find more of his work on his website, Facebook, and Instagram. This article was also published RFE/RL.