Shooting a World First Expedition on the Essequibo River in Guyana
I removed the Canon C300 from its waterproof bag and attached the 24-105mm f/4.0 lens while swatting away the relentless mosquitoes. Bringing the viewfinder loupe up to my eye, my left hand flicked the power switch on, now a reflex action after shooting with this camera every day for the last three weeks. Nothing happened. Weird, I was certain I'd put in a fully charged battery.

I checked the battery indicator – yep, fully charged. I removed the battery, slid another one in and tried the On switch again. I noticed with a sinking feeling that, once again, nothing was happening. The camera was dead. It had survived one and a half months in the jungle of Guyana but now the daily exposure to the humid environment had proven too much.
I was out here shooting both photos and videos of an exceptional kayak team: Laura Bingham, Ness Knight, Pip Stewart and their guides from the Wai Wai tribe, as they attempted a world-first expedition: kayaking the Essequibo river from the source to its mouth in the Atlantic Ocean. All three women had completed extraordinary expeditions and challenges before and this trip was no exception. The rainforest was certainly living up to its reputation as a destroyer of equipment, we'd already lost a laptop and an iPhone. Luckily I also had the 5D Mark IV to shoot with, but it was now the only camera left with over a week of shooting still to be done.
How did I find myself here? Well, back in January I'd seen this tweet from Pip:
I responded and after a few emails and Skype calls with the team, it was all organized. Peiman Zekavat, who had worked previously with Pip on her South American Tranzamazonica documentary, would shoot the first section the expedition, a difficult hike through dense jungle to find the source of the river, and I would take over to shoot the kayaking section, down-river to the sea.
We'd actually both stepped in last-minute to replace the original videographer who unfortunately had to abandon the trip because of injury and although Peiman knew what he was doing, I had never before done any shooting in the jungle because most of my clients are involved in mountain sports. But hey, opportunities to shoot adventures like this don't come along very often, so I jumped at the chance.
This being my first trip to the jungle, I inevitably did a lot of preparation and research before I left. The images I saw of where we were heading looked like something out of Jurassic Park and, as well as being one of the most inaccessible places on earth, our location for the next couple of months was also full of jaguar, snakes, spiders, giant caiman, electric eels and piranha – I'd be lying if I said I wasn't nervous.
Numerous people told me it was a nightmare to operate camera equipment in this environment, and – as I discovered first-hand – even the toughest electronic equipment can only stand so much water and humidity. As instructed, I packed only minimal equipment: one set of 'wet clothes' (to wear on the kayaks), one set of dry clothes (for sleeping in), a sleeping bag, a head torch and a lot of sunscreen and mosquito repellent.
One of the sponsors, NRS, had provided the whole crew with excellent waterproof bags, which would prove crucial for keeping the camera equipment and clothes dry. Luckily, all the camera gear was already out there with Peiman, meaning I didn't have to carry it to the airport myself!
On March 14th I flew from London to Georgetown, the capital of Guyana, with Ed (Laura's husband) their 9-month-old baby, Ran, and Charlie (Pip's boyfriend). We met up with Sophia and Anders from Untamed Adventures, experts in adventure travel in Guyana, who handed over all the camera equipment left by Peiman.
There was a lot of gear – a Canon C300, Canon 5D Mark IV, five lenses, two drones and three GoPros, as well as all the cables and spare batteries that come with it. I wondered how on earth I would carry all this gear let alone fit it on the small kayaks?! After a few hours checking all the camera settings, formatting the memory cards, and finally packing everything up, I was good to go.
The next day we took a small, noisy Cessna from Georgetown into the middle of the jungle, getting our first glimpse of the Essequibo river on the way, shining like a silver foil snake in the green jungle below.
After some hair-raising low-level flying, we landed on a bumpy grass runway and were met by some people from the village of Apoteri who put us up in a wooden hut for the night (our first experience of the incredible hospitality of the Guyanese people).
The next morning I awoke with an awful stomach, not ideal considering we were about to spend all day traveling on the river. We organized two motorboats to take us and all our equipment upstream and after five or six hours on the boats, we reached King William Falls Lodge. Fay, the owner, was a great host, explaining a lot about the river and the surrounding environment. We stayed in her huts for the night and was I very relieved to at least have a toilet!
Feeling much better the next day, we continued on upstream, searching for Laura, Pip, Ness and their guides. It was slow progress as the river water was at its lowest and we often had to jump out of the boats to drag them across rocks or up small rapids. Here was my first real experience of the guilt that must surely be faced by anyone filming a documentary like this: standing by and filming rather than helping out. Although we joked about it as a team, this was something I faced every day on this expedition and it was a feeling with which I never became entirely comfortable.
Later that day and to our total surprise, we rounded a bend in the river and spotted some illuminated orange and blue shapes in the distance. My initial reaction was that it must be another group of people, which was ridiculous this far into the jungle as there was no one else around. With a lot of screaming and whooping, we realized it was the team and we raced over to them, everyone embracing and high-fiving.
It was great to finally see them all and it was quite a special moment to see Laura reunited with her child. Funnily enough here in the middle of the rainforest was actually my first time meeting all of them face-to-face as everything before this had been over Skype or Whatsapp.
Now my job really began. For the next five weeks, I traveled with the team on the river, shooting all day and camping in our hammocks in the jungle at night. We saw everything from four-meter-long Caiman that growled at us to dark black scorpions that sometimes liked to hide in our bags.
More than once, our guides had to chase off jaguar that got a bit too close for comfort. The girls faced many challenges, including infections, dehydration, trench foot, stomach bugs and spider bites. I also had my own challenges with the filming and photography. I had to be one step ahead of everyone else, so along with taking care of my own health and organizing all my own equipment, I had to try and get interviews, scenic shots, action shots, drones shots, b-roll, time-lapses, for both photo and video.
There was also the problem of the ever-changing weather, from scorching temperatures to sudden downpours of torrential rain, meaning equipment maintenance was critical. Each evening I would backup everything onto two separate hard drives and use a noisy generator to charge the camera batteries (the generator also broke down, but our multi-talented guides managed to restore it to life).
There was also the mental challenge, trying to stay motivated for such a long period of time, away from home and out of my comfort zone.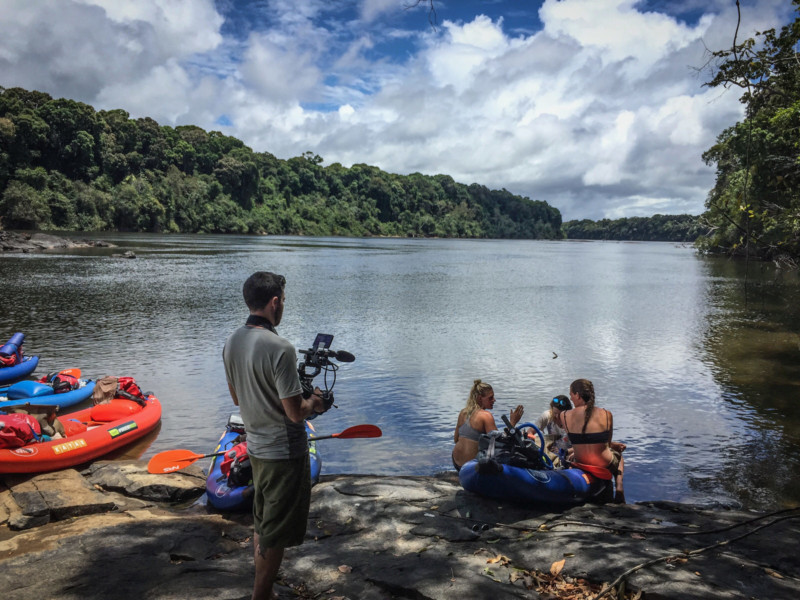 However, after about a week, I'd fallen into a schedule and become used to sleeping in a hammock, we were getting great footage and I was loving all the new wildlife I was seeing. The team dynamic was also fun and laid-back, which helped when times got tough, and we learned so much from our guides. The people of Guyana were among the nicest people I've ever met and always welcomed us in.
The biggest thing I learned from this trip is to not be afraid to take on new opportunities and challenges. Although it sounded quite scary at first, and at times it certainly was very tough, I'm so happy I pushed myself and took on the challenge.
If I was to give some advice and tips, they would be:
Don't underestimate the power of social media — I found this opportunity because I saw a Tweet!
Showing enthusiasm and motivation can sometimes be more powerful than experience
Keep your portfolio up-to-date and show off your best work
Always carry a camera cleaning kit, spare batteries and spare memory cards
In the jungle, always shake out your shoes in the morning before you put them on…!
---
About the author: Jon Williams is an outdoor and adventure sports photographer based in the Bavarian mountains, Germany. The opinions expressed in this article are solely those of the author. You can find more of Williams' work on his website, 500px, Twitter, Facebook, and Instagram.