Photos of Divers with Massive Schools of Fish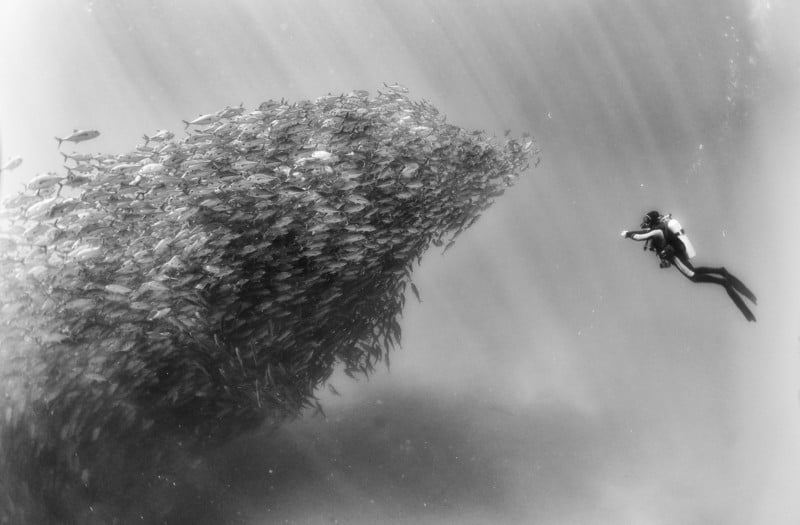 Mexican photographer and social anthropologist Anuar Patjane uses his photos to drive attention to the beauty of Earth's oceans. In his impressive portfolio is a mesmerizing series of black-and-white photos showing divers being eclipsed by massive schools of swirling fish.

The photos are part of a project called Underwater Realm.
"With the underwater series, I try to drive our attention towards the beauty of our oceans and a truth usually unnoticed: We are brutally overfishing in our oceans, and our attention should be concentrated on the way we fish as well as what we eat from the ocean," Patjane writes. "We see and care when a forest is gone because it is visible to everybody, but we don't see when we destroy life underwater, we don't see how nets from the tuna, the shrimp industry and the whaling vessels cause damage and death to the sea.
"We are not familiar with this environment because we don´t see what we destroy, and this needs to change very quickly so we can reverse this course. By sharing the beauty of our oceans we might start to care more and build or strengthen the connection between us and the sea."
These photos were all captured with the Sony RX100I and Sony RX100V in two Nauticam housings and a Nauticam WWL lens.
We previously featured Patjane photos of divers under a colossal oil rig. You can find more of his work (and buy prints) on his website and Instagram.
(via Underwater Realm via Colossal)
---
Image credits: Photographs by Anuar Patjane and used with permission