Photographer Free Dives With Orcas and Captures Incredible Photos
A photographer got into the water with a pod of killer whales capturing magical photos of the creatures in their natural habitat.
Dan Zafra from Capture the Atlas tells PetaPixel that are "no words to describe the experience of seeing and photographing orcas underwater."
"Norway is the only place in the world where you can take trips focused on swimming with this cetacean," he says.
"There are some rules to follow; for example, diving with scuba is banned, you can only snorkel. Also, you can't get on top of the bait balls of fish since it can be dangerous, not so much for the orcas but because of the humpback whales that also hunt in these areas."
Orcas are very intelligent mammals and there is no recorded attack on a human in the wild — recent boat attacks notwithstanding.
"Some encounters were very quick, as they were traveling across the fjord looking for food, but others were longer, coming closer to us when there were curious youngsters with their mums," says Zafra.
"However, the most intense experience was seeing them hunting the so-called 'bait balls'; giants schools of herring that they surround in groups, hitting the fish with their tails to stunl the fish, and then eating them a few feet from us. Seeing them hunting in groups was very special."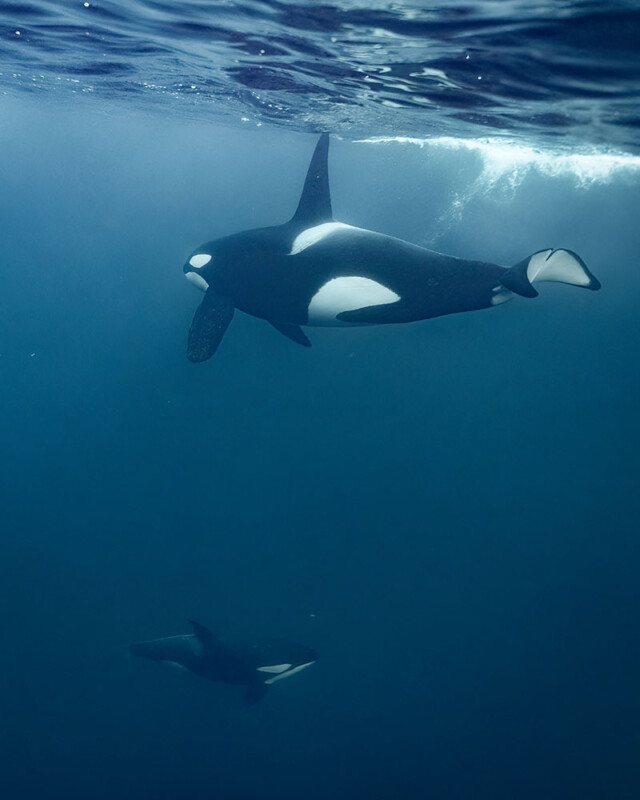 Zafra says he wanted to dive with the orcas because they are his wife's favorite animal and it has always been her dream to swim with them.
"There are multiple places to see [the orcas] from boats, and a few where you can find them kayaking or swimming by chance, but no place offers reliable encounters as the Northern Norwegian fjords," says the photographer.
"It took us a few years to plan the logistics to make it happen, and in November 2022 we took our first trip."
Zafra is a professional landscape and natural photographer so he jumped at this special opportunity. Taking his Sony a7 III camera with an astromodification — removal of the LP filter to capture more light beneath the waves.
"There is not a lot of light at this time of year in the fjords and it's even dimmer underwater, so using a camera with a good low-light performance is recommended," he adds
The camera was housed in an Ikelite that also held a Sony 20mm f/1.8 and could also fit a 35mm f/1.4.
"Swimming with orcas is an otherworldly experience that I recommend to anyone interested in sea mammals and in unforgettable wildlife encounters," he says.
"I'm sure that this will become a more popular activity over time, but no one knows how long the orcas will stay in these fjords since they migrate following the schools of herring of the North Atlantic."
Zafra is organizing a photo tour that takes swimming with orcas as well as capturing the northern lights, details here.
More of his work can be found on his website, Facebook, and Instagram,
---
Image credits: All photos by Dan Zafra.