This is the Milky Way Photographed in a Crystal Ball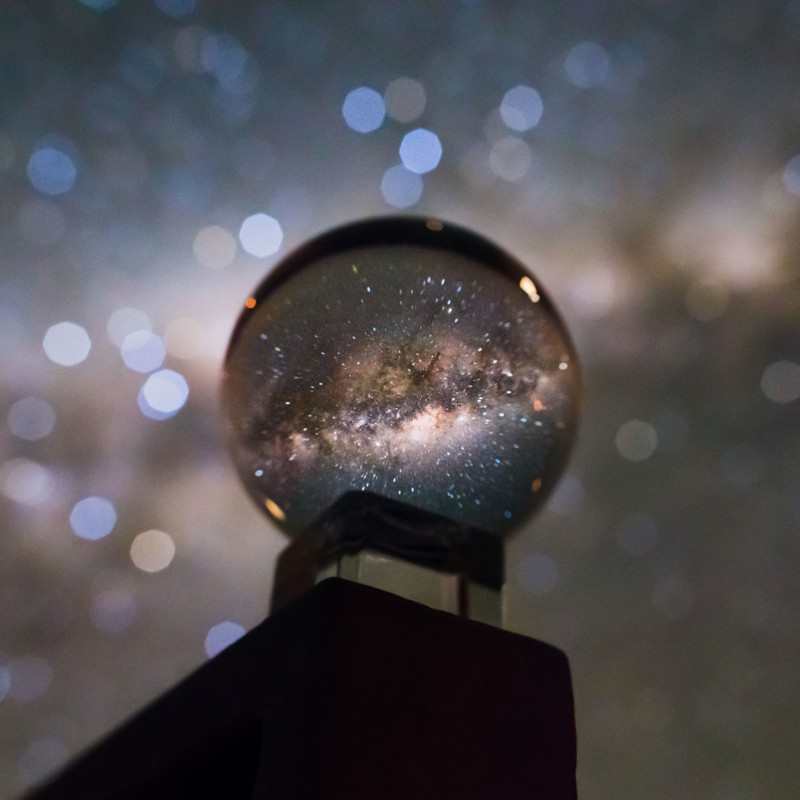 Photographer and astronomer Juan Carlos Munoz was browsing a flea market in Santiago, Chile, a few days ago when he stumbled across some crystal balls. He bought one for a few dollars and then decided to use it for astrophotography. This "cosmic marble" photo of the Milky Way in a crystal ball is what resulted.

"I went up to Paranal Observatory for an observing shift, and I decided to test the crystal ball as an astrophotography lens," writes Munoz, who's a Photo Ambassador for the ESO. "I placed it on the handrails of one of the entrance corridors to the Paranal residencia, and put my tripod and camera below it, at an angle such that the Milky Way was visible through the ball."
Munoz was shooting with a Canon 6D, and he chose to use a Rokinon 24mm lens (at f/4, 30s, and ISO 6400) to capture a wide view of the blurry Milky Way as a backdrop for the crystal ball.
"I had to decide which aperture to use, and after a few attempts I chose f/4," Munoz says. "Smaller f-numbers yielded a too shallow depth of field: the edge of the ball was too blurry, and the bokeh of the background stars was too large, making it hard to discern the Milky Way. Larger f-numbers allowed very little light through, and also made the bokeh in the background smaller than I wanted."
Munoz is pleased with his result and now recommends that anyone interested in astrophotography buy a crystal ball. He says he has "a few crazy ideas in mind" for some future photos featuring his ball.
---
Image credit: Photograph by Juan Carlos Munoz and used with permission