Tornado Forms in Front of a Timelapse Photographer's Camera
It's extremely difficult to predict when and where a tornado will form and touch down, so stormchasing photographers rely on long days of chasing and waiting for luck. But luck is exactly what Mike Olbinski met with recently: he captured a tornado forming and touching down while shooting a timelapse.

The 1-minute video above, titled "The Tescott Tornado," shows Olbinski's lucky break.
"The 2018 storm chasing season has been a tough one… long days with not much reward," Olbinski writes. But on May 1st, that all changed.
While chasing supercells in the plains of Kansas, Olbinski set up his camera gear (two Canon 5DS R DSLRs with a Canon 11-24mm f/4 and 50mm f/1.2) near Culver City to get a nice view of the storm's structure before it got too close.
"But as we sat there…tornado sirens went off in town (which is what you hear at the start of the video)," the photographer writes. "We noticed a wall cloud forming… and then a cone tornado dropped right before our eyes. I couldn't believe my luck with time-lapsing it before it ever started.
"And then the tornado disappeared into the rain, only to come back out as a full wedge tornado that was later rated EF3. Watching it sping across the horizon was a moment I won't soon forget."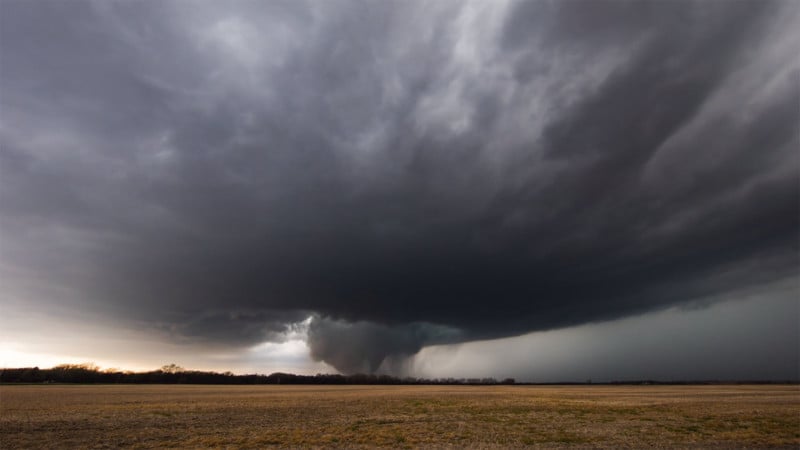 The massive tornado was about half-a-mile wide, but it missed hitting a city. Thankfully, despite destroying some structures, the tornado didn't cause any injuries or deaths.
"It was an amazing moment, I somehow was lucky enough to capture the entire tornado lifecycle, from wall cloud to cone, to wedge and then fading into rain where I believe it did die out at some point," Olbinski says. "Best tornado footage I've captured on time-lapse and it's the highlight of the spring so far!"